What's your favorite gaming-related April Fool's joke?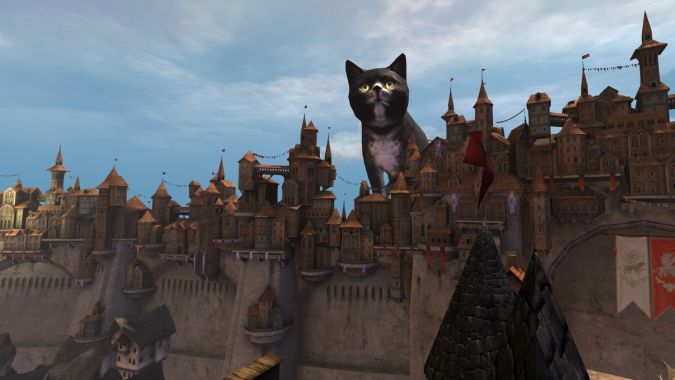 I'm really not a fan of April Fool's Day, or frankly pranks of any sort — all too often it's at someone's expense, or to make people feel gullible, or sometimes to actually hurt someone. That said, I do have to admit that occasionally I find the jokes on April 1st to be amusing, presuming they're clearly jokes and not designed to hurt anyone.
The annual World of Warcraft patch notes, for example, are usually pretty funny. I fondly remember Crabby saying "looks like Hunter loot to me!" over every Agility staff and polearm I viewed in the Armory. But my favorite WoW April Fool's Day joke was the Tomb of Immortal Darkness — not because it was uproariously funny, but because it looked like it would actually be fun. I wouldn't expect them to add something like it to the game year-round (the LFG dropout rate would exceed Oculus), but if they made something like it available for just one day, I definitely would've had a blast in there.
I also enjoy it when a game does something so out of left field you can't help but laugh. Two years ago Guild Wars 2 populated the world with absolutely gigantic cats; they didn't get in the way of gameplay but made you smile whenever you saw one. Or how Overwatch put googly-eyes on all the characters — including Hanzo's Dragon and the payload itself — every year. That's funny!
My favorite joke — and this is admittedly a cheat because it's not strictly gaming related — is when the official Star Wars site turned itself into a greenscreen monitor page from 1979, complete with a poll on whether Leia should end up with Han or Luke. That's how you know you won April Fool's Day: when people still remember it over two decades later.
What about you, how do you feel about this foolish "holiday"? Do you like to see the various jokes the internet cooks up, or would you rather not have to view every news item with a jaundiced eye? And which World of Warcraft fake expansion leak do you expect to see get the most traction today? My money is on Draenor Destroyed.