The Queue: Be chill Anduin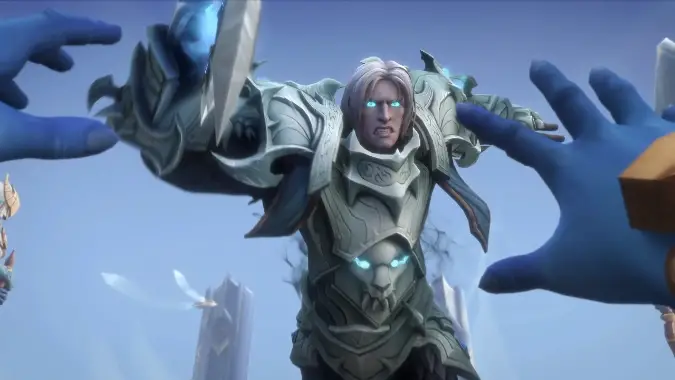 Turns out that the crab didn't give my guild as much trouble as I thought it would…
Anduin on the other hand. We've had a doozy of a pickle of a time managing to not blow ourselves up with the Blasphemy colors. It turns out that it's really easy to accidentally have one of those go off on the tanks and then it's time to wipe.
At least it's really easy to reset the fight by sending everyone into Kingsmourne, so it has kept the repair bill low.
While I try and teach my raiders the difference between light and dark, it's time for — The Queue.
---
HEY, RED, DON'T WRITE YOURSELF OFF YET
would you rather:
have it all figured out, but always give people the impression that you have nothing figured out, or have nothing figured out, but always give people the impression that you've got it all figured out?
I feel like I would rather have everything figured out even if people didn't think I did. At worst I could surprise people with my sudden knowledge, or problem-solving abilities. Fake it till you make it only takes you so far after all.
Now, of course, the sweet spot is a little bit of both.
---
ROXXII THE BELOVED JUST TRY YOUR BEST, TRY EVERYTHING YOU CAN
Q4TQ: Are there enough flying mobs in Zereth Mortis?
Amazingly none of the flying mobs in Zereth Mortis are explicitly seagulls, so we've got that going for us. I've seen what sort of terrors those can wreak on unsuspecting players.
This does make for a good way to help limit flight for players though. If they're explicitly trying to make it tougher to fly in those parabolic arcs from objective to objective, occasionally getting knocked out of the sky by a Mawsworn isn't the worst way to do it — while still letting us fly in Zereth Mortis. They're also better than the great stinky worms from beyond that we saw during the N'zoth invasions back in Battle for Azeroth because at least these things won't slow you down while being aerial hazards.
---
IT JUST TAKES SOME TIME KALCHEUS, YOU'RE IN THE MIDDLE OF THE RIDE
H/T to Anna: could the leak actually be the mobile game, not the nexpac?
It's plausible!
I mean it would be a way to throw us off the scent for what the nextpac is actually. I've seen some of the leaks and while there are some things there that could make sense for another expansion, I'm still not sold on all of the features that they're promising. But if some wires got crossed and they were actually for a mobile game, then sure sign me up.
---
HEY, STEWART TOLHURST KNOW THEY'RE ALL THE SAME, YOU KNOW YOU'RE DOING BETTER ON YOUR OWN
QftQ: With rumours of a Dragon focused expansion being higher than they have ever been, how likely is a non-biped race for PC? If, for example, Dragonspawn were a cosmetic option for a Dragon based race, do you think that would open up the possibility of playable Centaur/Dryads/Grove Keepers/Tol'vir in the future?
I think they'd have to have vaguely humanoid legs so that even if you had extras like in the case of Dryads you could still use the same leg armor appearances that we've collected up until now. That's the number one reason I don't think that we'll ever get Naga as a race. Of course, as I say that I'm reminded of Mechagnomes and their missing armor slots…
So I guess I do like the idea of the four-legged Dragon-spawn that we've seen in Blackrock Spire, although I still think I would prefer the upright ones over the multi-legged ones.
Dryads and Grove Keepers wouldn't be that far behind I bet.
---
JAXDADDY SO DON'T BUY IN, LIVE RIGHT NOW, YEAH, JUST BE YOURSELF
QftQ: What NPCs would you like to see for a prominent odd couple pairing in future expansions? I'd love see John J. Keeshan and Maximillian of Northshire causing havoc, personally.
I want to see Gazlowe paired up with a more level-headed character like Baine. Have Gazlowe constantly trying to Goblin things up while Baine is the voice of reason who urges harmony with nature and the like. It practically writes itself!
Or Lady Liadrin and Tyrande. Could they finally put some of that Elven animosity to bed to work together for a common goal?
---
KALCHEUS EVERYTHING, EVERYTHING'LL BE JUST FINE
Q4tQ: Let's say you're designing an Arctic Rocky Coast environment. Do you think it's fair to say that White Dragons (of the young variety) would effectively supplant Polar Bears in the ecosystem, or do you think the two could coexist?
I think you're not giving enough credit to the Polar Bears.
They're the largest land carnivore in the world, and can weigh up to 800kg! Sure they may not have wings, but I'd pit that against young dragons any day. I'm putting all of my BlizzardWatch Bucks™ on the Polar Bears taking over the area, and the young White Dragons being forced to the side as the Polar Bears eat everything and prove too tough to dislodge.
---
BOOTZILLA3500 AND DON'T YOU WORRY WHAT THEIR BITTER HEARTS ARE GONNA SAY
I know I am late to the conversation but QftQ:
There's all the talk of new genres for Blizzard to get into, but with I think we're forgetting the best one they've teased. Why is Blizzard's next game an 8-bit rogue-like where you can skin all the bears in a 40 yd radius?
What'd the bears ever do to you!?
I still hope that they get into a Kart Racing game though. Mario Kart 8 can only entertain me for so long. Which to be fair has been a long time, so I assume that if Blizzard ever developed one of those then I'd be set for years.
Today's Anna Earworm™: The Middle
Have a great week everyone, don't forget to leave lots of questions for Anna tomorrow!