New theme and rewards arrive in Diablo 3 Season 26: The Fall of the Nephalem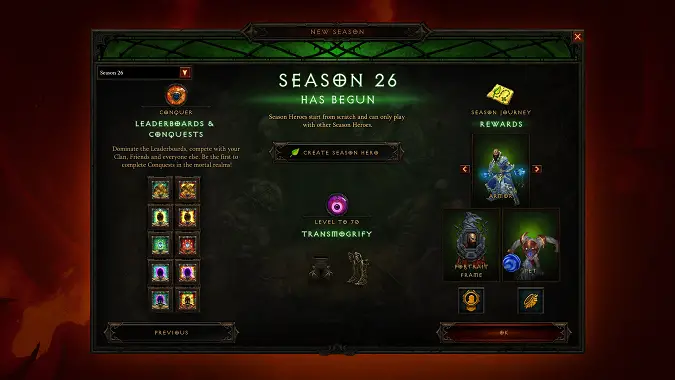 We're coming up on the start of Diablo 3 Season 26, and Blizzard has thrown together a new end-game mode as a theme: the Echoing Nightmare.  This is the first seasonal theme that's added an entirely new activity to the title, but tackling this unique rift type remains optional, so don't stress if you'd prefer to complete the season's journey and earn rewards.
But what rewards are we working towards? What's changing in Patch 2.7.3? What sets are available through Haedrig's Gift to kick off your Season 26 gameplay?
To tackle those questions, let's review the Season 26 announcement details and discover what's in store for us in the next few months.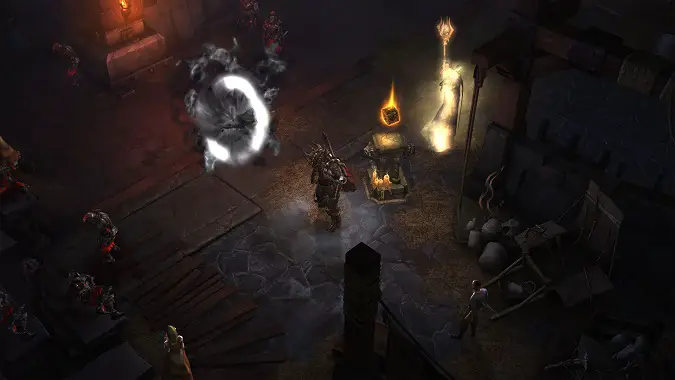 Season 26's Echoing Nightmares pit you against the ghosts of defeated Nephalem
First up is the theme itself. The season name, Fall of the Nephalem, is a quirky hint into the new challenge. Inspired by Orek's in-game warning — "many Nephalem have stood where you are now, but few succeeded in overcoming the trials" — the Echoing Nightmare provides a new end-game challenge founded in the D3 rift system. However, you're tackling an escalating difficulty as you progress through the Nightmare instead of a fixed difficulty based on the rift rank you open. As a player, you're fighting against the, "memories of Nephalem who fell in a greater rift," and you're not necessarily winning. The goal is to tackle the enemies that conquered past Nephalem, progressing until you hit Overwhelmed (or you and your party are defeated).
To open an Echoing Nightmare, complete a Greater Rift and collect a Petrified Scream as part of the guardian's drops. Pop the Petrified Scream into your Kanai's cube (similar to a Puzzle Ring or Bovine Bardiche) and click Transmute to summon the Nightmare's portal. Players can receive the following loot after completing an Echoing Nightmare: Exp, Legendaries, Blood Shards, Gems, and a new Legendary gem, Whisper of Atonement. Like Nephalem Rifts, you'll have a 60-second exit timer rather than getting automatically booted out on turn-in.
Unlike other Legendary gems, the Whisper of Atonement exists solely to augment your Ancient gear. It drops pre-ranked based on your performance in the Echoing Nightmare. Rank 125 is the highest possible for the Whisper of Atonement to drop.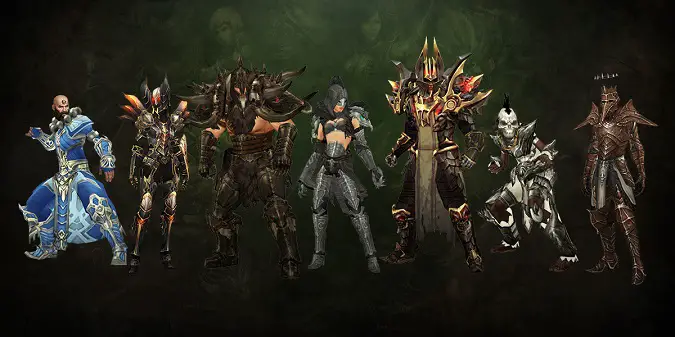 Haedrig's Gift for Season 26
Each season, you start with a fresh — either new or rebirthed — character and an empty stash. While it means starting from scratch, it also provides the chance to pull together an entire class set of gear for your character of choice. Luckily, this set is also the fastest way to get your seasonal play going! You need to conquer the first four chapters of your Season's Journey to earn the three bags of gear courtesy of Haedrig the Blacksmith, collectively known as Haedrig's gift. When you open these bags, that character is granted two to three pieces of gear from the Season's class set.
So what sets is Haedrig giving out in Season 26?
Barbarians — The Legacy of Raekor
Crusader — Armor of Akkhan
Demon Hunter — Embodiment of the Marauder
Monk — Inna's Reach
Necromancer — Pestilence Master's Shroud
Witch Doctor — Zunimassa's Haunt
Wizard — Delsere's Magnum Opus
As always, you keep the set for your non-Seasonal characters once the season ends.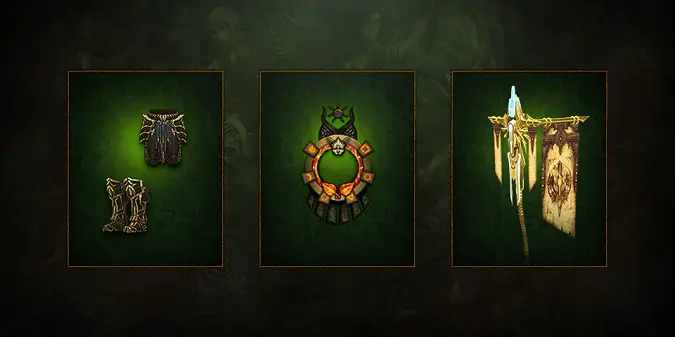 Achievements and Collectables galore!
Since Season 17, rewards for the first four chapters of the Season Journey have been two-fold — you receive both the Haedrig's gift cache for chapters 2 through 4 and the cosmetic rewards from a previous Season. Season 14's rewards make a comeback in Season 26. You can earn the boots and pants of the Conqueror's set transmog, a Tyrael-themed pennant, and the Tal Rasha's themed portrait (which becomes more ornate as you complete additional chapters). But what new and delightful goodies will we get for completing the entire journey?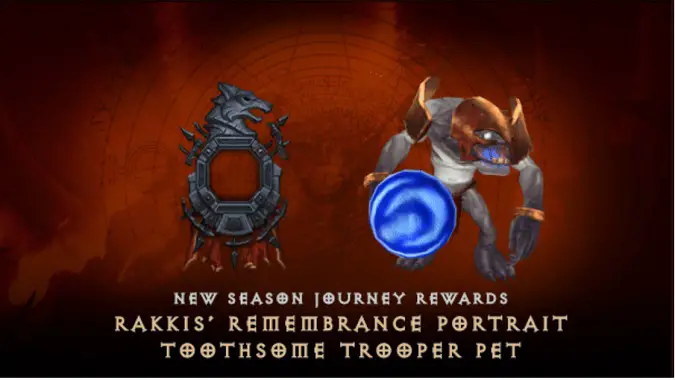 Completing the Season 26 Guardian Journey ears you the Rakkis' Remembrance portrait frame and the Toothsome Trooper pet. Our new demonic little friend wields an exciting cross between a lollipop and a marble, and I am sure it is definitely not thinking about using it to crack Nephalem in the face. And of course, for those of us who have not unlocked all five bonus stash tabs, you can unlock one of them this season by completing the following achievements:
Complete a level 70 Torment 13 Rift in under 5 minutes
Complete Greater Rift 60 solo
Kill Greed on Torment 13
Kill the Butcher at level 70 in Torment 13 in under 30 seconds
Reforge a Legendary or Set item
Augment an Ancient item with a Level 50 or greater Legendary Gem
Level three Legendary Gems to 55
Complete two Conquests
If you have already completed these, no worries, but it's nice to have this option if you've recently joined the community.
And that's Season 26! If you're interested, tackle the Echoing Nightmares and earn yourself some Whispers of Atonement to augment your Ancient gear. If not, knock out your Seasonal Journey, acquire a new class set, and get yourself another cute little demon as a pet. Enjoy!