The Queue: Wait, today's a holiday?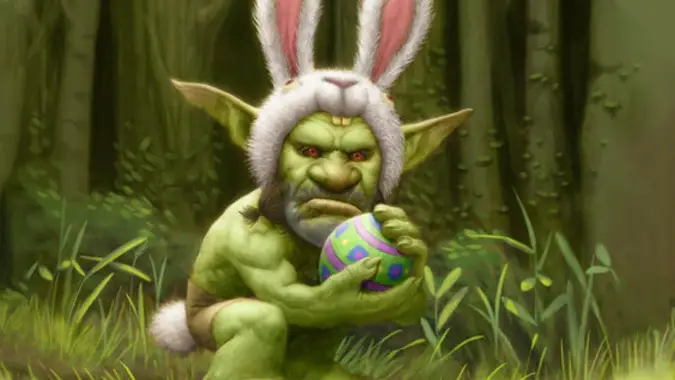 Here I am ready for another fun and exciting Queue, and apparently, it's a holiday?!
I've never been so bamboozled in all of my life!
While I try and figure out a way to get back my lost relaxing time, it's time for — The Queue.
---
ONE PILL MAKES YOU RJAGODA
Q4tQ: What do you call an illegally parked amphibian?
Toad!
Love it, instantly told it to like seven people.
What do you call a well-dressed reptile who solves crimes?
An investigator!
---
AND ONE PILL MAKES YOU KALCHEUS
Does anyone else spend time on their vacation planning their next one? I feel like I do that a lot, but I dunno if it's normal behavior
As long as you haven't said "I need a vacation from this vacation." That'll get you sent to the Bad Place.
---
AND THE ONES THAT DRAKKENFYRE GIVES YOU DON'T DO ANYTHING AT ALL
Random stuff. Until I was flying around the Broken Shore last night, I never realized what looked like pillars at a distance on the Tomb of Sargeras were actually Nelf statues. Also weirdly, the Fel energy beam is coded to cause its own uniquely-named damaging debuff if you get too close/in it, the bowls of Fel held by the statues directly below it do nothing.
Back in Legion the moment I got my flying I went and flew straight into that giant angry Fel laser beam. Turns out it hurts!
I couldn't help myself, it's just like playing any other video game and doing things just to see how much damage you take. Like saying "oh, there's lava here, is it an instant death, or is it just a bunch of damage…" right before jumping in with gusto. The same goes for any fireplace/campfire/wall torch and just falling damage in general. The scientific method is alive and well in video games!
---
GO ASK BOVEN WHITEHOOF WHEN THEY'RE TEN FEET TALL
It's really quite a burden and a disappointment that, no matter what character/class I'm playing, I'm the only person in WoW with interrupts and stuns.
Maybe someday I'll get loot off Stargorger.
Stargorger has moved to the top of my least favorite rare spawn in Zereth Mortis list. Even above Mother Phestis!
At least I have Incapacitating Roar which can work to interrupt his protected heals even if he's immune to stun right then. Even still though, I'm only one bear! I can't interrupt every single heal he does.
---
AND IF YOU GO CHASING LEFTY AND YOU KNOW YOU'RE GOING TO FALL
QftQ:
What is the most ironic WoW class/title mismatch you can think of?
e.g. Firelord for a frost mage or Demonslayer for a demonology warlock
Lumberjack or Firelord for Druid are both pretty against character.
Vengeance Incarnate doesn't really fit with the whole Monk aesthetic I've got in my head. It feels like it might be invoking too high of emotions.
The Darkener for a Paladin.
But of course, the most ironic title/character mismatch is The Patient for anyone in a raiding pug!
---
CALL RETPALLYJIL WHEN SHE WAS JUST SMALL
Q4tQ:
Classic Mythic Dungeons. Great idea, or best idea?
All the original dungeons. Let's do Deadmines +9! I have Scarlet Cathedral +12!
It's a pretty great idea, but it'd have to be a whole season.
Having actually had time to play this Legion Timewalking I can firmly say that nobody really wants to do any of the Legion M+ unless it's Vault of the Wardens or Court of Stars — since those two seem to have the most overpowered items in them. As for the rest people are happier just sticking with the current dungeons that everybody remembers routes and mechanics for.
That being said, I'd hate how much I would have to run Wailing Caverns for the Serpent Leather. It's too long!
---
AND THE LD SOTH IS TALKING BACKWARDS
LD Soth here with a question for Blizzard Watch Podcast. Just catching up on this week's podcast and the mention of Cow Level and Whinsyshire made me wonder: do the 3 of you have any predictions for what Diablo 4's random secret level might be? I know I'm going to love whatever chaos it is, but it's for me to imagine how they follow up the shocking juxtaposition of Whimsy from D3. Maybe "Animationville" with suspiciously familiar gray bunnies, black ducks, and vaguely human creatures with rifles.
That would be one Looney place to spend time in.
I'm betting that we see more jokes about features and gameplay of other really popular games in whatever Secret Cow Level Diablo 4 winds up having. We'll get references to Survival Games, or Battle Royales — all with cows of course. Things that Blizzard easily could've tried to shoehorn in as they were the big hotness over the last few years.
---
REMEMBER WHAT THE MUSEDMOOSE SAID: "FEED YOUR HEAD!"
Q4tQ: what's a minor feature from past expansions that you wish they'd bring back?
I always liked how the flight path from Dalaran in Legion would send you off riding one of your favorited flying mounts. There was something cool about not knowing what you'd be riding, and possibly seeing a mount you didn't usually use. I'd like to see that again, maybe even have it for all flight paths.
I really miss the PVP towers. They were a great way for me to get a bit of progress on the PVP rewards without having to do any actual PVP. This of course is probably why they don't exist anymore.
I also just miss hearing Patty Mattson yell "GREYMANES FORCES CONTROL THIS WARDEN'S TOWER" at me when I got close. That's been indelibly scored into my brain.
Today's Anna Earworm™: White Rabbit 
Have a great rest of your holidays if you've been celebrating! Don't forget that Anna can have little a questions for tomorrow — as a treat.