WoW
May 2, 2022 10:00 am CT
Finally, the Jellycat mount is coming to WoW in patch 9.2.5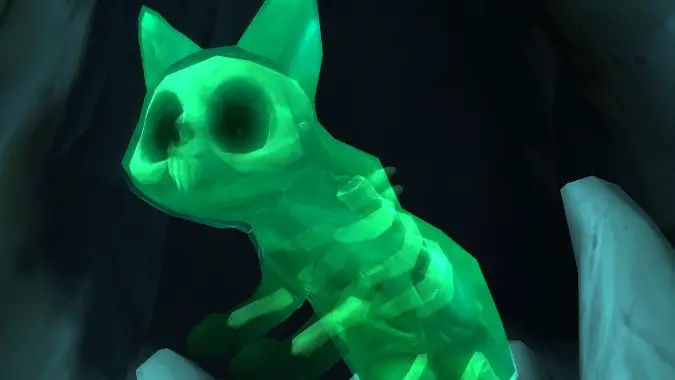 When people think back to Shadowlands and what they remember most, the Jellycat will be one aspect that stands out. That cute skeleton inside the green, gooey shape of a cat captures the feel of death and remains cute at the same time.
However, when a poll went out in September of 2020, asking which among a choice of five mount concept players wanted most, the answer was clear — the Wandering Ancient. Looking at the results on both the North America and the EU polls, the large and leafy mount was the most popular. Players then received this mount for free just for logging into World of Warcraft. The Nerubian Swarmer, the four-legged but otherwise spider-like creature from Northrend, came in dead last in both polls.
The three creatures in between the two came in close in both polls. It was noted that a tiny version of the Curious Caterpillar is sitting in branches of the Wandering Ancient, so it hasn't been completely forgotten — its art was used, but not rideable by itself. Then, a surprise. A second mount from that poll was introduced to the game last year, the Soaring Spelltome. This is a reward from completing all of the Mage Tower achievements that were added in patch 9.1.5. The Mage Tower is now up permanently and no longer tied to Legion Timewalking, so players can earn this at their leisure.
So that leaves the final mount from the poll. The Gooey Slimesaber, as it was called on the poll, has been renamed Jigglesworth Sr, which implies the mount is the father of one of the slime cats needed for the Nine Afterlives achievement. This mount is coming in patch 9.2.5.
To earn this, complete all three of the updated raids in Season 4 of Shadowlands. All three raids from Shadowlands — Castle Nathria, Sanctum of Domination, and Sepulcher of the First Ones — will be brought up to the same level of difficulty, but they will have an affix to make them more difficult than before. The season 4 affix is called Reclaimed. Whether or not you have completed these raids before, this new season will not just be about completing the raid. All three will have be done — again or for the first time — to earn the reward, the Jellycat mount.
So we're ending Shadowlands on a high note, with the mount that did not win the poll, but many players thought should have. And, in the meantime, don't forget to go work on the Mage Tower, if you don't already have the Soaring Spelltome.