WoW
Dec 7, 2021 1:00 pm CT
How to get the Soaring Spelltome mount during Legion Timewalking, now live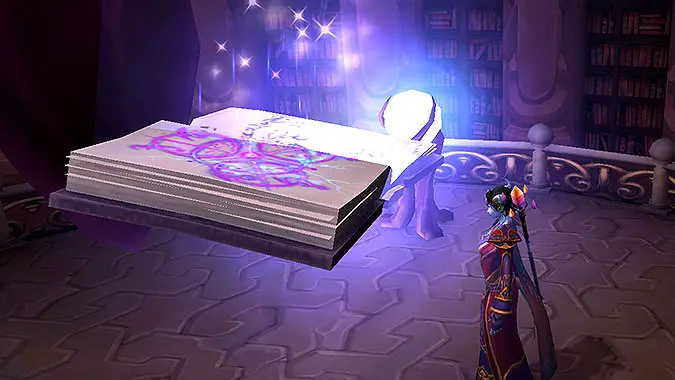 It was only through rampant anti-Spelltome propaganda from people with sinister motives that we ended up with a walking tree mount, so we're glad to see the Soaring Spelltome mount coming to World of Warcraft this week, when Legion Timewalking returns the Mage Tower challenges to the game. That's right, there's now a way to get the book mount we all desperately want to stand on while it flies around. Actually, this doesn't sound safe at all, and maybe we should rethink the whole Jellycat thing. Or maybe the caterpillar…
It's not going to be super easy to get your new mount, as the Spelltome will be rewarded when you earn an achievement, one that requires you to complete all of the Mage Tower encounters — yes, all seven of them. However, you're not required to do all seven on one character. In fact, that's impossible, as the encounters are split up so that specific classes and specs get access to them.
"Closing the Eye" for Frost Death Knight, Havoc Demon Hunter, Survival Hunter, Subtlety Rogue, and Arms Warrior.
"An Impossible Foe" for Unholy Death Knight, Feral Druid, Fire Mage, Outlaw Rogue, Elemental Shaman, and Fury Warrior.
"The God-Queen's Fury" for Arcane Mage, Retribution Paladin, Assassination Rogue, Enhancement Shaman, and Demonology Warlock.
"Feltotem's Fall" for Beast Mastery Hunter, Windwalker Monk, Discipline Priest, and Destruction Warlock.
"The Highlord's Return" for Blood Death Knight, Vengeance Demon Hunter, Guardian Druid, Brewmaster Monk, Protection Paladin, and Protection Warrior.
"End of the Risen Threat" for Restoration Druid, Mistweaver Monk, Holy Paladin, Holy Priest, and Restoration Shaman.
"Thwarting the Twins" for Balance Druid, Marksmanship Hunter, Frost Mage, Shadow Priest, and Affliction Warlock.
So, if your main is a Warrior, you could at most complete three of these — Closing the Eye as Arms, An Impossible Foe as Fury, and The Highlord's Return as Protection. So which classes are best and worse for getting this achievement done? Well, we don't know for sure, because the encounters are being changed and rebalanced because we don't have our Artifacts anymore, but we can make some educated guesses.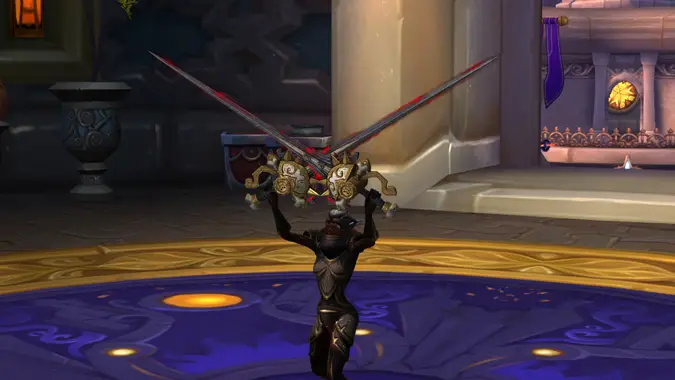 How to beat the Mage Tower enough times to get a flying book mount
First up, if you main a Druid, or have a lot of experience playing one, you may have a leg up on this achievement. Druids can accomplish four of these quests — Thwarting the Twins as Balance, The Highlord's Return as Guardian, End of the Risen Threat as Restoration, and An Impossible Foe as Feral. Similarly, if you main as a Demon Hunter, you'll be able to get two of the quests and thus can at most finish two of the challenges — Closing the Eye and The Highlord's Return. For the purposes of getting one character as prepared and geared up as possible to accomplish as many of these quests in one go, the Druid is the clear winner.
Of course, if you're way better at Paladin or Monk or even Demon Hunter, play that first and get the quests you can finish done. The important thing here is to bring the class you're best at, because unless they significantly reduce the difficulty here, these challenges will take a lot of skill, knowledge of your class and spec, and patience to get finished.
Also, if you have a means to self-heal or high mobility, you're almost certainly going to be using it. Especially as a tank — The Highlord's Return throws out a lot of damage, you're going to need as much mitigation, self healing, cooldown use and the ability to get to a different place as you can get. If you do have a Demon Hunter tank, this may be the best fight to use him on.
Otherwise, with all the fights yet to be retuned, all I can really say is that you should probably consider playing ranged whenever possible on the fights that were designed for ranged, because playing melee often means running around and not keeping a lot of uptime. But sometimes being melee gives you more options in terms of being able to take a hit than someone in a dress. From what I've been told, Feltotem's Fall is a good fight to be a Beast Mastery Hunter on, thanks to the combination of Hunter abilities like Disengage and the potential for a tankier pet to help you stay alive.
So get a few characters geared up, then go and clear all seven of these fights, and boom, you got a flying book mount. Best of luck storming the tower, and then storming it six more times.
Originally posted 9/16/2021. Updated 12/7/2021.