You'll soon be able to upgrade your Hearthstone cards to golden by using dust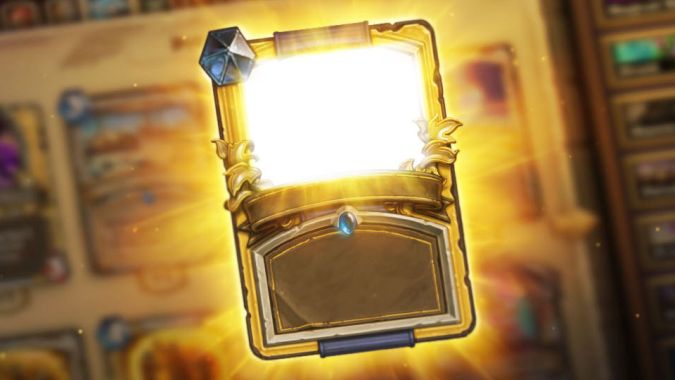 A long-awaited feature is finally coming to Hearthstone: you'll now be able to upgrade your existing cards to their golden versions by using your dust. This is a feature that fans have been requesting for years, and that other card games already had for their own special versions of regular cards.
The ability to upgrade a card to golden will cost the difference in dust between crafting the base and golden versions of that card. Which means:
Upgrading a Common card to golden will cost 360 dust.
Upgrading a Rare card to golden will cost 700 dust.
Upgrading an Epic card to golden will cost 1200 dust.
Upgrading a Legendary card to golden will cost 1600 dust.
When it comes to the UI, the ability to upgrade cards will be found in the same place where we craft them — those two features will share a button now. You click that button to craft a card, and once you have the maximum amount of copies of it (one for Legendaries, two for everything else), it turns into an upgrade button to convert those crafted cards into their golden versions.
Game designer Chadd Nervigg (aka Celestalon) has clarified that you'll also be able to upgrade a card that you have a single copy of, simply by inspecting the golden version of that card.
This is a great change: personally, I like collecting the golden versions of those cards that are capable of creating other cards. It's always fun to generate golden tokens, for instance; it makes it feel like your golden cards are actually affecting the gameplay experience, by creating those shinier, fully-animated minions. It should be fun to be able to convert existing cards that I didn't feel like crafting before — dust allowing, of course.
The official blog detailing patch 23.2 also shared a couple other quality of life features coming with the patch: you'll also be able to share deck codes in chat — making it much easier to share your decks with your in-game friends — and we're getting the recently-announced ability to favorite multiple card backs. So get ready for all these great changes, because patch 23.2 is releasing May 10.