Huge new fossil of carnivorous Spinosaurus dinosaur found, just in case you need nightmare fuel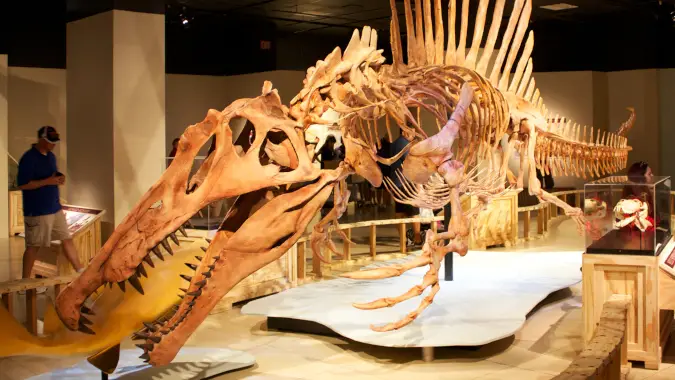 Fossils of several new Spinosaurids have been found on the Isle of Wight in England, including one which may be the largest theropod — the group of carnivorous dinosaurs including T-Rex — ever discovered. All of these dinosaurs are coming from the Wealden group, rocks all laid down originally in the early Cretaceous, and the discovery of the ones on the Isle of Wight has big implications for the origins of Spinosaurs.
Darren Naish, the writer of that TetZoo post and one of the paleontologists behind Apple TV's breakout hit Prehistoric Planet, who we've talked about here at Blizzard Watch before, has been very involved in the discovery and publication of papers on these topics, including the discovery of Ceratosuchops inferodios and Riparovenator milnerae last year. I'm still reading the full paper on that discovery. I'm just a layman who loves dinosaurs, but it presents some pretty compelling evidence for the development of the Spinosaurs in Europe before they migrated elsewhere. Naish's new TetZoo post shows us a new, big member of the Spinosauridae.
There's a lot we don't know about this discovery as yet. The White Rock Spinosaurid may be a new species, or it may be a member of another already discovered species like Ceratosuchops or even Baryonyx because we simply don't have enough of the animal to make a certain statement yet. But there are specific anatomical features here that are directly associated not with Baryonyx and its relatives in the baryonychine lineage, but rather their relatives in the spinosaurine. As Naish points out in the post this is a big Spinosaurid.
So how big is big? It has bone elements in its vertebrae that are longer and taller than those of the current largest European theropod ever discovered, and are at least comparable in size to those of Spinosaurus itself. While there's a need for more study and more bones if at all possible, the White Rock Spinosaur would have rivaled some of the largest theropods ever discovered, likely exceeding 10 meters in length and possibly coming in above Spinosaurus at 15 or more meters total. This thing was T-Rex big — or bigger still. For reference, it would have placed on this chart comparing massive dinosaurs to humans — and possibly would have been the biggest thing on it. In ten years we may be talking about this animal as the biggest theropod ever discovered.
This is all very exciting, but we as always have to be cautious. We only have a few bones here, and while the team studying them considered making the call for a new species — Vectispinus according to Naish — that call has not been made as yet. There's a lot of work yet to be done studying what we have. But it's still a Spinosaurid, it's still huge, and it's still in the Wealden formation on the Isle of Wight, which establishes that a lineage of big Spinosaurids were indeed in Europe at that time. What else are we going to discover from those rocks on the Isle of Wight? One can only dream.