The Queue: A Raving Rainbow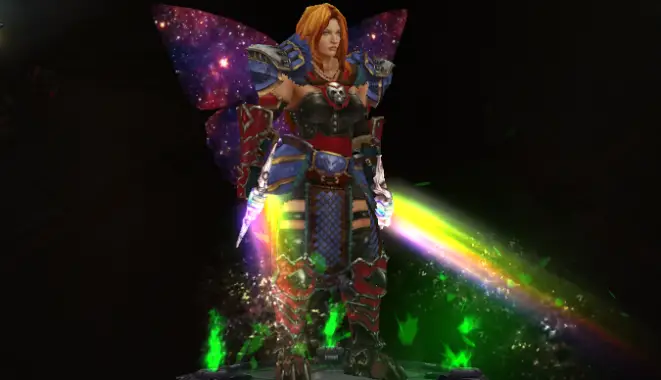 Yes, that's my Barbarian, dual wielding rainbow swords and crushing demon skulls while wearing a set of sparkling butterfly wings that contain infinity within them.
If the next Diablo game decides it doesn't have room for this level of whimsy, I will be sad for it, because this is legitimately awesome. I am smashing demons in the face with rainbows. I don't feel like any further statement can possibly improve on that.
---
ARTHONOS WENT ON A DEEP DIVE IN THE PRIEST TREE AND I KNOW ALMOST NOTHING ABOUT PLAYING A PRIEST, BUT I FOUND THIS PART WORTH MENTIONING
Going to be very interesting in Dragonflight going into group content, and whether players will be making assumptions about what utility you have. Will everyone assume all Druids have cyclone and stampeding roar? Will people be yelling for a Priest to pull them out of danger only to find out they didn't spec into Leap of Faith?
If my experience playing WoW from 2004 until now holds up, they'll less assume it and more demand it and refuse to let people without specific talents into their groups. I remember being a Warrior tank and being told that the group wanted a Druid or Paladin for AoE threat in Shadow Labs instead of a Warrior, and Warrior DPS had no CC so they'd rather have a Rogue or a Mage.
I mean, look at the way people demand that anyone coming to a PUG normal Sepulcher run have already cleared Heroic. This is a behavior as old as the game itself.
---
VEILSTRIDER ROXXI GAVE ME THE OPPORTUNITY TO NERD OUT OVER MY FAVORITE CHARACTER IN WOW
Oh, interesting. Here are the 10 murder suspects in Murder at Castle Nathria. They are: Stewart the steward, Lady Vashj, Draka, Sesselie (who is the tiernan who manages the Night Fae anima conductor), Olgra, Kel'thuzad, Rafaam, Xy'moc, Pelagos, and Ara'lon.
Olgra? This Olgra?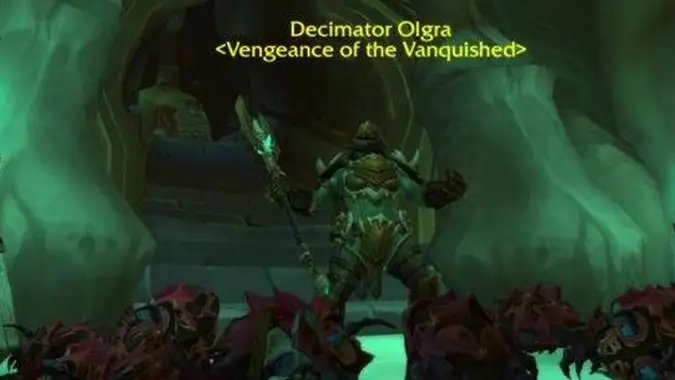 Ever since Olgra's husband gave me that quest to find her way back in 2005 when my Tauren first passed through the Barrens, I've wanted to see more of Olgra. I'm so freaking happy to see that someone at Blizzard actually remembered she exists.
---
KALCHEUS ASKS A QUESTION THAT HAS TWO ANSWERS AND THOSE ANSWERS ARE IN CONFLICT
Q4tQ Let's say Thrall was secretly possessed by some nefarious entity; would he have been able to use the Dragon Soul to kill off the other Aspects, or would it only be effective against Deathwing?
The Dragon Soul was previously used by Deathwing to almost entirely wipe out the Blue Dragonflight and by Nekros Skullcrusher to enslave Alexstrasza, so clearly its power can and has been used against other Dragons. It could absolutely be used against any of the Aspects.
However, a possessed Thrall would probably not have been able to wield it. It requires a great deal of concentration to use the Dragon Soul — Deathwing himself once lost control of it and was driven away in defeat despite holding it during the War of the Ancients, and a non-possessed Thrall could barely manage to get the thing to work at all. So a Thrall who was struggling against, say, Domination magic probably couldn't use it, and whatever was possessing him would have to contend with his resistance while also tapping into the Soul's enormous power.
But if Thrall had decided of his own will to use it against the Aspects? Yeah, it would have worked. It might not have killed them — remember, the Aspects were essentially restored to full power when Rhonin sliced open the Demon Soul with one of Deathwing's own scales, whereas they were weakened by its creation when Deathwing used it to take out the Blue Dragonflight and Alexstrasza was tortured by Nekros.
Just wanted to say that Drakkenfyre is right, goldfish really need big containers and it's basically cruel and inhumane to house them in tiny little bowls. It's poisoning them to death in their own waste. I don't agree with him on everything, but I do on that.
---
DRAKKENFYRE MAKES AN ARGUMENT I DISAGREE WITH
That's what deliberately designing for and preying on people's weaknesses will do for you. Headline could've been "Despite backlash, heroine makes X million a day." And that's not hyperbole. The exploitation these types of monetizations take advantage of are very similar to drug addictions. The difference is the drug rush is produced by your own body rather than an external one.
Speaking as someone who was addicted to heroin back in the 90's and who kicked it at great personal cost in terms of physical pain and debilitation, I feel that there is a vast difference between various opiate addictions and the dopamine hit you get from buying items for a game like Diablo Immortal.
Now, I'm not dismissing the idea that these kinds of microtransactions are predatory. But you can make the argument that MMO's are inherently addictive — Nick Yee has done some data collection on this exact issue. Is the monetization of Diablo Immortal worse than other games on other platforms? Is it worse than Ubisoft selling XP boosts and free crafting materials for its various modern Assassin's Creed games, or the whole Star Wars Battlefront 2 lootbox controversy?  Is it worse than Genshin Impact?
Is it even as bad as allowing people to gamble on professional sports? We know gambling is addictive and many people struggle with it, and yet it's still legal in many places and it generates large revenue for private companies and governments alike.
Also, does it matter if Diablo Immortal isn't worse than those other things I've mentioned? Even if it's not more predatory than other potentially predatory things, it's still something that can and does hurt real life people. This is not a simple problem and that's why I dislike seeing it compared to drug addiction, because it's not an accurate representation of either. Gambling/gaming addiction is its own issue.
Honestly, I think DI monetization is predatory, and it shouldn't be. And Blizzard bears responsibility for allowing it to be that way. But it's not heroin, and saying it is makes people think that it should be treated like drug addiction, when the causes and the solutions are far different.
Also and related, the way we treat drug addiction in North America is also BS, but that's a separate discussion.
Okay, that's the Queue, I'm off to use the power of rainbows to explode demons.