WoW
Oct 30, 2020 4:00 pm CT
It's time for a whole new round of Mankrik's wife memes as Decimator Olgra makes her Shadowlands debut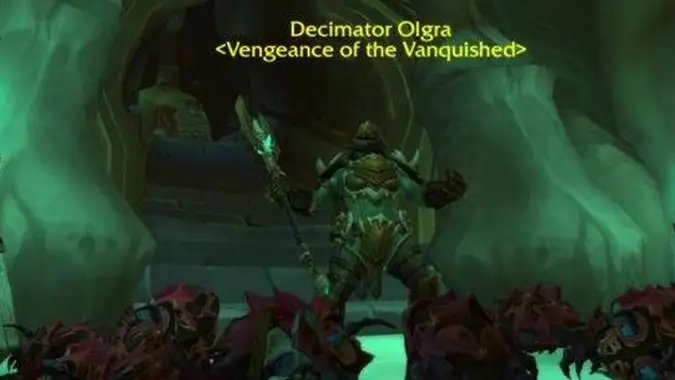 I feel like calling her 'Mankrik's wife' is a bit dismissive — in fact, I suggest we just call the guy 'Olgra's husband' for an entire expansion, see how he likes it — but regardless, in Shadowlands we'll finally get to meet Olgra, whose husband misplaced her all the way back in the original Barrens of World of Warcraft. Olgra and her husband were fighting Quillboar when they got separated and he passed out from his wounds. While a passing Druid found Olgra's husband, she was not so fortunate — although she took many Quillboar with her, she eventually fell, and for years we only knew her as a 'Beaten Corpse' to be found (with some difficulty) and then the bad news of Olgra's death returned to Olgra's husband.
Because original World of Warcraft wasn't exactly great at things like helping you find a single Orc lady's body out in the Barrens — especially when it wasn't even named or otherwise easy to associate with Olgra — her locations became a top request by new players back in the day. Olgra was often the subject of memes and jokes — up there with the other classics like Many whelps, handle it and gentle, steady DPS for old school WoW memes.
It wasn't until Cataclysm that Olgra's husband erected a memorial to her that told us what her name had been. While we got a scene of Olgra and her boyfriend on Draenor in Warlords, that's not really the same thing, ultimately. But we'll finally get to see Olgra in action in Maldraxxus, as she's joined the Necrolords as Decimator Olgra, and it turns out she very much remembers her death at the hands of the Quillboars.
I also think it's a bit funny (if a touch bleak) that Olgra's title when we run into her is Vengeance of the Vanquished considering that's the name of the April Fool's joke fighting game Blizzard made a few years back.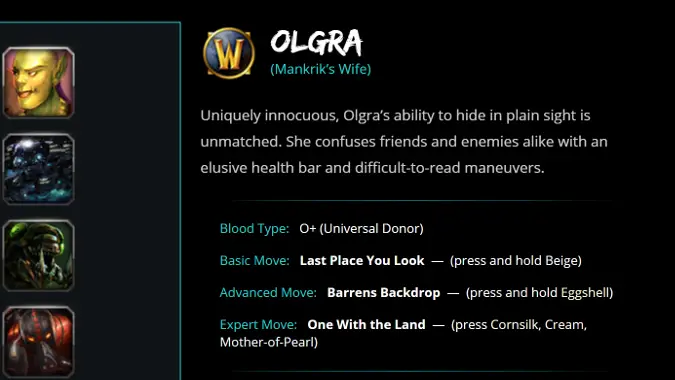 I mean, clearly this is not how Olgra wanted to be remembered, based on her presence in Maldraxxus decimating things, but I still laughed. No word on whether Olgra's husband appears in Shadowlands but frankly I feel like he's gotten enough time, and now it's time for us to see Decimator Olgra decimate some things. Honestly, if I could soulbind to Decimator Olgra, I'd seriously consider going Necrolord.