The Queue: Organization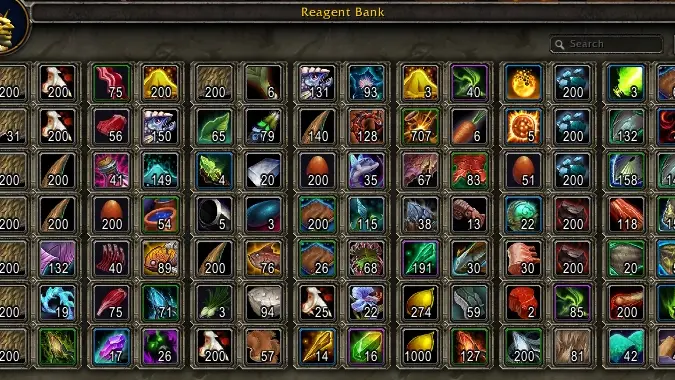 As the kids go back to school and I have Pumpkin Spice Lattes to give me a little extra motivation, I've been putting a lot of effort into sorting out my real life. I have a tendency to create doom boxes to get all this junk out of my face and then forget about them, so the beginning of the school year is a great time to try and sort all that out into a clean slate. No, don't look at the number of Chrome tabs I have open or my bank. This is fine.
This is The Queue, where you ask us questions and we swear we saw the answer around here a second ago. We'll find it. Probably.
---
YARMET
Any word on a pre-expansion event yet–whether there'll be one, what it involves, what rewards it'll have, etc?
There's no official word on it yet, but considering the datamining, it seems very, very possible.
I don't think we'll see a lot of information on this in the next month or so, simply because the hype machine right now needs to be laser focused on Dragonflight as a whole. There's not a lot of point in really hyping up the launch event before you know a release date, at minimum, and it doesn't make a lot of sense to make a fuss beyond the space of an informative blog post to hype up a temporary event when the expansion is imminent.
The launch event is mostly intended to give people a little something to do in between, because the prepatch is a time when people want to play, but don't necessarily want to do something like raid. Raiding is generally a big time investment for the reward of gear, and if gear's going to be obsolete when the expansion drops it takes a bit of the incentive out. I'd expect we'll hear the official launch date, and then a couple weeks later, we'll get more info on the event.
---
On one level I've been ready for this my entire life. On another level, there's no way I could ever prepare myself enough in advance.
---
ARTHONOS
Q4tQ: Which would be a bigger sin in your mind: Blizzard never putting in player housing because they want to do it right, the old "perfect is the enemy of good", or them adding lackluster player housing and abandoning it shortly after due to a mild reception?
They, uh. They already did the second one. It's the Garrison. And no matter how much I would love it, I don't think it's likely that they'll ever revisit it again.
I feel like we all know at this point that the Warlords of Draenor development process was rocky, to say the least, with a lot of very ambitious projects and features rapidly brought down to size by the time we got our mitts on it. Consider the features we've seen in the files as cut, especially the idea of potentially moving your Garrison to other zones. Consider also what we do have in the Garrison, especially the ability to change your music, or decorate for (very specific) holidays, plus the very cool tie in with Archaeology. It seems very much like the Garrison is player housing, especially taking into account the Blizzard style of streamlining and polishing the systems they tend to incorporate.
Now, will I continue to throw hands and whine about how I want something with more 3D control, a la Animal Crossing or even — be still, my heart — House Flipper? Absolutely. I'm incorrigible. But I've always felt like this idea of "but if we were to get a pared down version of…" ignores the fact that they already have, a lot of people lowkey hated it, and it probably cost us capital cities and a raid tier that expansion.