Targeted card acquisition, the most requested feature from beta, is announced for Marvel SNAP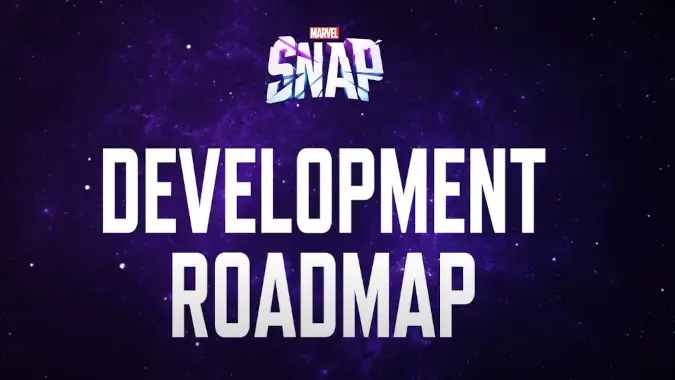 By far, the most requested feature from the Marvel SNAP beta testers has been targeted card acquisition: the ability to choose what new card you get next. Other card games like Magic: The Gathering Arena, Hearthstone, and Legends of Runeterra all have crafting systems that allow you to eventually get the exact card you want. That sort of system hasn't existed in SNAP — but it will soon.
Currently in SNAP, you acquire new cards through Collector's Reserves (loot boxes) earned on the Collection Road track. Should you be so fortunate, your Collector's Reserve will contain a new card, but which card? It could be any random card you don't already have, but to help keep player power levels close to each other, SNAP groups cards into Series. Your Collection Road level determines what series your Collector's Reserve (loot box) can give you.
Series 1 – Collection Road level 1-214
Series 2 – Collection Road level 222–450
Series 3 – Collection Road level 462 and up.
But unlike other card games, there was no way to craft or otherwise get a card you really wanted. You just had to wait until the RNG smiled upon you. I've experienced this myself. I've been wanting the very powerful, and deck-defining Mister Negative card for a while now, but Martin Li just won't show up.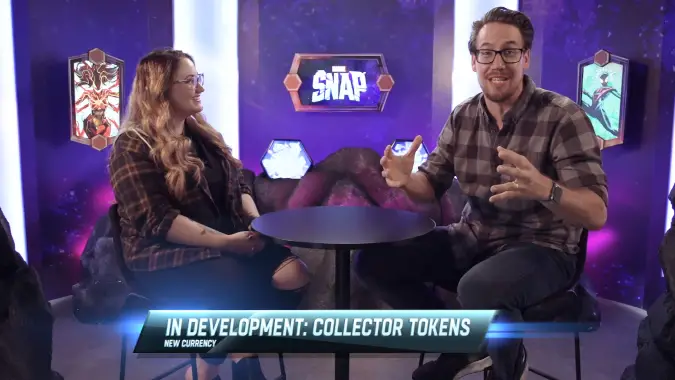 Collector's Tokens let you choose which cards to buy (with a small dose of RNG)
But that's about to change. Nikki Broderick, Senior Producer for SNAP, and Ben Brode, Chief Development Officer for Second Dinner Studios, recently presented a road map of features coming to the game. One of these upcoming features is called Collector Tokens, and it's the way SNAP will let you have some agency over what new cards you acquire for your collection. SNAP already has a dizzying array of currencies, but this will add yet another.
Collector's Tokens will be a free currency that will appear on the Collection Road along with all the other rewards like Boosters, Credits, and Collector's Reserve (loot boxes). Once Collector's Tokens are implemented, the Shop will offer you nine different cards (that you don't currently have in your collection) to buy with your Collector's Tokens. If there's a specific card you want, just wait for it to appear in the Shop and then buy it. Feel the power of your agency!
This will be great even for players that have all the current cards as SNAP is getting ready to add even more cards. There are three series (or pools) in the game, but two more series, Series 4 and Series 5 are on the way. Players will need to earn all the cards in Series 1, 2, and 3 before Series 4 and 5 will appear in their Collector's Reserve. It sounds like Series 4 and Series 5 cards will have an even lower drop chance than Series 1, 2, and 3 cards. Collector Tokens will be an important way to get them.
But that's hardly the only change coming to Marvel SNAP. Let's look at the other exciting features that are on the way. Second Dinner breaks their future features down into three different categories depending on how close that feature is to being implemented in the  live game. These are "Coming Soon," "In development," and "In concept."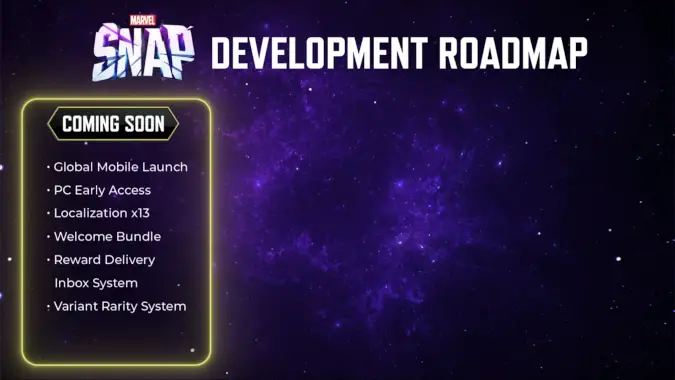 Coming Soon to SNAP
The first category, "Coming Soon," are features that are about to be released.
Global Launch
PC Early access

The game will launch on Steam as "early access" on October 18th. Be sure you pre-register if  you want to play SNAP on your PC.

Variant Rarity System (available at launch)

Variants will come in two rarities. Regular variants will cost 700 Gold (down from the 750 Gold we've been paying in the beta). Epic Variants will be offered less often on the Shop and cost 1200 Gold.

Welcome Bundle (available at launch)

The shop will offer players a Welcome Bundle. For $2.99, you get 700 Gold, a Captain America avatar, and a Captain America Variant (a 700 Gold value).
Since Cap is one of the base cards, you'll be able to use your Variant right away!
The 700 Gold in the bundle would normally cost you $9.99, so this is huge savings just based on the Gold. Plus you get the Regular Variant which would normally cost you another 700 Gold.

Reward Delivery Inbox System (available at launch)

This should be familiar to Battle.net users. It's an Inbox where players or even the developers can send you gifts.

In development features a bit further off
These are features that the development team is actively working on.
Unranked mode

Hearthstone players should be familiar with Unranked mode. This is a mode where you can play without the stress of losing your ranking. It's intended for testing out new decks, or just playing some "fun" decks that aren't meant to be super competitive. Even though you aren't playing for Cosmic Cubes, you can still progress your missions in this mode.

Battle Mode vs Friend

This is a totally new way to play, but another that will sound familiar to Hearthstone veterans. Instead of a random opponent, you can set up a game against a friend.
Each player has 10 health. You're still playing for Cubes, but however many Cosmic Cubes you win are dealt as damage to the other player. You continue playing against until one player knocks out the other by reducing their health to zero.

Say Liz and I are playing and she wins the first game for two Cubes. I now have 8 health and she still has 10. The next game, I win and four Cubes were in play. I still have 8 health, but Liz now has 6.

It was not clear if you can change decks between games.
 In addition to a great social mode, the team at Second Dinner sees this as their pathway to community run tournaments.

In Concept features may (or may not!) be coming, but much later
These features are early in the development pipeline, and some may never make it to the "In development" list.
New competitive modes, in-game events and social systems are in the works.
Mythic Variants would be an even rarer and more expensive version of Epic variants.
Emojis and emote are fun, and SNAP already has a feature to mute (squelch) your opponent.
Infinity is the SNAP equivalent of Legend.
Since these features are still in the conceptual stage, there's still plenty of time to change them or reprioritize them. Second Dinner wants you to have a role in that. There's a Marvel SNAP Discord where the team discusses the game with the player base. The team wants your feedback on these features and wants to know what other features they should implement. Jump over the Discord and let them know what you think.
Launch is just days away!
I'm so excited for all my friends to finally be able to join me in Marvel SNAP. The game has been a blast to play during the beta. If you're interested in trying out SNAP, be sure you pre-register and check out our getting started with Marvel SNAP guide.