A Very Good Doggo™ portrait barks back in Overwatch 2's Bride of Junkenstein event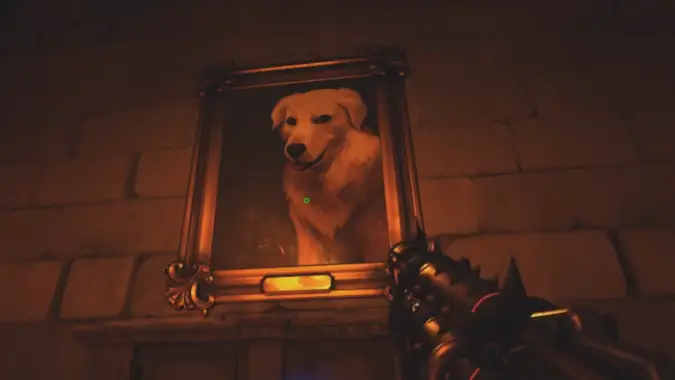 Overwatch 2's first-ever holiday, Halloween Terror, arrived this week and with it came an entirely new, PVE mission: Wrath of the Bride. In it, Sombra plays the role of big bad and, much like other PVE events in the game, you and three others must stop her from doing evil stuff in the usual Halloween milieu.
And that's all spooktacular fun, but for me, nothing is ever going to top what Twitter user ClearTogether just tweeted: Not only is there a Very Good Doggo™ picture in one of the missions' final segments, but that Very Good Doggo™ barks back at you — and it seemingly does so intelligently.
YOU CAN TALK TO THE DOG PORTRAIT AND IT MAKES DIFFERENT NOISES DEPENDING ON WHAT YOU SAY TO IT pic.twitter.com/udpBDuZi4P

— ClearTogether (@ClearTogether) October 26, 2022
This is one of those times when I honestly feel like nothing I can possibly say here will be nearly as powerful as simply watching that video above. Not only does the dog in the portrait respond when you use an emote, the specific responses are linked to what you choose, so if you say something that means goodbye, the dog whimpers. I don't understand how anyone can actually continue playing the game instead of just staying there and chatting with the pupper.
The dog itself is an homage/memorial to Buster, the (sadly former 😢) dog of Adam Puhl, a Designer on Overwatch 2, and I'm sure for people who are not really big pet owners or just aren't into dogs, this isn't the gigantic emotional bomb that it is for anyone who has had dogs and love their cute little fuzzy butts to absolute pieces. But trust me, this is pure grade-A emotional dynamite, and I now demand that this dog portrait be placed in absolutely every single video game that exists.
I want this dog portrait in Pong. I don't care, I don't want to hear your entirely rational arguments about why I can't spend an entire raid in World of Warcraft chatting with this dog, nothing matters anymore.  This is a very good dog, Brant, and we need to be able to spend every waking moment with their smooshy little face.
Okay, okay. Sorry. I'll get a hold of myself. Such a good dog.
So yes, the next time you're stopping the Bride of Junkenstein from her evil machinations in Halloween Terror 2022, please take some time to say hello and get barks from a Very Good Doggo™ — and maybe we could give scritches in a future patch.