WoW
Nov 15, 2022 3:00 pm CT
Dracthyr have thousands of customization combinations in the character creator. Here are 100 of them.
Updated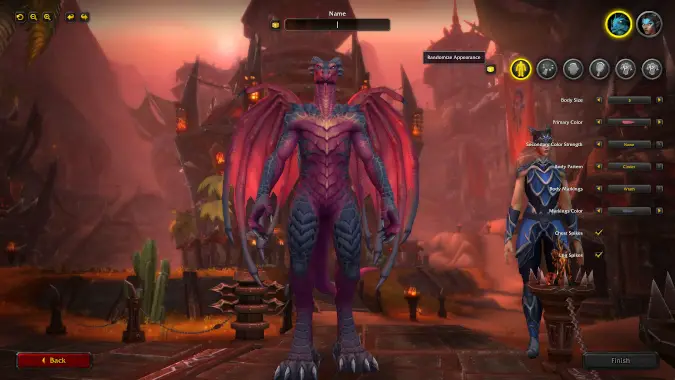 The number of Dracthyr character customizations available to players in Dragonflight can only be described as mindboggling. Mathematically, there are tens of thousands of combinations of colors, patterns, snout shapes, horns, and lots of other features to customize to make your Dracthyr your own. Of course, there are tiny details like number of fins or spikes or whatever to consider, but we were wondering how that would shake out in practice. How likely will it be that we'll run into a Dracthyr in Valdrakken that looks the same as we do except with a barely different tail? While we've been having fun with the character creator, mixing and matching our patterns and color options, there's a whole host of options available we might never explore on our own.
To try to see exactly how many options are at our fingertips, we decided to just press "randomize" 100 times, and let you come along with us. To be clear, I mean roughly 100 times — I'm a writer, Jim, not an abacus, and may have miscounted by a couple. Spoiler alert: there are very few Dracthyr that looked the same, and many of the combinations randomly spat out at us were quite striking. If you're not completely set on a design of your own making by the time Dragonflight comes out, you may want to roll the dice yourself.
We ran through the randomizations rather quickly in the video below, with the intention that, if there's one you really like, you can pause the video to look more closely.
Originally published August 18, 2022