The Queue: DF actually stands for, "December?! Fuuuuu…dge"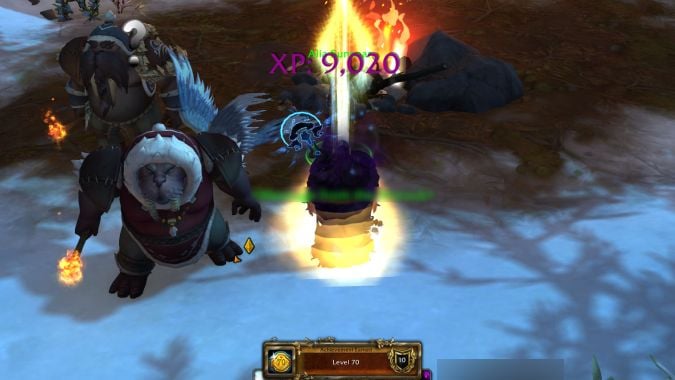 I know it's not technically December yet — but it's close enough and you won't have another Queue until it's already been December for a bit, so I'm counting this. Anyhow, it's just about December, and that's mildly terrifying because I have no idea what happened to November. Don't get me wrong, I'd love to speed through winter as quickly as possible… but dang, life does not slow down.
Anyhow, grab yourself some December Fudge, get comfy, and join us in front of an imaginary cozy fire.
It's Queue time.
---
JALAMENOS THE ASCENDED IS CONFUSED ABOUT SUBS:
Can someone explain to me how subscriptions work on Twitch? What do they do?
I know others have answered, but for anyone else curious: Twitch subscriptions are (in theory) supposed to support the Twitch streamers themselves. Twitch often ends up taking a huge cut of that (at least 50% for most streamers), but one subscription will run you $5 USD and the streamer gets part of that, similar to how Patreon functions for us.
Also like Patreon, subscriptions often come with benefits. Emotes, which can be used across any channel, are often unlocked with a subscription, and some streamers will leave chat in sub-only mode. Games Done Quick does this but will then add all the sub money to their total. It's up to the streamer what all is locked behind what Tier of subscription, but again, the overall gist is "Here's how you can more directly support the streamer (and get some cool bonuses in the process)."
---
BENDOVER WANTS A NEW HERITAGE ARMOR QUEST LINE:
QftQ: Anduin is coming back, eventually. We don't know yet when and how, but we know he is. Wouldn't that be the perfect opportunity for the Stormwind Human Heritage Questline?
What could be other reasonable story opportunities to give the rest of the Races their Heritage Questlines? Maybe the Darkspear could have a Vision from Vol'jin, about their future, and something about combining the various smaller Tribes into one union, but not in the way they did in the past, but by a common vote for a Council of Tribes and High Chieftain of the Troll Council? Yes, I'm advocating for the Trolls to be the people to create Democracy in the Warcraft universe.
I mean, I feel like we had some pretty good chances there in Shadowlands to explore the history (and future) of the Forsaken but, hey, maybe that moment is still to come. Then again, with the Bronze Dragonflight and time being an element of this expansion, maybe EVERY race has the perfectly reasonable story opportunity to start a Heritage questline.
---
MUSEDMOOSE WANTS TO KNOW MY DREAM COMBO:
Q4tQ: the devs have said they'd eventually like to have all race/class combos in the game, so which one(s) are you waiting to play? For me, I realized today that I'd really like to play a void elf balance druid, because somehow it makes perfect sense. And they'd look really cool with Glyph of Stars.
I've always wanted Forsaken Paladins. I know it kind of doesn't make sense, but at the same time, we have Warriors, we have Priests, and it's not like none of the risen Forsaken were Paladins before they died. Just give 'em to us, Blizz.
---
FUZZYBUNNY ASKS ABOUT ORIGINS:
Was Sabellian born in Outland or on Azeroth?
He was, in fact, born on Azeroth — but after he was left in charge on Draenor, he stayed there for a long time and… well, now he's back!
---
MOVEWOW WANTS TO KNOW WHAT THE GENERAL VIBE AND SUCH IS RIGHT NOW:
Q4tQ: How is everyone liking Dragonflight? What character did you play first? What has been your ups and down with dragon flight? :D
I'm enjoying it so far! Dragonriding and the attention to detail/fully realized world have been the standout elements so far. As always, I've leveled my Shadow Priest and… well, maybe I'll do another at some point. But Shadowlands — arguably the expansion designed most around re-leveling — was the first expansion I never leveled a second character to max-level, and I'm not sure if Dragonflight will change that. Maybe, though! I still need to try an Evoker…
---
MISTAH JAY [A REAL MOD] • 19 HOURS AGO
Q4tQ: What did you write in the visitor's log?
Honestly, I picked at random while leveling. But my ideal combination is:
Name: The Angry Ghost of Ysera (or Wrathion's BFF)
Arrival Time: I don't believe in time
Purpose: My purpose is my own
How 'bout y'all?
---
ARTHONOS SEES SLICES OF LIFECES:
Q4tQ: When I was roaming around the world yesterday I noticed so many NPCs just off in the world enjoying life. One camp had a hunter laying on her back, hat pulled down over her face, with her trusted pet sleeping next to her. In another place there was a Void Elf and Draenei sitting on the edge of a cliff just admiring a scenic view of a waterfall.
Anyone else encounter any of these nice "slice of life" moments, and if so which is your favorite so far?
There's a little island with a bunch of baby Tuskarr playing. I don't know if it's eventually involved in a quest, but I love it there. (I do know that one of the NPCs there, Rowie, both shares a name with my childhood cat and does become part of quests elsewhere.)
---
⛨ KRALD IS TIRED OF FEELING ATTACKED:
is there anyway to change the summon animation for the drake? the way it darts in from the side of the screen makes it look like you pulled a mob
Unfortunately, I don't think you can do this at the moment. Maybe in the not-too-distant future there will be a summoning animation to customize. But for now, I suspect it's something we just kinda have to get used to >.<
That's our Queue for today! Thankfully, as established, I don't believe in time — so this Queue isn't on time or late. It just is!
See y'all next week/yesterday.