Tavern Watch Plays One Shot: Serving gods – and looks – in the Exalted TTRPG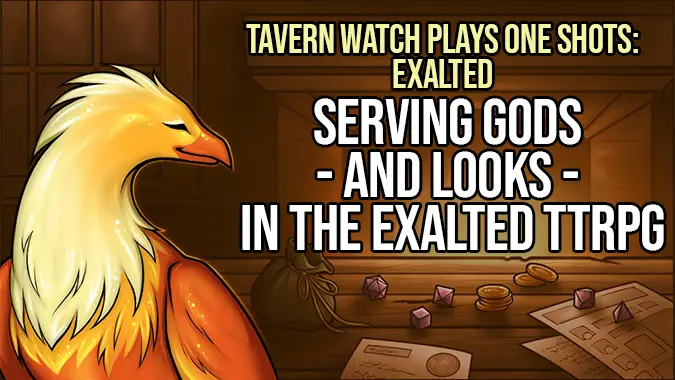 In this single-session TTRPG adventure, DM Matt Rossi takes Liz Harper, Liz Patt, Joe Perez, and Nick Marino into Exalted, a world of high mythic fantasy where they role play champions of the Unconquered Sun, the peerless warrior kings and queens of Creation itself. As you can imagine with this bunch, hilarity ensues.
Have we piqued your curiosity? You can listen to this podcast on Soundcloud or directly from this post. You can also click on download icon along the lower bar of the player below to listen on your own device.
You can also subscribe on Spotify, iTunes, or your podcast player of choice to be notified when a new episode is released. You can also catch up on our other podcasts — including our new tabletop gaming Tavern Watch podcast — on our podcast page. And if you subscribe to our Patreon Tier 2 or above you can listen to all of our podcasts early, as well as uncut versions of the Blizzard Watch and Tavern Watch podcasts.
Thanks for your support and enjoy the show!