The Queue: Giant good boy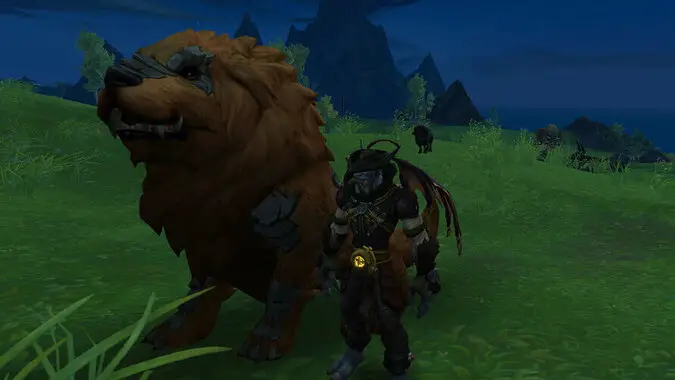 What else is there to say about this quest chain in the Ohn'aren plains other than it's the best?
Who hasn't met a giant doofy dog who just wants to be helpful, and is maybe not that bright? I have a very good friend with a Saint Bernard puppy right now, and he was all I could think about while I was escorting this Bakar all over the plains. Of course, Taivan wants to make friends with the ram, there are probably about three thoughts rattling around in his head at all times, and those are probably chewing, playing, and friend. Trust me I know the type.
While I go find a dog to pet, it's time for — The Queue.
---
NO MATTER HOW HARD I TRY MAALIN KEEPS PUSHING ME ASIDE
Q4tQ: Weirdest sandwich you've ever had that actually tastes good. I'll go first. Whole grain bread, mayo, canned chicken (dark meat if you can get it), sweet pickle relish, and cranberry sauce.
When I was a little kid I used to have Cheeze Whiz™ and olive sandwiches, I called them monster eye sandwiches. They were really good! I swear!
My friend mentioned above who has the St. Bernard puppy doesn't seem to share that opinion. Sure they don't like olives, which is half of the sandwich, but the salty with the cheese just worked so well! It might work with the tiny sweet gherkin pickles too, but I never tried that.
---
AND I CAN'T BREAK THROUGH THERE'S NO TALKING TO SJHAWK
The Sheep Herding daily quest in the Ohn'ahran plains is the worst…
Color me impressed that they made their "player herds a skittish thing" technology worse in Dragonflight. I don't know how they did it! I never had this kind of trouble with herding orphans in Battle for Azeroth or the Owlkittens in Legion. It got to the point that I thought I must be missing something about the quest because it can't be that bad — right?
Nope! Just an awful experience that I'll likely never repeat.
---
DOMEHAMMER IT'S SO SAD THAT YOU'RE LEAVING, IT TAKES TIME TO BELIEVE IT
The Salamanther will be driven to extinction because of the really annoying .001% droprate of Salamanther Scales. This is Winterspring yeti horns all over again.
This however has given me a question idea. So question for the queue! Has anyone encountered a really annoying drop rate quest? It took me at very least over 100 Salamanther kills to get the 3 scales for a prof quest.
I think I killed about the same number of salamanthers as you did for that profession quest. It got to the point that I flew around to the different colors of salamanthers because maybe there was some hidden thing where she really wanted different colored scales.
I don't think there was, but I did make myself feel better about it.
Then I realized that I would need to continue killing salamanthers for some of the new profession reagents and oh boy did my heart sink. I think it's possible there are perhaps a tiny bit too many profession bits in this expansion.
The extra reagent bag should've been the tipoff I think because woof — that got filled up really quickly.
---
BUT AFTER ALL IS SAID AND DONE YOU'RE GONNA BE THE LONELY ONE MR. PRONOUNCED JæKSDæDI, ESQ.
Weirdest bug that I've encountered yet. My flying mounts will not lift off. They'll fly if I run off of a surface, but no amount of space bar will make them take to the skies. It's persisted through one alt-F4 already.
I haven't run into that many bugs, but one that has shown up since the release of the new edit mode has been that my Dash button sometimes stops working until I drag it back onto my bars. I wanna go fast! It's very rude that it won't let me.
I wonder if your flying mounts are jealous of not being able to use the new dragon flight system. I know mine are pretty upset they can't. I got ported back to the Barrens graveyard after I left an instance group earlier today, and it was actually very upsetting to ride a flying mount that didn't have momentum. I've barely used the new system! I just find it so much more interactive it's really noticeable when it's not there.
I also really really miss my Druid flight form. Why can't I just copy what I've seen my drake do? I'm a smart cookie — I think. It should just be monkey see monkey do!
---
DO YOU BELIEVE IN LIFE AFTER MUSEDMOOSE?
Finished the Ohn'ahran Plains main story tonight, which was really satisfying for a night elf main. :P My mage is level 67 or 68, I can't remember which, but I still have six minor questlines to do according to the achievement, so odds are real good I'll go up another level before I move on. Really looking forward to hitting the Azure Span, as the blue dragons are my favorite flight.
So far, I'm really enjoying DF as an expansion. I've felt comfortable taking it at my own pace, just learning how everything works, and I haven't run into anything that's caused me any real trouble. Even dragonriding is getting better. I'll see how I feel once I hit 70 and there's all kinds of post-leveling stuff to do, but still. It's good to be back.
I managed to get to 69 before I got into the Azure Span at all. Then between flying around and getting all of its glyphs and finishing all of its basic dragonriding races I hit 70 before finishing the first quest hub. The quest that did it? Throwing mail from home at the Kirin Tor Initiates around the tower. Super duper heroic stuff.
I think I just do too much while leveling. I had the same problem back in Shadowlands where I had all of Revendreth to finish at max level. I couldn't even choose a Covenant until I finished it! That didn't feel great. It might be a problem with no real solution other than a bit more focus on my part. If I stopped getting distracted by every shiny quest maker along the way maybe I'd have gotten to max closer to Valdrakken.
I just know that my urge to do side quests usually goes way down after I hit max level. So I try to get as many of them done while I'm still leveling.
Today's Anna Earworm™: Believe
Give your big doofy dogs and cats and rabbits a hug from me today! After leaving Anna lots of questions for tomorrow that is.