How to get Gingerbread Bastion (and the rest of the Winter Wonderland skins) in Overwatch 2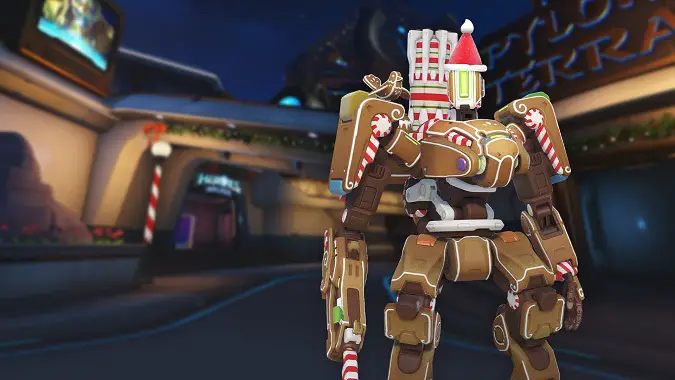 'Tis the season for Winter Wonderland in Overwatch! During this time of year, Overwatch 2 players have their chance to earn festive new skins like Ice Queen Brigitte, Ice Angel Echo, Sleighing D.Va, and now Gingerbread Bastion. Some of these require a bit of commitment (or cash) to get, but this festive Bastion skin is an easy one: from December 20 to January 3, players can purchase the Gingerbread Bastion skin for only 1 Overwatch Coin.
How to get skins during Overwatch 2's Winter Wonderland
If you're new to Overwatch 2, then Winter Wonderland might be your first holiday event. This festive winter-themed event that runs from December 13 to January 4, and features special themed Event Challenges as well as plenty of holiday skins, sprays, and weapon charms. Most skins are earned by completing Event Challenges, receiving Twitch Drops, or buying them in the shop.
Here's how you can get the four new skins for Winter Wonderland this year:
Ice Queen Brigitte: Complete six Event Challenges, like "Caught a Cold," where you have to catch six snowballs in a Snowball Deathmatch. Or "Monster Hunter," where you have to win a game in Yeti Hunter as Mei.
Sleighing D.Va: Watch four hours of Overwatch 2 streams on Twitch (be sure to link your Battle.net account to Twitch first).
Gingerbread Bastion: Buy from the shop for 1 Overwatch Coin.
Ice Angel Echo: We don't know how to get Ice Angel Echo yet, but she should appear in the shop before the event is over. Typically, new event skins cost 1700 Overwatch Coins.
Sprays and weapon charms work similarly: also earned by completing Event Challenges. To get the Ramattra ornament spray, you have to win a game in Yeti Hunter as a Yeti. To snag the Snowman weapon charm, you have to complete six Event Challenges.
Skin acquisition can be time consuming. These challenges aren't always easy especially if you haven't played certain characters. Getting skins as a Twitch Drop is simple, but always takes some time — usually four hours. Of course, if you don't have the time to complete challenges or watch Twitch, then you can purchase certain skins. Skins will often come in a bundle and cost anywhere between 900 and 2700 Overwatch Coins. Available skins in the shop rotate every 24 hours or so.
Since skins are usually expensive, the 1 Overwatch Coin price for Gingerbread Bastion skin is an excellent deal, even for those who don't usually play Bastion.
How to earn Overwatch Coins
Earning coins is fairly easy: you just need to complete the Weekly Challenges. Weekly Challenges task the player to achieve specific objectives. For instance, "Playing to Win" is a weekly challenge where you have to win ten games, and "Coin Line" is where you have to win five games in Arcade Mode. After completing a set number of challenges, you will earn some coins. Once you have accumulated enough coins, you can spend them in the shop.
You can also outright buy coins with real money: a hundred coins will cost about $1USD, so a 1700 coin legendary skin would set you back about $17 in real money if you you bought it outright rather than earning it in-game.
If you don't have enough coins for the Gingerbread Bastion skin, then now is the perfect time to jump into Overwatch 2 and complete those challenges.