Human and Orc Heritage Armor coming in Dragonflight patch 10.0.7
Heritage Armor for Orcs and Humans is finally coming to World of Warcraft in patch 10.0.7. Patch 10.0.7 will bring us quite a bit of content, including a new questing hub in the Forbidden Reach zone and the ability for more races to be Monks. At the same time, Orcs and Humans will get their long awaited Heritage Armor questlines.
Shortly after that is in your hands, we'll release the 10.0.7 content update onto our Public Test Realm. 10.0.7 will contain a new quest campaign and repeatable world content set in the Forbidden Reach, as the dracthyr return to their place of confinement (along with some unexpected guests) to learn more about their origins and their destiny. This content will set up the next major chapter of Dragonflight, and by its conclusion, it should be obvious what our next destination must be. Alongside this new content, we also plan to add questlines for Human and Orc cosmetic Heritage Armor, update some of our recurring holidays, and more.
It's probably fair to speculate that these Heritage Armor quests will not be connected to the Forbidden Reach hub, as that's all about the Dracthyr. Heritage Armor quests are usually stand-alone storylines which involve events with great lore significance for the race. The Worgen Heritage Armor quest explored their cursed nature, while the Blood Elf Heritage Armor quest involved killing a lot of Scourge in the abandoned Ghostlands.
Perhaps more importantly, completing the quest will grant you access to a transmog set themed around your race's specific aesthetic. With the patch 10.0.7 roadmap, we now know what these sets will look like — though it will be interesting to see them on other body types.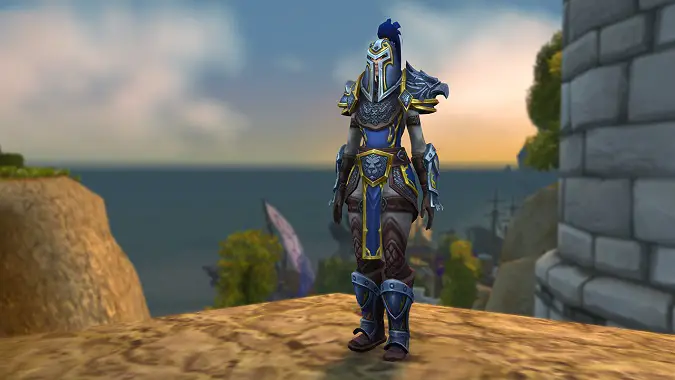 How exactly will we go about getting the armor? We don't have any information on the quest lines and what completing them will entail. For all the other main races, it required you to reach the level cap at the time they were released — due to level squishes and other rebalancing over the years this exact number is now a little variable — and also Exalted reputation with your home faction, while the requirements for the Allied Races Heritage Armor were far more lax. On the plus side, not getting access to this quest line until 10.0.7 gives you plenty of time to grind that rep if you still need it.
And yet I'm still ridiculously excited and I'm so, so happy even though I am not currently leveling an Orc and I likely won't play my Human much this expansion. More Heritage Armor is always a good thing, and I can't wait to see how they design a set for Humans and Orcs that fits their complicated backstory, reaching all the way back into the original Warcraft.
Originally posted December 22, 2022. Updated January 25, 2023.