WoW
Feb 3, 2023 5:00 pm CT
How to send Primal Chaos to your alts to craft the best gear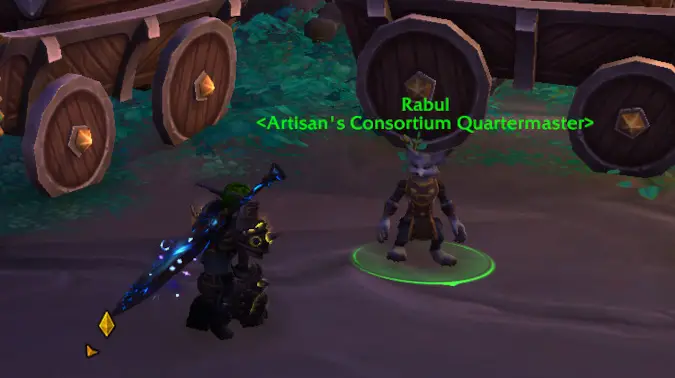 Anyone with alts knows the pain of trying to collect enough Primal Chaos for crafting. You may be swimming in Primal Chaos on your main without any real use for it, but you can't stop getting the stuff from dungeons and raids, which leaves you with no real choice but to hoard it like a cartoon duck planning to go swimming in an immense vault of the stuff. But now you can transfer Primal Chaos between characters on your account — though it comes at a cost.
It's pretty simple to transfer Primal Chaos: there's a new bind on account item you can buy that costs Primal Chaos, which you can send to alts who can open it to receive Primal Chaos. However, the item costs more than your alts will receive, so transfers cost 20 Primal Chaos per every 60 Primal Chaos. Here are the details:
We've heard and agree with feedback that players have amassed surplus Primal Chaos on their mains while their alts need all the Primal Chaos they can get. With a hotfix that went live about 12 hours ago, we've added a method for transferring Primal Chaos to other characters on your account.
Rabul of the Artisan's Consortium now sells a Satchel of Coalescing Chaos that binds to your Blizzard Account. This item costs 80 Primal Chaos and provides 60 Primal Chaos to the character who uses it.
As you can see, some Primal Chaos will be lost in the transaction. This is because we want to make sure that while this is a great way for a main to help an alt, the best way to gear up a character should generally be via actually playing that character.
Nonetheless, this should provide an additional use for your Primal Chaos, as well as a good way to get some powerful gear to your alts quickly.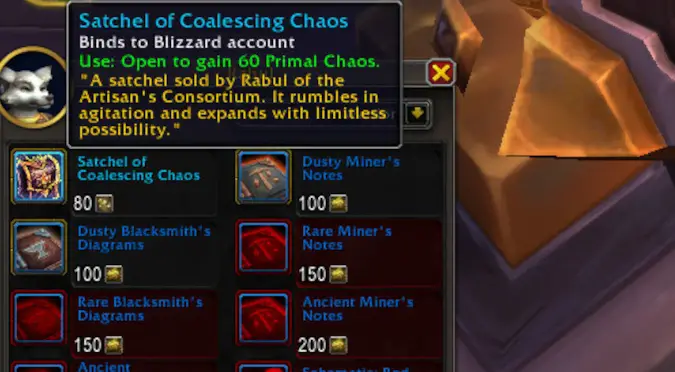 How to send Primal Chaos to alts
If you want to shift some Primal Chaos to an alt to craft an epic or maybe you have plenty on your alts and you want to consolidate it on your main, here's how:
Find Rabul, the Artisan's Consortium Quartermaster in Valdrakken. They're the Vulpera next to the wagon in the western part of the town where you can go to look at available recipes to have work orders made.
Buy the Satchel of Coalescing Chaos from Rabul for 80 Primal Chaos
Mail the Satchel to the character you want to transfer Primal Chaos to.
Switch to the character in question, grab the Satchel from your mailbox and open it.  open the Satchel and you'll now have 60 more Primal Chaos in their inventory.
Just don't forget that this will cost you 80 Primal Chaos but you'll only get 60 on the character who receives it. Kaivax mentions that this is so it's still more effective to grind Primal Chaos on the character you want to gear up instead of just playing your main and sending all of your Primal Chaos to your alts. Still, if you're staring at a pile of Primal Chaos and can't do anything with it while your alts are desperate for more, this now allows you to move it between characters.