How to use Hearthstone Battlegrounds Buddies, coming soon to Battlegrounds Season 3
Hearthstone Battlegrounds Season 3 is about to reach its halfway point, and to shake things up Buddies will make a return — but things have changed a little since Buddies were last available in Battlegrounds. Buddies are still powerful minions that are specific to each hero, and you can obtain three copies of them during a match to make a golden buddy. However, originally Buddies were a little difficult to obtain: to get Buddies in Battlegrounds Season 3 you no longer fill out a meter by dealing damage or winning matches. Instead of the old Buddy Meter, there's now a new Buddy Button which you can press to dispense your friend immediately — at a gold cost.
Buddies will now have Tiers varying from 1 to 6, like regular minions — and the higher Tier a Buddy is, the more Gold it costs, starting from 11 Gold for Tier 1, all the way up to 21 Gold for Tier 6. However, that cost is reduced after every battle, depending on your performance: If you win or tie your combat, the cost is reduced by three, and if you lose, it's reduced by two.
Once you decide to hit the button and pay whatever the current cost is, you'll get the first copy of your Buddy, and the price will not only reset, but also be increased a little. You'll have to play more battles in order to reduce it again, and once you're satisfied with the cost and decide to pay it by hitting the button again, you'll get the other two copies of your Buddy at once, just like it was with the previous system.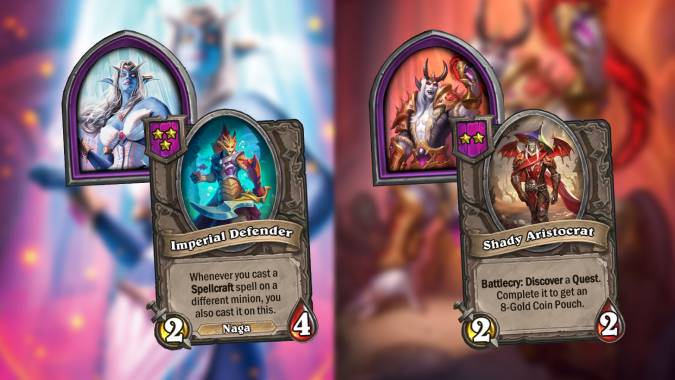 How to use Buddies in Battlegrounds Season 3
As in the previous iteration of Buddies, players are still encouraged to try to build strong boards in the beginning of the game, in order to win those early matches, so that they can earn their Buddy sooner, rather than later. This is actually pretty healthy for the game, since it means that strategies where players care only about powerleveling their Tavern Tier in order to reach the more powerful minions earlier can backfire. It makes the early stages of the game far more relevant.
But the change to make Buddies cost Gold gives players the ability to choose to get their Buddies even earlier if they're willing to pay a little extra, instead of waiting to get it for free. This gives those players the chance to make a comeback: Even if they lose those early matches and see their opponents getting their Buddies before they do, they can still choose to invest their Gold wisely, and get their Buddy at the same time as their opponents do, in order to not fall behind. It's a gamble, but one that can absolutely pay off!
Of course, heroes that were introduced to the game after the Buddy system had already been removed will be getting their own exclusive Buddies too. You can find some of them at the official blog and the official Hearthstone Twitter account. Look for more info on Buddies next week in the Hearthstone patch 25.6 patch notes