The Queue: The joy of flying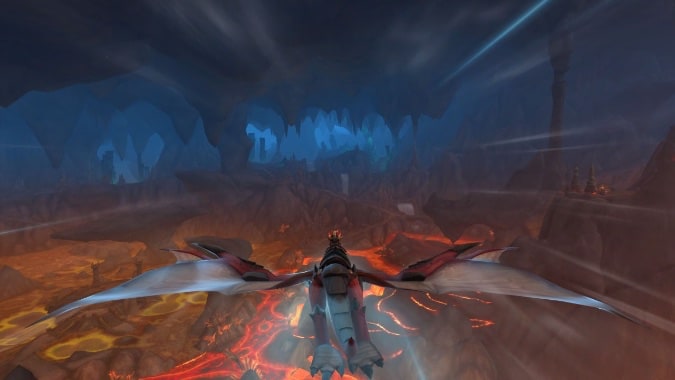 It is just so satisfying to swoop through the air on a dragon, barely clearing mountains just to pick up speed going back down, barely dodging trees, crashing down into the ground right on top of the rare you mean to kill.
Okay. That's a lie, because I almost never manage to dodge trees. But there's still something viscerally satisfying about Dragonriding, and I'm looking forward to doing more of it, in a place where there are no trees to hit in patch 10.1.
Let's Queue.
---
KALCHEUS ASKED:
Q4tQ What class should I level next?
I understand Paladins are about to have a banner year, plus I am looking for new members of my own personal army of the light. I'm up to three Paladins in my raid team, but we could always use more.
---
HONORS HAMMER ASKED:
Question for Paladins. I got an email about a free trial of Dragonflight and thought I might poke around if I get some time this weekend. I know Paladins were getting a rework, but usually leveling could be done no matter how well your class fares at "end game."
I love to solo/level as Protection. Do you think I'll have any major issues leveling from 60 to 70?
Retribution will do the most damage, but it's surprisingly squishy for a class that wears plate. Holy is doable but I find it slow, so I've gotten into the habit of playing Retribution even though it isn't my very favorite thing. But tank leveling is almost always a winner, because  you have the ultimate in survivability.
You can absolutely level as a tank and solo out around the world just fine.
---
SPEEDLANCER ASKED:
Queue Question: Reading about the new zone, and the point that stands out for me is "being mounted while under ground". So when are we getting to mount "inside" everywhere else? About half of the caves of Dragonflight are MASSIVE, and far too reminiscent of the walk out of old raids and dungeons when I don't want to teleport away from the zone I entered from.
Unfortunately, I don't see our inability to mount in smaller indoor spaces likely to change any time soon. Spaces like Zaralek Cavern and Deepholm are underground, but they're also massive, and designed with flying in mind. There's plenty of room to spread those wings, to swoop and dive.
Some of the older caves are literally not large enough for mounts (particularly not large mounts). And even larger caves could have tight spots that could be mobility issues. But even identifying which caves are okay and which caves need work to allow mounts would be a sizable project. A project we'd probably all appreciate the next time we were walking through a cave, but maybe not a project that's worth quite as much time as it would likely take.
So, yeah, I think it would be great. But I don't think it's likely to happen, particularly with what a wildly busy year this is. Still, we can keep hoping, right?
---
DASHIFEN ASKED:
Any word of nerfs to Vault of the Incarnates? getting AOTC is not likely for my team, but at least getting to 8/8N would be nice.
There hasn't been any word of nerfs yet, but it is extremely common for Blizzard to nerf raids as they get older, particularly when we're getting close to the deadline for things like AOTC, so people can complete their goals and move on to the next big thing before the raid is gone. I expect we'll see more nerfs to Vault of the Incarnates before patch 10.1 arrives and Aberrus opens. You probably have a couple of months to work on it still, so there's time to make tons of progress. Keep at it!
And that's all for now my friends. Have a good weekend and keep on keeping on, everybody. I'll see you back here next week.