5 great decks to use for Marvel SNAP's Featured Location, Orchis Forge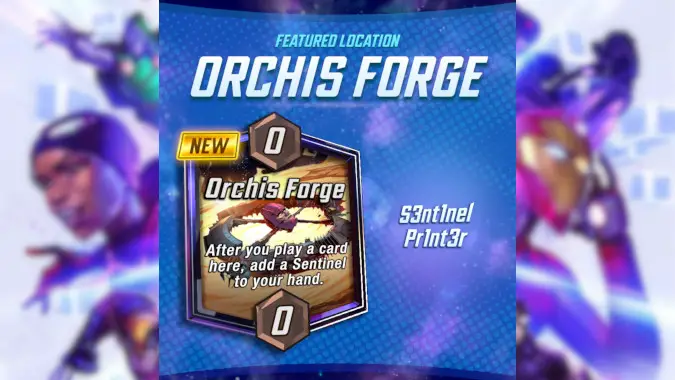 Marvel SNAP rolled out the first Featured Location of the new Days of Future Past season, Orchis Forge, and we've constructed some decks for you to try out there. Featured Locations, for those unaware, typically change over on Tuesdays and make a specific location more likely to appear. They are usually worth some deck adjustments if you're looking to win some matches.
Let's take a look at some great deck lists to use while Orchis Forge is the Featured Location, though all of these decks will work to your benefit whenever you encounter the Orchis Forge Location in the future — or is it the past?
What is the Orchis Forge in Marvel lore?
The Orchis Forge wasn't part of the 2014 Days of Future Past movie, but has rich lore in the recent comics. Orchis is an organization that first appeared in House of X run of Marvel comics in 2019. Its agents came from S.H.I.E.L.D., S.W.O.R.D., A.I.M., and every other alphabet soup organization in Marvel lore. Its mission was to stop Mutants from become the dominant species on planet Earth.
Orchs salvaged the remains of Tony Stark's Dyson Sphere, known as Sol's Hammer. They used it as a base to house Mother Mold (one of new cards coming to Marvel SNAP this month.) Mother Mold would in turn produce legions of Sentinels. Eventually, Cyclops would lead the X-Men in an assault on Orchis Forge and Mother Mold, destroying them both.
What's the key to winning when Orchis Forge is up?
In Marvel SNAP, Orchis Forge adds Sentinel cards to your hand. Unless you play the Sentinel on a Location where Cosmo is active, you are never getting rid of it. Marvel SNAP allows for a maximum of seven cards in your hand. There's no "mill" mechanic. If you have seven cards at the end of the turn, you simply will not draw another card until you end a turn with less than seven cards.
A full hand can sometimes be beneficial. For instance, if you have Luke's Bar as a Location, it will not be able to return a card to your hand if your hand is full. This is one way you could get a card to "stick" there. Orchis Forge is likely to lead to big hands so you may want to think about having decks that have good tempo.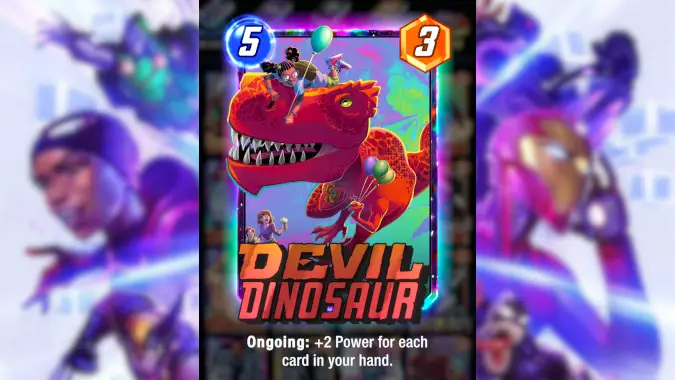 Great decks to use on Orchis Forge
Rocks and Hawks
Deck code:
eyJOYW1lIjoiUm9ja3MgJiBIYXdrcyAtIENvenkgTWV0YSIsIkNhcmRzIjpbeyJDYXJkRGVmSWQiOiJLb3JnIn0seyJDYXJkRGVmSWQiOiJRdWluamV0In0seyJDYXJkRGVmSWQiOiJaYWJ1In0seyJDYXJkRGVmSWQiOiJNeXN0aXF1ZSJ9LHsiQ2FyZERlZklkIjoiQWdlbnRDb3Vsc29uIn0seyJDYXJkRGVmSWQiOiJEYXJraGF3ayJ9LHsiQ2FyZERlZklkIjoiU2hhbmdDaGkifSx7IkNhcmREZWZJZCI6Ik1vb25HaXJsIn0seyJDYXJkRGVmSWQiOiJSb2Nrc2xpZGUifSx7IkNhcmREZWZJZCI6IldoaXRlUXVlZW4ifSx7IkNhcmREZWZJZCI6IkRldmlsRGlub3NhdXIifSx7IkNhcmREZWZJZCI6IkFlcm8ifV19
This deck is powered by two cards that thrive off of large hand sizes: Devil Dinosaur, and Darkhawk. It has plenty of card generation to feed Devil Dino while cards like Rock Slide and Korg fill your opponents decks with relatively useless Rocks. Master Mold, if you were lucky enough to get it, would be an interesting card to try.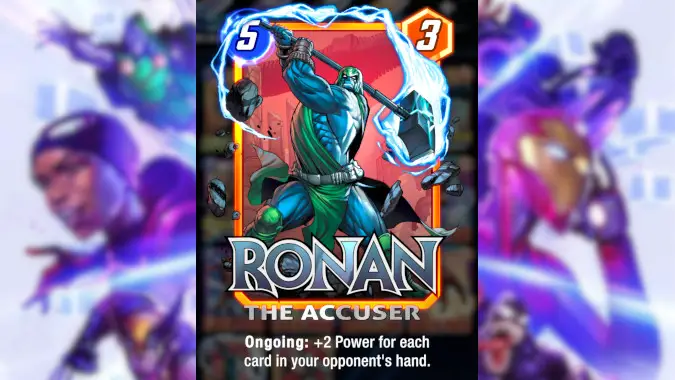 Ronan
Deck code:
eyJOYW1lIjoiWm9sYVNsaWRlIiwiQ2FyZHMiOlt7IkNhcmREZWZJZCI6IktvcmcifSx7IkNhcmREZWZJZCI6IkJsYWNrV2lkb3cifSx7IkNhcmREZWZJZCI6IlBzeWxvY2tlIn0seyJDYXJkRGVmSWQiOiJTY29ycGlvbiJ9LHsiQ2FyZERlZklkIjoiSXJvbmhlYXJ0In0seyJDYXJkRGVmSWQiOiJEZWJyaWkifSx7IkNhcmREZWZJZCI6Ik1heGltdXMifSx7IkNhcmREZWZJZCI6IldvbmcifSx7IkNhcmREZWZJZCI6IlJvY2tzbGlkZSJ9LHsiQ2FyZERlZklkIjoiUm9uYW4ifSx7IkNhcmREZWZJZCI6IkJsYWNrUGFudGhlciJ9LHsiQ2FyZERlZklkIjoiQXJuaW1ab2xhIn1dfQ==
Black Widow, Rockslide, Korg, and Maximus all help keep your opponent's hand full of cards to make a huge Ronan. You can then copy your giant Ronan with Arnim Zola. This also includes the Wong-Black Panther-Zola combo as a backup win condition. This would be another interesting list to try out Master Mold.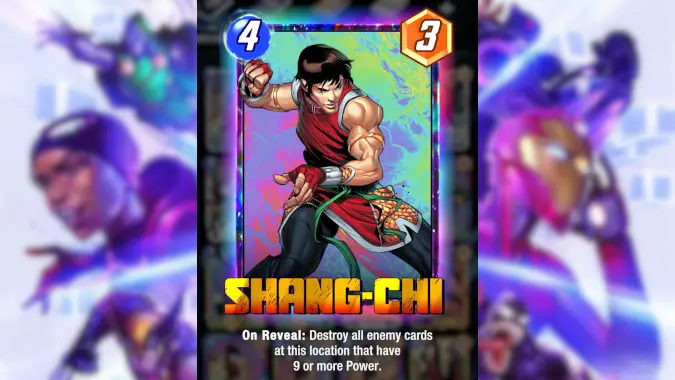 Tempo Value
Deck code:
eyJOYW1lIjoiVGVtcG8gVmFsdWUgLSBDb3p5IE1ldGEiLCJDYXJkcyI6W3siQ2FyZERlZklkIjoiU3Vuc3BvdCJ9LHsiQ2FyZERlZklkIjoiQXJtb3IifSx7IkNhcmREZWZJZCI6IkxpemFyZCJ9LHsiQ2FyZERlZklkIjoiQ29zbW8ifSx7IkNhcmREZWZJZCI6IlRob3IifSx7IkNhcmREZWZJZCI6Ik1heGltdXMifSx7IkNhcmREZWZJZCI6IlNoYW5nQ2hpIn0seyJDYXJkRGVmSWQiOiJXaGl0ZVF1ZWVuIn0seyJDYXJkRGVmSWQiOiJEZXZpbERpbm9zYXVyIn0seyJDYXJkRGVmSWQiOiJMZWVjaCJ9LHsiQ2FyZERlZklkIjoiQWVybyJ9LHsiQ2FyZERlZklkIjoiTWFnbmV0byJ9XX0
This deck tries to have a powerful play on each and every turn by filling the deck with some of the better cards in SNAP. You should be able to keep your hand size under control and counter many of the popular meta strategies.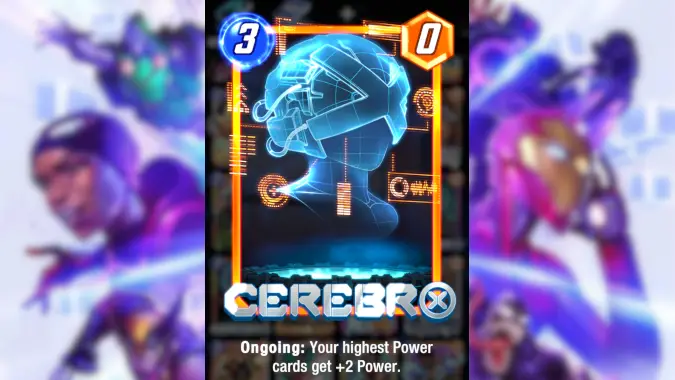 Cerebro 3
Deck code:
eyJOYW1lIjoiQ2VyZWJybyAzIGF0dGFjayIsIkNhcmRzIjpbeyJDYXJkRGVmSWQiOiJMdWtlQ2FnZSJ9LHsiQ2FyZERlZklkIjoiQXJtb3IifSx7IkNhcmREZWZJZCI6IkJhcm9uTW9yZG8ifSx7IkNhcmREZWZJZCI6IkNvbG9zc3VzIn0seyJDYXJkRGVmSWQiOiJTY2FybGV0V2l0Y2gifSx7IkNhcmREZWZJZCI6IlNlbnRpbmVsIn0seyJDYXJkRGVmSWQiOiJDZXJlYnJvIn0seyJDYXJkRGVmSWQiOiJNeXN0aXF1ZSJ9LHsiQ2FyZERlZklkIjoiQ29zbW8ifSx7IkNhcmREZWZJZCI6IktpbGxtb25nZXIifSx7IkNhcmREZWZJZCI6IlNoYW5nQ2hpIn0seyJDYXJkRGVmSWQiOiJWYWxreXJpZSJ9XX0=
Sentinels are 2-Energy, 3-Power cards and with Orchis Forge in play, you're likely to have several. Cerebro provides a way to buff all those Sentinels. Cerebro plus Mystique buffs them even more. The deck includes anti-meta cards like Shang-Chi and Killmonger, both of which are 3-Power and will get the Cerebro buff.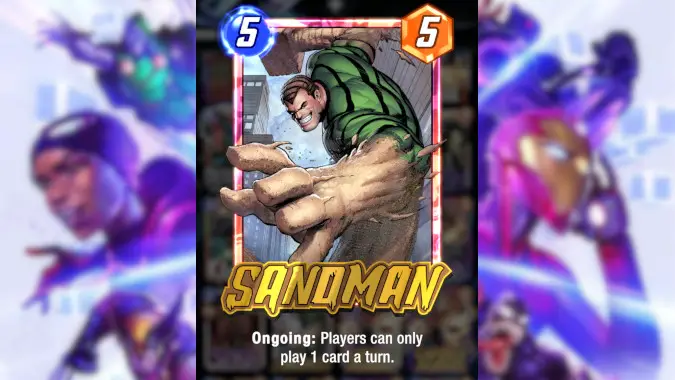 Sandman Disruption
Deck code:
eyJOYW1lIjoiRWxlY3RybyBSYW1wIGtpbmd2ZW5vbSIsIkNhcmRzIjpbeyJDYXJkRGVmSWQiOiJTdW5zcG90In0seyJDYXJkRGVmSWQiOiJJY2VtYW4ifSx7IkNhcmREZWZJZCI6IkVib255TWF3In0seyJDYXJkRGVmSWQiOiJFbGVjdHJvIn0seyJDYXJkRGVmSWQiOiJXYXZlIn0seyJDYXJkRGVmSWQiOiJTaHVyaSJ9LHsiQ2FyZERlZklkIjoiQmxhY2tQYW50aGVyIn0seyJDYXJkRGVmSWQiOiJOaW1yb2QifSx7IkNhcmREZWZJZCI6IlNhbmRtYW4ifSx7IkNhcmREZWZJZCI6IkFybmltWm9sYSJ9LHsiQ2FyZERlZklkIjoiRHJEb29tIn0seyJDYXJkRGVmSWQiOiJPZGluIn1dfQ==
This deck aims to slow down your opponents play by only letting them play one card per turn. You really need to pull your ramp cards like Electro and Wave early, but Sunspot, Iceman, and Ebony Maw give you decent early game options. Both Nimrod and Doctor Doom give you good options for spreading Power across multiple lanes with only playing a single card.
What are your ideas?
Orchis Forge means you are going to be dealing with some large hands and cards that keep cycling themselves. It is nice to have options to play each turn, but you can quickly get to the point where your hand is full and you can't draw.
Keep in mind that even as the Featured Location, there will still be matches that you don't see Orchis Forge. Make sure your deck is flexible enough that you don't have to retreat if you don't get Orchis Forge in your Location pool.
Whether Orchis Forge is in your Location pool due to the event, or just one of the randomly chosen ones after the event, hopefully these decks and tips help you win!
What other great decks have you used with Orchis Forge? Let us know in the comments.