Earn four Signature Cards and two card packs with the Legends Take The Stage event on Hearthstone, now live!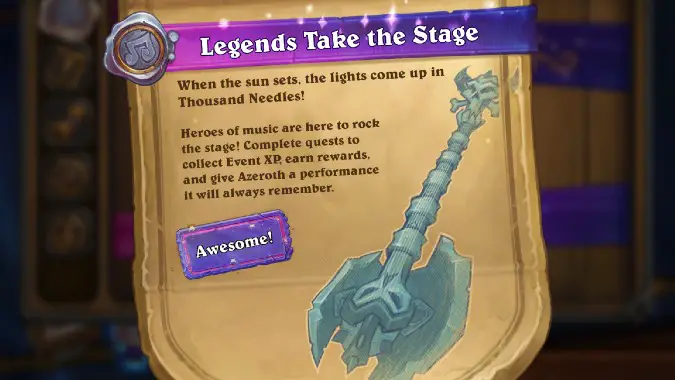 The Legends Take The Stage event is now live in Hearthstone, and you can earn four Signature Cards and two card packs from participating. You can find the event on your Journal, by clicking the button with the musical note on the bottom left corner of the main screen of the game, right next to the Shop. The Event panel is the first icon on the Journal.
Once there, you'll find all the info on the event, including the rewards and how much event XP you need to earn everything. The rewards are as follows: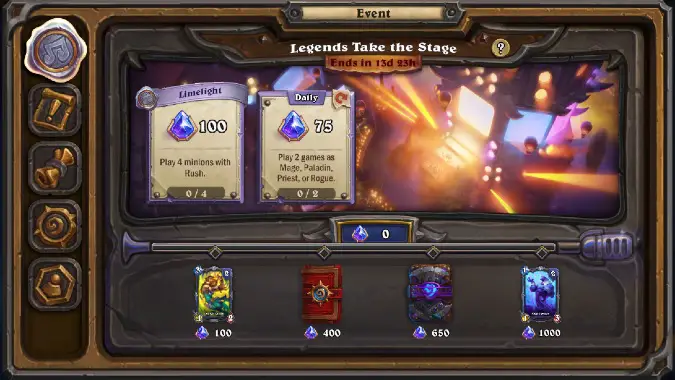 And how, pray tell, does one earn event XP? Well, the answer is right on that window as well: by completing event quests! You get a series of four special quests that you can't re-roll; you need to complete one to receive the next one. These four quests are:
Limelight: Play 4 minions with Rush. Reward: 100 event XP
More Cowbell: Deal 3 damage with Cowbell Soloist. Reward: 150 event XP
Once More with Feeling: Play 2 minions with Reborn. Reward: 200 event XP
A Final Countdown: Play 1 Finale card. Reward: 250 event XP.
"But that's not enough event XP to earn everything," you're surely saying. That's because you also get a set of daily event quests that reward you with event XP. You can re-roll those daily event quests once a day, just like you would with normal quests, and you're guaranteed to get a new one to complete on each of the 14 days of the event.
From our experience with past events, 14 days is more than enough time to earn everything. The quests aren't particularly challenging to complete — though they might require you to play some cards you normally wouldn't in order to trigger their effects. We recommend jumping into Casual mode if needed, so that you can focus only on getting your quests done without worrying if you'll win or lose those games.
And that's all there is to it! The Signature cards for Festival of Legends are gorgeous, and definitely worth the effort to earn them — and the packs you get along the way aren't bad either. Happy festival, you legend!