WoW
May 2, 2023 2:00 pm CT
Everything you can (and can't) do in cross-faction guilds, going live today with patch 10.1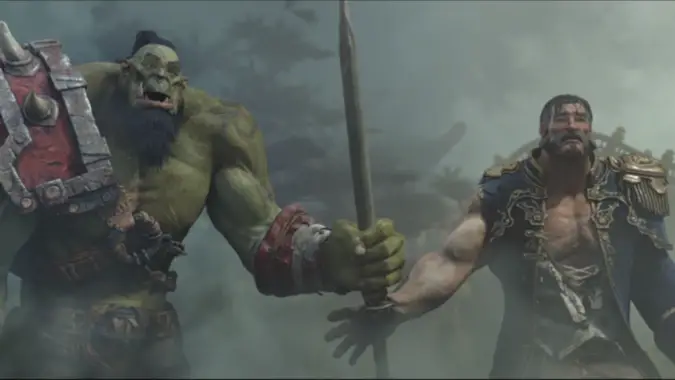 The World of Warcraft development team is softening the divide between the Alliance and Horde with new cross-faction guilds debuting when Dragonflight patch 10.1 goes live on May 2, but the changes will only allow communal play in instanced content. Here is a rundown on what else players can (and can't) expect from a cross-faction guild.
Players will be able to join same-realm guilds with their Battle.net friends from the opposite faction. The changes will allow opposite-faction guildmates to play in raids or dungeons with each other, but the characters will still be considered unfriendly in the outdoor world or hostile in war mode — this means no questing together.
According to the published blog post:
Guild affiliation with the Alliance or Horde will depend on the faction of the guild leader, and guild achievements and vendors will still reflect the guild's primary faction.
Guild members of the opposite faction will benefit from unlocked shared perks but cannot contribute to specific achievements. For example, Alliance members of a Horde guild could not contribute progress towards the "Alliance Slayer" guild achievement.
Guild repairs and social conveniences, like shared chat, will be available to opposite-faction guild members.
Players must be Battle.net friends or part of the same Battle.net community to invite or receive an invitation to an opposite-faction guild on the same realm.

Faction players working together in a guild, but with restrictions
Cross-faction guild members still cannot queue for group content together. World of Warcraft game director Ion Hazzikostas, in an interview with Gamespot, emphasized that cross-faction participation isn't something that will be forced on players:
"We see this as a conservative step in the same vein as cross-faction instances. This is still opt-in. We want to make sure the focus is not on tearing down Alliance and Horde as entities in Warcraft, or making complete unity the default experience, but making sure players who have real life or other out-of-game bonds with folks on the opposite faction can play with them and experience WoW together, because at the end of the day, that's the prime value here."
Cross-grouping restrictions still apply:
Players will have the ability to find Premade Groups in the Group Finder for dungeons (Normal, Heroic, Mythic, and Mythic+), raids, rated arena/RBGs, and also Torghast. However, the group leader may restrict the listing to same-faction applicants if they choose.
After doubling down on the faction conflict in Battle for Azeroth, Blizzard has slowly been loosening restrictions that keep the player base divided. Blizzard piloted cross-faction grouping back in Shadowlands patch 9.2.5, but as their comments indicate there are still plans to expand the ability of players to team up with their friends regardless of faction.