WoW
May 24, 2023 10:00 am CT
Dragonflight patch 10.1.5 brings Dragonriding to the Old World and other quality of life improvements for flight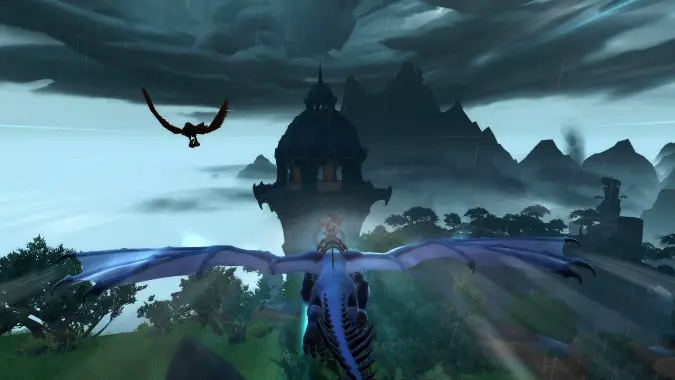 One of the more popular features of Dragonflight is Dragonriding with its soaring speeds and special customizations. The forthcoming patch 10.1.5, Fractures in Time — currently on the PTR — may be expanding Dragonriding into the old world as well as to other draconic mounts. For those characters not yet in the Dragon Isles, patch 10.1.5 also brings a tremendous quality of life improvement, with automatic riding skill acquisition.
Starting with the patch, characters will automatically learn the appropriate riding skill instead of needing to return to a riding trainer to gain it. The levels are the same as on live:
Level 10 – Apprentice Riding
Level 20 – Journeyman Riding
Level 30 – Expert Riding
Level 40 – Master Riding
In addition to automatically gaining the riding skills, there will be a new quest that rewards a flying mount for your faction — the Alliance gets a Harbor Gryphon and the Horde receive a Scarlet Pterrordax. The quest is automatically accepted when a level 30 or higher character arrives in the Battle for Azeroth capitals of Dazar'alor or Boralus Harbor, and is a simple breadcrumb to one of the local stable masters. Note that unlocking the mount for one faction will not unlock it for the other, so players who have characters in both factions will need to do the quest twice to acquire both mounts.
Dragonriding in the old world is coming with the Kalimdor Grand Prix, a recurring holiday event starting in patch 10.1.5. When the Grand Prix is running, players will be able to ride a special mount that lets them participate in 16 races across the continent in Normal, Advanced, and Reverse variations. Like the races on the Dragon Isles there will be achievements for completing them in Bronze, Silver, and Gold-qualifying times, and special to the Grand Prix will be Riders of Azeroth badges that can be traded in for items unknown. Dragonriding will only be available in Kalimdor during the Grand Prix in a limited fashion, but it's the first step in unlocking it as a regular feature.
Datamining of patch 10.1.5 data has revealed two other possible extensions to Dragonriding in Azeroth. The first is a series of Dragon Race Achievements for the Eastern Kingdoms similar to those for Kalimdor — whether these will be first earned in a Grand Prix format or will arrive with continentwide Dragonriding is unknown. Regardless it should not be expected to become available with patch 10.1.5.
The final datamined tidbit is a big one — Dragonriding unlocked for other mounts that utilize skeletons similar to the dragon mounts. Like the races in Eastern Kingdoms, it should not be assumed to be coming in Fractures of Time until — and if — it is announced, but the idea of flying at top speed around the Dragon Isles on the Time-Lost Proto-Drake or a Felfire Hawk is an enticing one. Hopefully players won't have long to wait for these exciting expansions of the Dragonriding feature.