How to pause the game in Diablo 4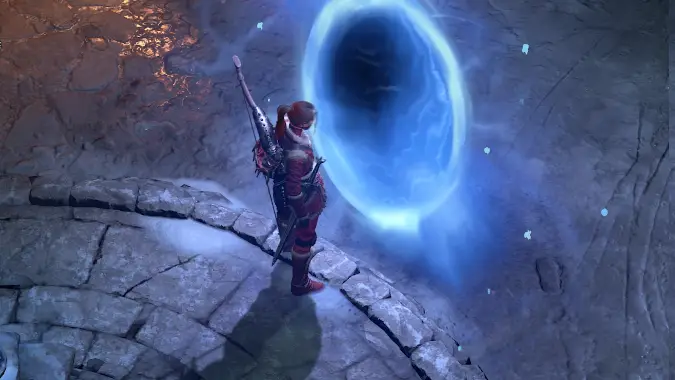 Pausing a game in order to briefly step away is crucial part to a healthy gaming/life balance for many of us, but that doesn't mean Diablo 4 got that memo. Whether it's throwing together a quick meal, taking a walk to prevent DVT, or even a classic bio break, being able to pause a game on the fly to do literally anything other than play the game for a couple minutes is something most of us take for granted. Unfortunately, thanks to Diablo 4 being an always-on de facto MMO populated with other people, a proper pause function is a non-starter — you can't exactly stop things when other people are actively running through the same world you're idling in. But there are a few solutions for those times you need to step away for a few minutes.
The simplest, safest one is that you can Town Portal back to the main city in your current zone at (almost) any time via a single hotkey — on PC, this is the (T) key by default. When you press that key, after your character casts for a couple seconds — so you don't accidentally mis-press it while you're reaching for your achievement tab — you're (relatively) safe in Kyovashad. You (probably) won't get murdered by demons in Cerrigar. I'm sure that, once you get to a place where bugs and snakes aren't biting your face off every two seconds, swampy Zarbinzet is quite lovely. These main towns are denoted on your map by a special waypoint symbol which includes a small castle.
The real perk of the Town Portal in going AFK is that, as soon as you're ready, you can return to your original location via the blue glowing portal next to the waypoint in the large town you're hanging out in. The return portal will disappear if you leave the town on foot, Town Portal to a different town, or log out, so if you know it's going to be a longer one and you risk idling until you're disconnected, you may want to risk just logging out completely in the spot you were initially.
Personally, I've also had good luck going idle after clearing a Cellar. This isn't the most secure way to go AFK, but compared to the outside world, it gives you a few minutes to catch your breath. If you're doing something quick and finite — swapping the laundry into the dryer, for example — this could be the solution for you. I've also been okay idling near the other waypoints, but I'm always a little leery of turning my back when my allies seem so willing to burn me at the stake or force feed me blood petals.
Now, if you'll excuse me, now that I'm finished writing this article, I'm going to alt-tab back into Diablo 4.