What draws you to Hardcore modes in games? What would it take for you to try if you never have?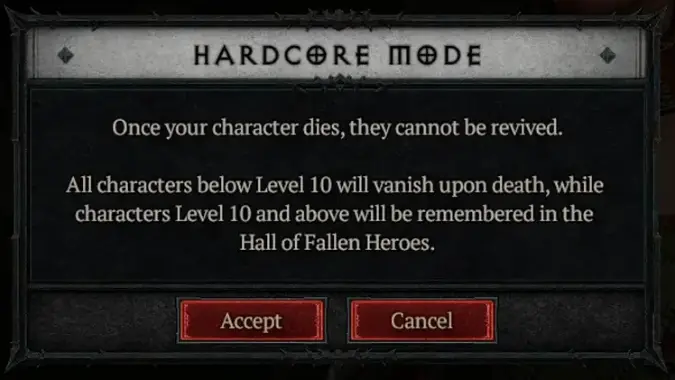 Hardcore mode owes a lot to early video game design with games like Rogue or even arcade games like Space Invaders, where the goal was to get as far through the game as you possibly could without dying. If you died, the game reset and sent you back to the start to try again. 
In most games that support it, your new character is a blank slate. None of the resources you gathered on previous attempts are available to you. The character starts afresh like a new account. The only thing you carry forward is the player and your knowledge of what went right and wrong last time. 
Hardcore modes have been big news recently in the Blizzard-verse with the announcement of Hardcore Classic WoW and the recent drama over the competition to be in the top 1,000 to hit level 100 in Diablo 4 playing in Hardcore mode. 
Hardcore has been a feature of Diablo since its earliest incarnations as a LAN-capable but largely solo player game. In Diablo and Diablo 2, getting to maximum level was often more of a commitment than it was on the more recent Diablo 3. And you didn't have the benefit of highly detailed and specific guides online or videos explaining how upcoming boss fights worked. You went around a corner and dealt with whatever you found or started again. 
For WoW, the community had agreed on their own rules for emulating Hardcore functionality and used addons and websites to police that people followed the agreed format. With the announcement of an officially supported rule set, all players choosing to play that version of Hardcore will know that everyone else has stuck to the rules because it will be enforced at server level. 
What I don't understand is why people enjoy this mode of gaming. I don't want to yuck anyone's yum — but I just don't get it. When I play games, I die a lot. Sometimes on purpose, sometimes because I'm not paying enough attention because I'm tired or distracted, or my hands don't do what I want them to do, or I'm messing around, or I just lack the skill. With Hardcore gaming, you don't just need to perform at an extremely high level of skill and focus at all times, minimizing risk constantly to hopefully survive to fight another day. You also need to be lucky, really really lucky. For networked versions of the game — one bad lag spike, an ill-timed power outage, a wireless mouse or keyboard going flat at an inopportune time, or an unexpected distraction — and your progress is wiped out in a blink of an eye and can't be restored. 
It's too much like real life really. You can be doing everything right and something out of your control happens and — game over, dude!
I play games to relax. I personally wouldn't find the constant jeopardy of potentially losing months of progress in an instant relaxing or enjoyable. While I do enjoy the challenge of defeating encounters I couldn't previously overcome, I wouldn't want to have that big of a penalty hanging over my head in case I failed. 
Do you plan to play Hardcore Diablo 4 or WoW Classic? What draws you to it? What itch does it scratch and how do you deal with the inevitable demise of a character you've poured so much time and effort into?