Earn up to three Hearthstone packs in the Epic Duels of Rock Legends event, now live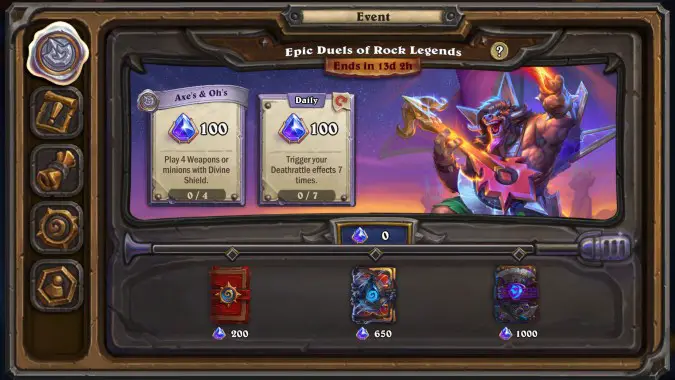 There's a new event now live in Hearthstone called Epic Duels of Rock Legends, and you can earn up to three card packs from it. You can find the event on your Journal, by clicking the appropriate button on the bottom left corner of the main screen of the game, right next to the shop. The Event panel is the first icon on the Journal.
Within that panel you should find all the info about the event, including the rewards and how much event XP you need to earn everything. The rewards are as follows: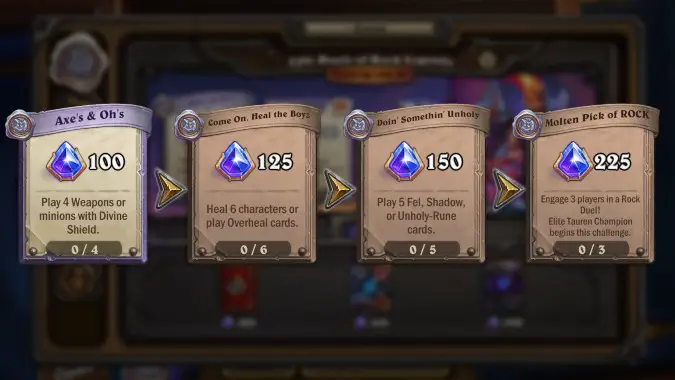 You'll get those rewards by earning event XP, which you can accrue by completing event quests. There's a questline containing four special quests: after you finish one, you get the next one. The quests are:
Axe's & Oh's: Play 4 Weapons or minions with Divine Shield. Reward: 100 event XP
Come On, Heal the Boyz: Heal 6 characters or play Overheal cards. Reward: 125 event XP
Doin' Somethin' Unholy: Play 5 Fel, Shadow, or Unholy-Rune cards. Reward: 150 event XP.
Molten Pick of ROCK: Engage 3 players in a Rock Duel! Elite Tauren Champion begins this challenge. Reward: 225 event XP.
For the fourth quest, Molten Pick of ROCK, you'll want to play the new Elite Tauren Champion Legendary. The other quests simply require you to put the appropriate cards (Divine Shield minions, healing spells, Fel spells, etc.) in your deck.
Besides that questline, you'll also get daily event quests for more event XP. Your daily quest can be re-rolled once a day if you don't like your first offering. Also, you'll get a new one to complete on each of the 14 days of the event.
Although this event isn't as exciting as some of the previous ones, free packs from playing the game are still a pretty good thing, so get ready to rock!