The Queue: Hey, you. You're finally undead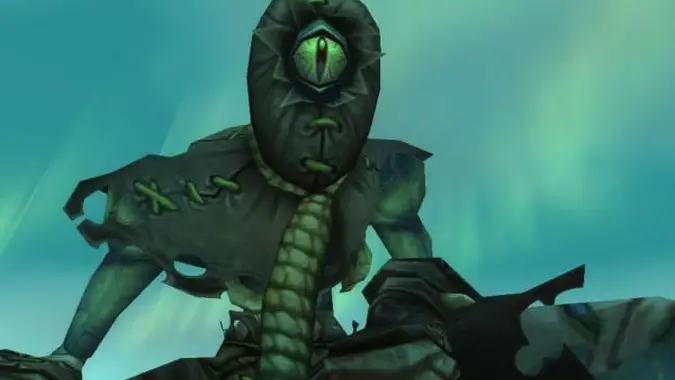 Hello and happy Wednesday, friends! Today was one of those days when I woke up in a panic because the first two things I noticed were sunshine from the windows and a dead phone next to me — thankfully, my internal clock internally rocks and I was waking up exactly when I needed to.
…I'm still tired, though. Because of course I am.
Sleepiness aside, this is The Queue, and it's time for some queuestions.
---
SHUANNAREBORN OPENS US WITH A QUESTION OF PREFERENCE:
QftQ: Would you date this person [the geist in the header]?
Feel free to answer! And, you know, if you wanna continue the chain with your own screenie's and personal ads – go crazy. Mildy crazy, I mean. Not Gul'Dan insane but fun chuckle soon to seek extended therapy crazy.
Bonus QftQ: What would a personal ad in say Stormwind Times or the Orgrimmar Sun – now that newspapers are legal again! – sound like? 149 characters for one silver!
I'd have to get to know them better, but based on the neckwear and positioning in that screenshot, [REDACTED]. And even if we didn't connect on that level, in my personal experience, [REDACTED] — [REDACTED] even! But hey, like I said, I'm sure our interests at least line up when it comes to [REDACTED] 😂 … so there would probably be something there!
To your second question: "En'othk uulg'shuul. Mh'za uulwi skshgn kar. Bwixki amala zal qulllll."
---
RJAGODA WANTS TO CATALYZE:
So before I fly over to the Catalyst, it is not open yet, right?
Correct! It doesn't unlock until next week's reset.
---
MUSEDMOOSE IS EXCITED ABOUT DIBLO:
Diablo Q4tQ: what's your favorite class ability?
Asking because I set up my sorcerer so that things explode when she kills them, which sometimes kills other things and makes them explode too, so as far as I'm concerned this is now the best Diablo game ever.
I haven't delved far enough into either the game or the classes themselves, but dang am I ever a sucker for Corpse Explosion. I know it's probably an "easy" answer — and I'll likely discover ones I like more, later on — but it's just plain fun.
I will say, I was enjoying Lightning Lash or whatever it's called on my Sorcerer, but I think it causes some weird screen jittering when I use it mid-movement, so I'm trying to figure out how to fix and/or build around that.
---
KALCHEUS IS EXCITED ABOUT LILYTH:
Q4tQ Are you using a guide to find all the Altars of Lilith, or are you just hoping to stumble across them all?
Lately, I've been trying to use as few guides as possible for games, so I'll definitely just be hoping to stumble across them. Mind you, I may cave eventually, but my default approach for games nowadays is "guides when I absolutely cannot figure it out on my own."
---
TELWAR NEEDS TO LET THE DICE DECIDE (DICE-CIDE?):
QftQ: We're doing another normal Aberrus tonight, as raid leader/main rank doesn't have any tier yet. He's a paladin, as is my main. And last week leather and daggers dropped like rain. Should I bring my rogue instead, fully in the knowledge that I won't get those leather drops and daggers won't drop either?
Q2ftQ: What's the abbreviation for Aberrus?
Do what I do when I can't decide and know I'll inevitably make the wrong decision: Roll some dice! Do an even/odd thing with a d20, or make 1-10 one result and 11-20 another, or do similar with a d4, d8, etc. — you get the idea. Roll the dice to decide!
Uhh… I think "Aberrus" is technically the abbreviation, since its full name is Aberrus, the Shadowed Crucible. I guess you could call it "ASC" or "ASCr" or something? Or maybe even Abby/Abbi/Ab/Aberson.
I dunno here, y'all. Do you have a preferred shorthand for our friend AbShCr?
That's our Queue for the day! Enjoy your continued time in Sanctuary, Hyrule, Azeroth, or [other] — and be sure to leave plenty of queuebies for tomorrow's writer!