Overwatch 2: Invasion story missions give us some PVE content, but is it enough?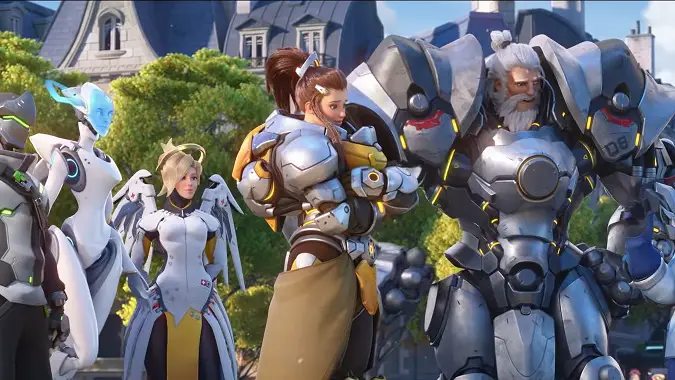 The upcoming Season 6, called Invasion, is going to introduce a series of story missions to Overwatch 2 which follows up on the narrative threads introduced in the painfully excellent Zero Hour trailer we first saw at 2019's BlizzCon. I still remember the gooseflesh I felt watching it, and judging by the audience's vocal cheering, I wasn't alone. It's good that we're finally going to see the story we were told would be a central part of Overwatch 2's new and exciting PVE mode — even if ultimately that PVE mode which piqued the interest of a new set of players was unceremoniously scrapped.
The bad news is that, though the season is technically available for free as always, access to the PVE missions will run you $15 USD. For that price, you'll get three missions to play through, and a few other things — 1000 Overwatch coins, a legendary skin for Sojurn, and access to Sojurn not only during the Season but permanently once you finish the Story Mission Challenge, which means playing through and completing all three missions. There's also an Ultimate Invasion Bundle for $40 USD that comes with the above, 2 more legendary skins for Cassidy and Kiriko, an additional 1000 Overwatch coins, and the Null Sector Premium Battle Pass with 20 Battle Pass skips.
Now, I'm a long time believer in not scorning good things because I was promised better things. Overwatch 2 finally telling the story teased in 2019 is a good thing, and I appreciate seeing more. I just know that I'm not sure what we're getting is worth the money being asked for it. I know Overwatch 2 is a free game, and that spending $15 USD to get access to the story isn't that expensive in the grand scheme of things. I'm a bit less sold on the $40 bundle, but everyone's got their spending limits and mine just happen to be low, apparently.
But every time I go back and watch that Zero Hour trailer I remember how excited I and a lot of other people were at the idea of a real single player campaign and a PVE mode to support it. Overwatch 2 was going to be not just a team-based shooter, but a real RPG with hero progression and a story for players who wanted to explore the world Blizzard has created — a world a lot of us have been so very excited about for years now. Overwatch is a franchise with so much potential, and frankly, seeing the PVE side of the game reduced to three story missions and some skins and coins just doesn't feel good.
That doesn't mean the missions won't be excellent, and I'm seriously considering finding the $15 to find that out for myself — even though I don't regularly play Overwatch 2. The base game is still a free download after all. But I can't help but remember the Overwatch 2 that existed in our imaginations back in 2019, and lament that this is all we're going to see from it.