Earn up to six Hearthstone packs in the Twist – A New Age event, now live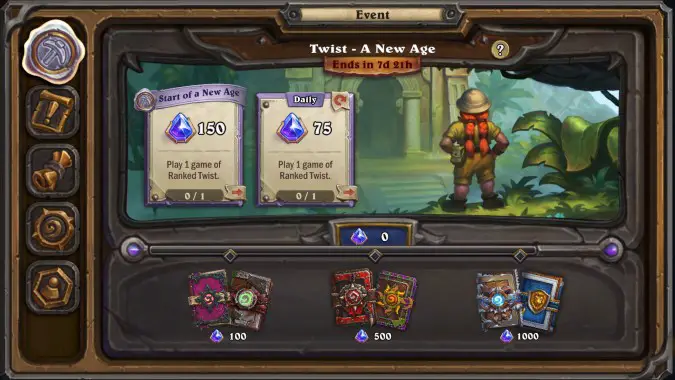 A new event is now live in Hearthstone: it's called Twist – A New Age, and you can earn up to six card packs by playing games in the new Twist mode. You can find the event on your Journal, by clicking the button with the pickaxe at the bottom left corner of the main screen of the game, right next to the shop. The Event panel is the first icon on the Journal.
In that panel, you'll find all the info about the event, including the rewards and how much event XP you need to earn everything. The rewards are: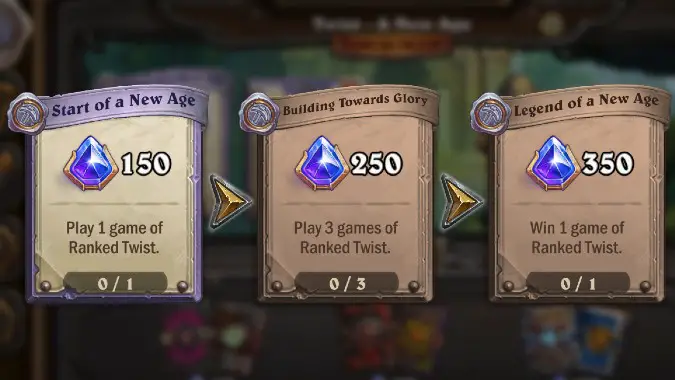 You'll earn those six card packs by earning event XP, which you'll accumulate as you complete event quests. There's a questline containing three special quests: after you finish one, you get the next one. The quests are:
Start of a New Age: Play 1 game of Ranked Twist. Reward: 150 event XP
Building Towards Glory: Play 3 games of Ranked Twist. Reward: 250 event XP.
Legend of a New Age: Win 1 game of Ranked Twist. Reward: 350 event XP.
The first two quests are very easy to complete, since you'll only need to play four games of Twist. The final quest, which requires you to win a game, might be a little harder to complete if you're not used to Constructed Hearthstone or don't have a card collection to build a strong deck. But fret not: you don't need to complete that third quest to earn the 1000 event XP you need for all the rewards.
That's because besides the quests above, you'll also get daily event quests for more event XP. Your daily quest can be re-rolled once a day if you don't like your first offering. Also, you'll get a new one to complete on each of the 7 days of the event. So combining those daily quests with the first two quests in the questline should be more than enough to net you enough XP to get your six packs.
So make sure to give Twist a try. Who knows — maybe you'll end up liking it, and find yourself a new Hearthstone mode to play!