Overwatch 2 Summer Games event 2023 ends tomorrow!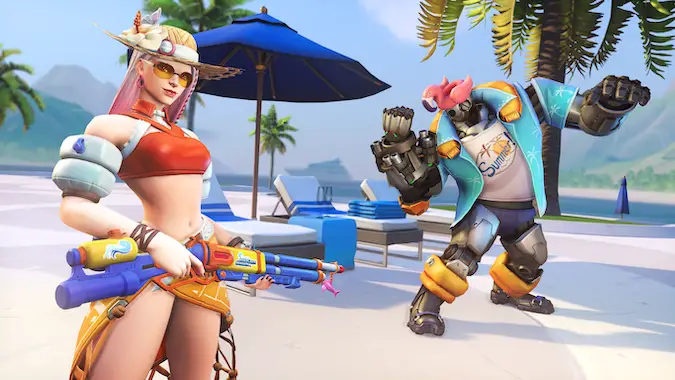 The Summer Games Event in Overwatch 2 is only around for a little longer, so make sure you earn the rewards you want before they go away. The Summer Games features the return of the classic Lucioball Arcade game mode, and a new game to try: Winston's Beach Volleyball mode. After skipping the Summer Games event in 2022, we were excited to see it return as of July 11, though you only have a few short weeks to have your fun in the sun: it ends July 25.
The Lucioball Arcade mode plays much as it always did — Rocket League, but Lucio. The new Winston's Beach Volleyball mode is, similarly, Beach Volleyball, but Overwatch. When you get close to the ball, hit your Fire key to hit the ball, hopefully over the net toward your opponents. If it hits the ground on their side, your team scores. You have your choice of Heroes at the start, so choosing a Hero who has good movement capability you're familiar with is key. While Pharah or Echo's ability to fly and spike the ball just over the net is appealing, so is Genji or Cassidy's ability to dive for the ball at the last second.
There isn't much reward for playing each game by itself, but there is a set of Event Challenges to complete, each of which has things like sprays and player icons up for grabs. You'll have to play a few games of either Beach Volleyball or Lucioball to get the ultimate prize: a whopping 25,000 Battle Pass XP, and the Doomfist Legendary skin, Tropical. While I'd question whether Doomfist would ever want to lounge on the beach, I do commend his choice to wear a straw trilby. Sunburn on a bald head is the worst. You'll get that Legendary skin for completing at least six other Challenges during the Summer Games event.
Through the Summer Games event, you'll also find a slew of beach-themed skins and accessories up for sale in the shop, including the new Lifeguard Mercy. You can get Lifeguard Mercy on its own for 1900 Overwatch Coins, or in a Shop Bundle with the Rescue Run Highlight Intro, reminiscent of the slow running on the old show Baywatch. I'd assume you'll be able to purchase the shop offerings even after the event ends, but if anything piques your interest, I'd suggest you surf, swim, or spike your way over to the shop before July 25.
Originally published January 11, 2023. Updated July 24, 2023