Overwatch 2 adds new Prop Hunt mode called Mischief and Magic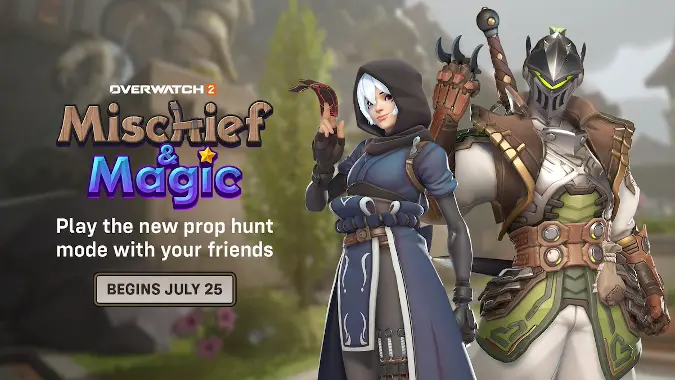 Starting July 25, Mischief and Magic is a new official Arcade mode coming to Overwatch 2. Like many alternate Overwatch 2 modes, this is based on a variant of a popular game: the Prop Hunt. Originally created in Garry's Mod, the Prop Hunt has found a lot of life within Fortnite, especially since that game offers robust support for player-created maps and challenges. Now, Prop Hunt is coming to Overwatch 2 — for a limited time.
Prop Hunt is like a game of Hide-and-Seek, but with a twist. Like Hide-and-Seek, there's a team of Kiriko Props trying to hide and a team of Genji Hunters trying to find them. Instead of just hiding Kiriko in, say, crouched behind a counter or wrapped a curtain like in real life Hide-and-Seek, with a button press, the Props can morph into an item of ambient set dressing — i.e., a prop — you'd usually find around the map. Since Mischief and Magic is on the first point of BlizzardWorld, you'll morph into trees or barrels or rocks usually scattered around that map. Though other versions of this game type frequently ask you to accomplish a secondary goal in order to win your only goal in the Overwatch version is to stay hidden or seek. The Props can also use an extra ability (keyed to E on PC by default) to stun the Hunters briefly, and then run and re-hide.
One big drawback for the Prop side is, you don't get to choose what prop you're hidden as. I've seen some which blend perfectly into their surroundings, and even a tree standing all by itself can blend in very easily in some parts of the map.
Then there's me, the inconspicuously floating barrel next to the mine cart.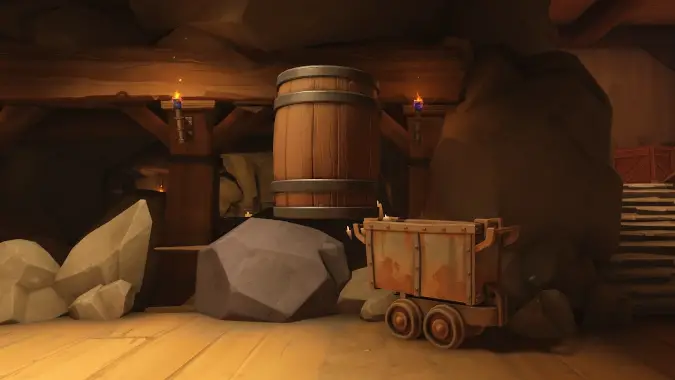 The good news is that this mode is a best of five — even if you happen to be a floating barrel in one match, you still have two more to prove yourself. The teams switch off whether they're playing as Props and Hunters each round. If you don't happen to get destroyed as quickly as I did here, note that over time the Props will begin yelling taunts, the timer for which is paused if the Prop is moving. These taunts will also give Hunters an indicator on their HUD as to the general direction it came from, similar to the indicator of incoming damage in a regular game.
As with most of the other Overwatch 2 events, there are challenges to complete which will award you tons of Battle Pass XP, sprays, and even the Spiritwarder Ana skin as the reward for the meta achievement. But make sure you earn your skin — and get your fill of this limited time Arcade mode — fast. The event ends August 10, which will also mark the launch of the highly anticipated Invasion story missions.