Earn 6 packs and 2 Signature Cards on the Twist-focused The Battle of Ahn'Qiraj event in Hearthstone, now live!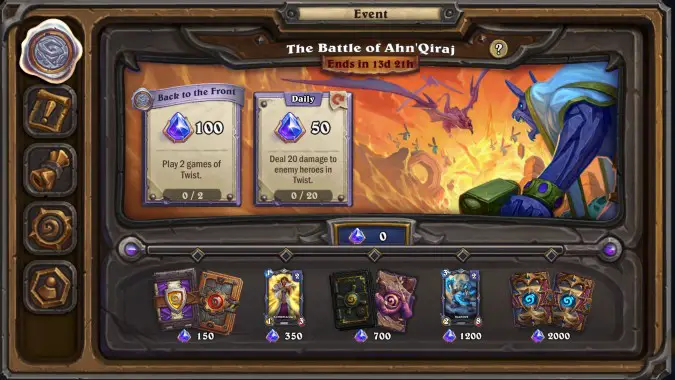 A new Hearthstone event just started: The Battle of Ahn'Qiraj event, which is focused on Twist mode. By playing through the event, you can earn up to six packs for expansions you can use in Twist, as well as two pairs of Signature Cards for fan-favorite cards of the past. You can find The Battle of Ahn'Qiraj event in your Journal by clicking the button on the bottom left corner of the main screen of the game, next to the Shop.
The Event panel is the first icon on the Journal, and within it you can find all the info about the event, including rewards and how much event XP you need to accrue to earn them. Here are the rewards for The Battle of Ahn'Qiraj in Hearthstone: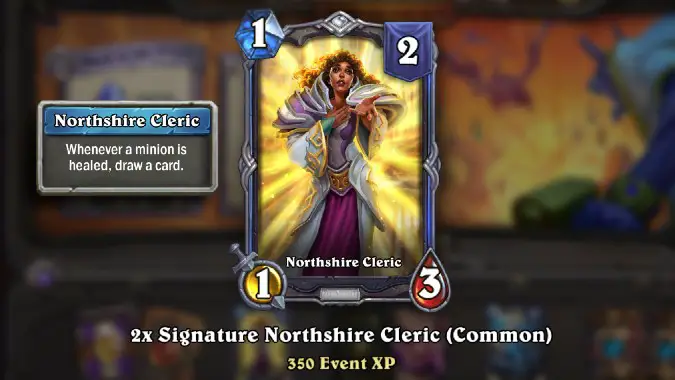 In order to earn enough event XP to get those rewards, you'll have to complete quests — both event quests and dailies. The event quests are fixed, so that after you finish one, you get the next on the following day. Those quests are:
Back to the Front: Play 2 games of Twist. Reward: 100 event XP
On Shifting Sands: Spend 200 mana in Twist. Reward: 150 event XP
Infinite Infantry: Summon or Destroy 30 Jade Golems in Twist. Reward: 225 event XP
Power of the Old Gods: Play or Destroy 4 Old Gods in Twist. Reward: 350 event XP
Timeline's Victor: Win 4 games of Twist. Reward: 525 event XP
Besides those, you also get daily quests that reward you with more event XP. You get one of those every day for the 14 days of the event, and you can re-roll them once a day too. That's usually more than enough XP to easily finish the event in time, from past experiences.
Since the rewards for this event are completely focused on card packs and Signature cards from the past, it's an easy one to ignore if you have no interest in playing the game's Twist or Wild modes. The final event quest, in particular, demands that you win four games of Twist — which might be a tough ask for more casual players.
But if you do enjoy playing those modes — whether every once in a while, or all the time — or if you're a collector, you might want to get out there and play some games of Twist.