WoW
Sep 6, 2023 3:30 pm CT
How to complete Dreamsurges to earn high level rewards in WoW patch 10.1.7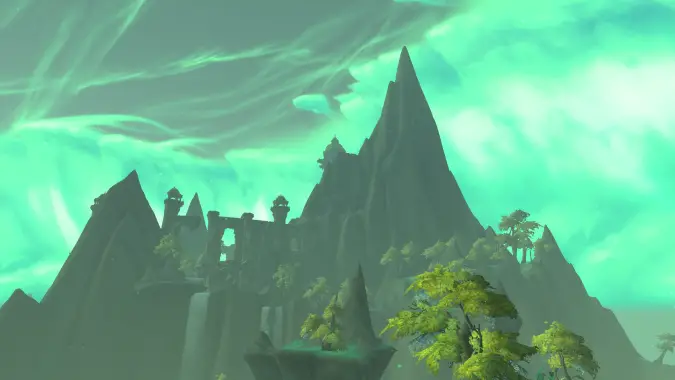 Dragonflight patch 10.1.7 is now live, and it brought new, anticipated content like Heritage Armor quests, Holiday event updates, and even a ping system! It'll also features the new public event called Dreamsurges where players are tasked with stopping the Emerald Dream from bleeding over in to Azeroth while fighting back against the Druids of the Flame, hinting at where the story will take us next and who we're going to focus on. One of things that separates Dreamsurges from other WoW public events is that the event vendors offer two different levels of gear — ilvl 402 Veteran gear upgradeable to ilvl 424 and ilvl 415 Champion gear upgradeable to ilvl 437, so they're definitely worth your time.
Here's what you else you should know about Dreamsurges in patch 10.1.7: where they happen, how long they last, how to complete them, and the rewards you can get from them.

Dreamsurges will affect one Dragon Isle zone each week
The Dreamsurge events will occur in one of the four main Dragon Isles zones (Thaldraszus, Waking Shores, Azure Span, and the Ohn'ahran Plains) for a week and rotate to a new zone with the in-game weekly reset. There are two unique icons that appear on your map indicating which Dragon Isle zone its active in:
The green-purple Dreamsurge icon: On the Dragon Isles continent map, this shows you which zone is currently affected by the Dreamsurge and how much time is left until weekly reset. In the zone map, it'll tell you much time is left until the next Dreamsurge and it marks where the three event vendors are located in that zone. Archdruid Hamuul Runetotem will offer you Dreamsurge quests and sell you items, Celestine of the Harvest will sell you rewards, and you can vote with Naralex on a buff to help you complete the event. 
The Waking Dream fiery portal icon: This is where the event takes place and the only area you'll be able to earn progress for Dreamsurge quests.
Waking Dreams are active for 30 minutes at a time at which point they reset, regardless of your progress. The Dreamsurge effects also reset at every half hour, at which point Naralex will offer another buff for you vote on.

How to complete the Waking Dream objectives and weekly quests
The Waking Dream is an invasion-style, cooperative public event like Researchers Under Fire and Time Rifts but much more condensed, with only two stages:
Stage 1: Players work together to fill up the communal progress bar to advance the stage, all players participating in the event contribute towards progress by:
Stage 2: Kill an Elite boss. Upon death, the fiery portal icon disappears until the next Dreamsurge.
Optional objective: While the event is going on, you can stumble upon fiery portals that aren't marked on your map. Engaging with these portals will cause an elite enemy to spawn but as opposed to bosses, these can be easy enough to take down solo.
Completing the event rewards players with varying amounts of:
If you killed an elite from a portal during the event, they will also drop Dreamsurge Coalescence, Whelplings Crests, and Charred Elemental Remains, with a chance of dropping ilevel 402 gear in addition to the rewards from completing the event.
There are two weekly quests connected to Dreamsurge events offered by Archdruid Hamuul Runetotem: Dreamsurge Investigation which rewards you a Crate of Dreambound Armor and Shaping the Dreamsurge which rewards you with 1 Dreamsurge Chrysalis, one of the new patch 10.1.7 currencies. There are a limited number you can earn each week and they can be used to purchase ilvl 415 gear on the Champion track from Archdruid Hamuul Runetotem.
Since patch 10.1.7 is the last "smaller" patch before 10.2, Dreamsurges are a great way for players to catch up and earn ilvl gear that to get them ready for when the next phase of content arrives!
Originally published August 8, 2023. Updated September 5, 2023.