WoW
Sep 8, 2023 2:00 pm CT
All of the item level 402 and 415 catch-up gear from Dreamsurge vendors in WoW patch 10.1.7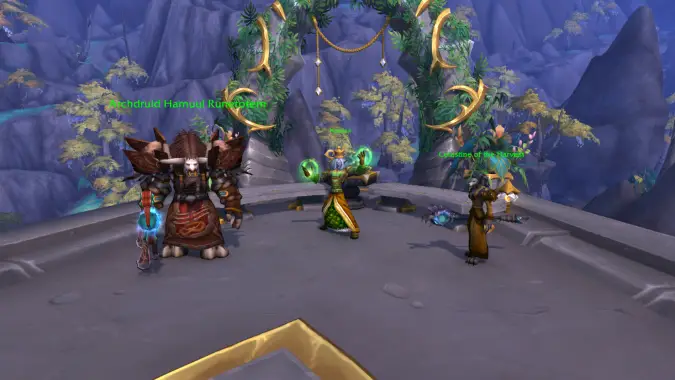 Dreamsurges are the latest public event in the Dragon Isles and are now live with the rest World of Warcraft Dragonflight patch 10.1.7! Normally, completing public events gives you a chance to earn gear at an ilvl that allows you to keep pace with the current content. Dreamsurges are a catch-up opportunity for players to earn ilvl 402 gear as well as ilvl 415 gear, which would fall between the LFR and Normal tiers of Aberrus, the Shadowed Crucible raid.
You can by purchase this gear from Dreamsurge event vendors Celestine of the Harvest and Archdruid Hamuul Runetotem by earning two new currencies from the event itself: Dreamsurge Coalescence and Dreamsurge Chrysalis. While the items are bind on pick-up, the currencies are account-bound and can be used by your alts. You can also further upgrade the items from both vendors in the Revival Catalyst and turn them in to tier-sets.

Celestine of the Harvest 
Celestine of the Harvest sells ilvl 402 gear tokens for 100 Dreaming Coalescence per token, two pets and, as of now, an unknown mount. These gear tokens are on the Veteran track and can be upgraded to a max ilvl of 424. Dreamsurge Coalescence is earned by completing the Dreamsurge objectives and killing the final elite bosses that spawn, as well as the optional elites that spawn throughout the affected zone. You can also get Dreaming Coalescence by picking up Dreaming Growth plants throughout the Dreamsurge zone.
Mounts, pets, jewelry, and weapons
Leather 
Mail 
Plate 
Cloth

Archdruid Hamuul Runetotem 
Archdruid Hamuul Runetotem sells class specific armor sets and weapons at ilvl 415, putting them on the Champion track with a fully upgradeable ilvl of 437, with each item costing 1 Dreamsurge Chrysalis. The Archdruid also gives you two weekly quests: Dreamsurge Investigation which rewards you a Crate of Dreambound Armor and Shaping the Dreamsurge which rewards you with 1 Dreamsurge Chrysalis.
Resources
Jewelry
Weapons
Back
Leather
Mail
Plate
Cloth
Other rewards you can earn from the event
Originally published August 9, 2023. Updated September 5, 2023.