The Queue: Flying the friendly skies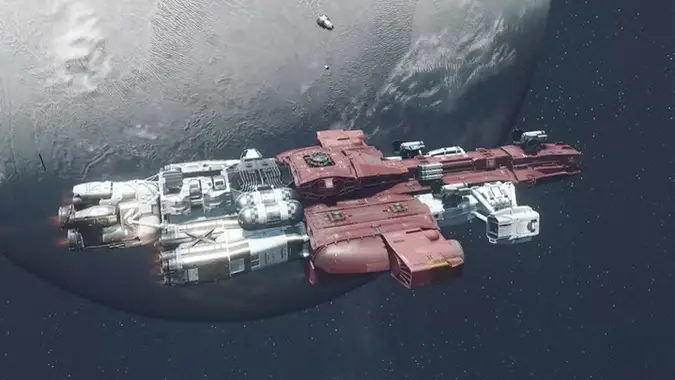 I do like getting to fly a spaceship. The freedom to just point at a star and say I wanna go there! Firing deadly laser beams at pirates! Blowing up asteroids for shiny rocks!
Thankfully Starfield has scratched that itch pretty well. I do wish that there was a little more to do out in space in Starfield though. Maybe that's coming in the future.
While I imagine a leading an armada of captains into battle, it's time for — The Queue!
---
SO IT'S INTO THE VOID NOW ME GIRLS AND ME ENOS
I'm here right now drinking a delicious pumpkin pie-flavored beer, but in a little over a month, I'll be at BlizzCon!
It's only going to be my second in-person one and I'm very excited! I'll be even more excited if Mitch can swing it to come along, but I am looking forward to seeing Flan again — and then seeing Flan way more times than should be possible in a convention of that size.
---
FROM MOTHER'S HANDS WE GO WE'LL BE SAILING TO THE RETPALLYJIL
Q4tQ:
You wanna go play lasertag at Blizzcon ?
It's been many many moons since I played any laser tag. So it's tempting, but also I think that Liz is going to have me very busy while I'm there, so I don't know that I'd be able to.
Unless Blizzard decides to add an Overwatch laser tag activity.
---
RED! BELOW, BELOW WE'RE GOING WHERE THE WINDS DON'T BLOW
Can you BELIEVE those guys?!?
What a ludicrous display!
Someone should do something about them.
I certainly will be rethinking how much I support them after that.
---
ARTHONOS WE'RE ALL BOUND DOWN TO THE DEEP AND WE'LL BE SLEEPING IN THE COLD BELOW, BELOW
Hades update: Elysium seems to be my wall. I've fought the Minotaur twice, beat him once, but overall that level seems to be where I run out of steam and die to stupid stuff. I'm up to 32% damage reduction, and debating whether I should just let myself die in the first room a few dozen times to boost the damage reduction even higher.
You can do it! I already saw your update that you got into the final section, you're so close!
I remember feeling like I'd never get past the hydra and then all of a sudden something clicked and I couldn't even remember why the hydra was difficult.
It'll happen to you!
---
THERE'S A MUSEDMOOSE TO BE MADE OR THERE'S HELL TO PAY
Q4tQ: in games where you can choose which party members you have with you, how often do you change them? Asking because I'm doing a questline in Baldur's Gate III which requires having Jaheira in the party and it's really weird having her around instead of Shadowheart. >_<
(Karlach is non-negotiable)
I may change them up a little at the beginning, but once I get a good party group going no way am I changing it. I get set in my ways very quickly.
Especially if it's similar to how it was in Mass Effect. There I would always use my party members to balance out my build. As much as I'd want to tool around with just Jack and Tali all of the time I was usually a biotic so I didn't really need Jack along for the ride.
At least in Starfield, your companions don't seem to offer direct gameplay benefits from moment to moment, so it's much easier to just choose who you want to hang out with. Although sometimes you're stuck with the cowboy man, and that's not as good as leather jacket-wearing lady. At least for my fine upstanding ship captain. If I go through again on a more Renegade-style playthrough maybe I'll find a better companion.
---
RED! BELOW, BELOW WE'RE GOING WHERE THE WINDS DON'T BLOW
Q4TQ: I'm in the mood for trying out a new spell; how true is this line "You may fascinate a woman by giving her a piece of cheese"
It's been my experience that it's very true.
There are so many good cheesy options out there! Mac and cheese, poutine with extra cheese, grilled cheese, deep-fried cheese curds, mozza sticks, cheesy pyrogies, shredded cheese, those little cheeses that come wrapped in wax — the list goes on! All of them are good options and will definitely always work.
You can also think outside of the box and use cheesy jokes I've found. Extra points if the cheesy joke literally is about cheese!
Did you hear about the cheese factory explosion in France? De brie was everywhere!
---
THERE'S A MAN ON HIGH WITH THE MAGECOOKIES IN HIS EYE
On a different note. Baldur's Gate 3 or Starfield?.
As much as I've enjoyed my time in Starfield I think you really have to want to play a Bethesda-style game for it, and if you're looking for a more meaningful planned narrative Baldurs Gate 3 is going to be the winner.
Starfield has been fun for me, but I can see all of the bits that are wonky and not as good as other games, and that makes it harder to recommend for someone who isn't looking to get lost in another Fallout/Elder Scrolls kind of experience.
---
FOR THERE'S MUCH RJAGODA JUST DON'T KNOW SO FAREWELL WITH A KISS
We're calling Rashok our "Cutting Edge" for this tier, because no one has the stomach for Zskarn. How far are you guys pushing?
We just started our Rashok prog on Sunday! It's not looking super great after our first few pulls. We didn't spend a long time on him, but the damage is very high, the dodging lava waves isn't happening enough, and our DPS isn't where it should be yet. So he may be our Cutting Edge too.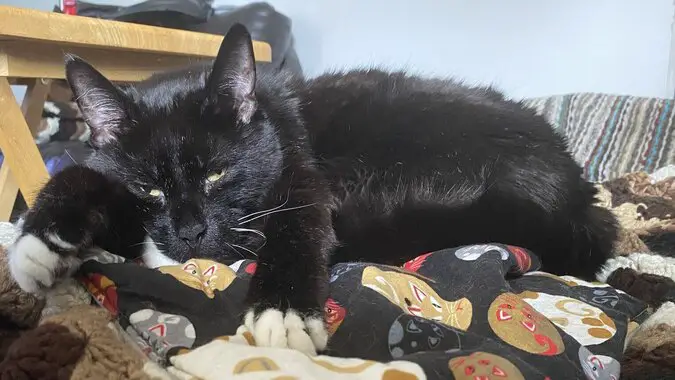 You're in luck, Bacardi is extra sleepy today so you can easily boop his snoot. Hopefully, any luck you may get from said snoot boopage isn't also sleepy and you get some nice things in your vault. If you don't you can always send some coffee my way and maybe the additional coffee smells will keep Bacardi a little more energetic.
Today's Anna Matt Earworm™: Sleeping in the Cold Below
Sure this is from a different space game, but when else will I get a chance to use it? Warcraft certainly won't be sending us to a dark below any time soon…
Anna's not feeling well today, so Matt will take her Queue. Make sure you leave them lots of questions as a thank you — and wish Anna good health!