The Overwatch 2 Anniversary event is live now, with blasts from the past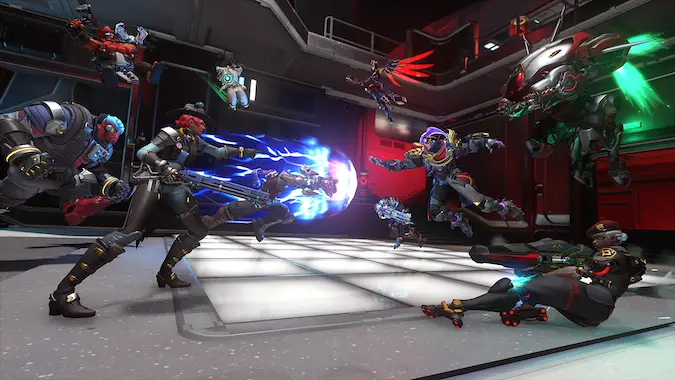 Get out your party hats and balloons, Heroes — it's been one whole year since the arrival of Overwatch 2, which means it's time for the team shooter to get in a festive mood for its first reimagined Anniversary event. The three-week special event began September 19 and will run through October 9. Here's what you can expect from Overwatch 2's Anniversary event this year:
The Anniversary event will revisit some of the limited-time modes that have debuted over the past year as well as a few classics. During the first week, players can enjoy all of the Winter Wonderland game modes as well as both the team and free-for-all versions of Battle for Olympus. Week 2 brings back the old-school Assault map collection, the Roadhog-narrated Catch-A-Mari mode, and the sci-fi saga of Starwatch: Galactic Rescue. In the final week, we'll be getting the return of the very recent Mischief & Magic mode, plus both the Lúcio and Winston-centric Summer Games modes.
As is the new normal with seasonal events in Overwatch 2, there will be challenges to complete during the event. This time, however, only a handful of the challenges will directly gift players with a particular cosmetic. For most of the entries, the rewards for challenge completions are in-game currency, with up to 3,000 Overwatch Credits up for grabs over the three weeks.
In the original game, Anniversary time was the chance for players to unlock cosmetics from any of the other seasonal events. That ethos has carried through into the present day. In addition to the usual Shop, there is a special Anniversary storefront. Here, you can buy a select number of previously-released skins. For starters, you can grab the Space Raider looks for Cassidy and Soldier: 76, which were part of the game's paid launch bundles, as well as looks like the Beekeeper Sigma and Hermes Lúcio. Blizzard hasn't said anything about new cosmetics tied to the Anniversary event, but I'd guess both the in-game stores will get updated options for sale over the next three weeks. If nothing in either store strikes your fancy, you can hold onto the coins for future purchases after the event ends.
Remember, the game mode side of the event will run from September 19-October 9. The Anniversary store will stay up until October 16. Happy Overwatch!