5 great decks to use for Marvel SNAP's new Featured Location, Fogwell's Gym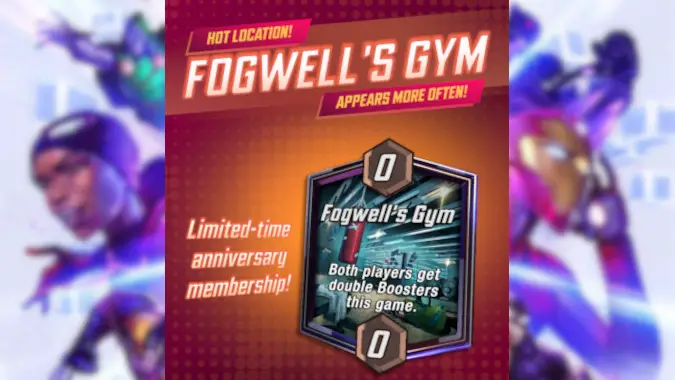 Marvel SNAP rolled out the next Featured Location of its Bloodstone season, Fogwell's Gym, and we've been working the speed bag to find awesome decks for you to try out there. Featured Location mini-events are the way SNAP adds new Locations to the game, and are usually worth some deck adjustments if you're looking to win some matches — but maybe not this week. Read on to find out why.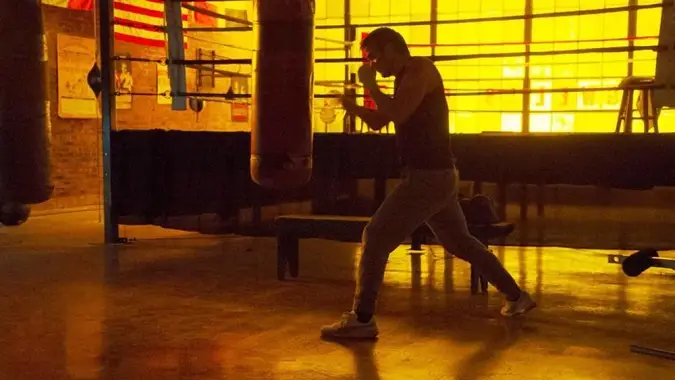 What is the significance of the Fogwell's Gym in Marvel lore?
Fogwell's Gym is closely associated with Matt Murdock, the blind attorney better known as Daredevil. Matt's father, Battlin' Jack Murdock, trained at Fogwell's during his boxing days. Matt often accompanied him, and a young Matt even tried to use boxing to help his dad understand the concepts behind the Braille language.
Like many other superhero origin stories, Daredevil's involves the loss of a parental figure. In Daredevil #1 (1964), Daredevil seeks out Fixer at Fogwell's with the goal of avenging his father's death. Instead, he fights Fixer's henchmen: Porky and Sam. Fixer ultimately escapes.
Much later in Daredevil #231 (1986), Daredevil would return to the gym to recover after a fight with Turk Barrett. Bleeding badly, Daredevil collapsed at the gym. Maggie would find him and nurse him back to health. He then used the abandoned gym as a secret training facility.
Fogwell's Gym returned in Daredevil Black and White Vol 11 (2010). While Daredevil's friend Don was at Fogwell's, Bullseye attacked. Daredevil had to save the day.
The gym would be a frequent location on the Netflix Daredevil show. Some also think the gym appeared in the LEGO Marvel's Avengers video game in the scene where Nick Fury briefs Steve Rodgers on the Tesseract. The name Fogwell's isn't visible, leaving some to wonder if it is the iconic location.
What's the key to winning when Fogwell's Gym is up?
Fogwell's Gym is the first Location that doesn't impact the game, but rather the rewards players receive after the match is over. Second Dinner has teased these types of Locations in past Developer Update videos. The usual example given is a Location that increases the amount of Cubes won, but Fogwell's instead increases the number of Boosters players receive.
While Boosters are fantastic early on in your Marvel SNAP progression, many players in Pool 3 and above have hundreds of cards with plenty of Boosters. They are waiting for Credits to use them. Double credits from missions would have been an exciting Location. Double Boosters is less so.
This week there is no need to adjust your decks at all. Just play what you had been playing. You can ignore Fogwell's. It is basically a Ruins Locations as far as its impact on the game.
So let's a take at some of the best decks in the current Marvel SNAP meta game.
Great decks to use on Fogwell's Gym
Move
Deck code:
eyJOYW1lIjoiTW92ZSIsIkNhcmRzIjpbeyJDYXJkRGVmSWQiOiJOaWdodGNyYXdsZXIifSx7IkNhcmREZWZJZCI6IkFuZ2VsYSJ9LHsiQ2FyZERlZklkIjoiRWxzYUJsb29kc3RvbmUifSx7IkNhcmREZWZJZCI6IktyYXZlbiJ9LHsiQ2FyZERlZklkIjoiSmVmZlRoZUJhYnlMYW5kU2hhcmsifSx7IkNhcmREZWZJZCI6IlNpbGsifSx7IkNhcmREZWZJZCI6IlNwaWRlck1hbiJ9LHsiQ2FyZERlZklkIjoiQ2FwdGFpbk1hcnZlbCJ9LHsiQ2FyZERlZklkIjoiSXJvbkxhZCJ9LHsiQ2FyZERlZklkIjoiVmlzaW9uIn0seyJDYXJkRGVmSWQiOiJEckRvb20ifSx7IkNhcmREZWZJZCI6IkFtZXJpY2FDaGF2ZXoifV19
Move is powered by Elsa Bloodstone, Angela and Kraven. Spider-Man can disrupt your opponent by moving their cards around. With Vision, Captain Marvel, Jeff, and Nightcrawler, all of them potentially buffed by Elsa, you can radically change the board state on the final turn.
Shuri Sauron
Deck code:
eyJOYW1lIjoiU2h1cmkgU2F1cm9uIiwiQ2FyZHMiOlt7IkNhcmREZWZJZCI6Ik5lYnVsYSJ9LHsiQ2FyZERlZklkIjoiWmVybyJ9LHsiQ2FyZERlZklkIjoiRWJvbnlNYXcifSx7IkNhcmREZWZJZCI6IkFybW9yIn0seyJDYXJkRGVmSWQiOiJMaXphcmQifSx7IkNhcmREZWZJZCI6IlNhdXJvbiJ9LHsiQ2FyZERlZklkIjoiU2h1cmkifSx7IkNhcmREZWZJZCI6IlR5cGhvaWRNYXJ5In0seyJDYXJkRGVmSWQiOiJUYXNrbWFzdGVyIn0seyJDYXJkRGVmSWQiOiJWaXNpb24ifSx7IkNhcmREZWZJZCI6IlJlZFNrdWxsIn0seyJDYXJkRGVmSWQiOiJBbGlvdGgifV19
Shuri Sauron has remained a staple meta deck despite several attempts to nerf it. It is one of those decks that when it hits its game plan of Sauron into Shuri into Red Skull into Taskmaster, it is almost impossible to beat. There's a lack of tech cards like Cosmo and Shang-Chi in the meta right now, allowing Shuri to thrive.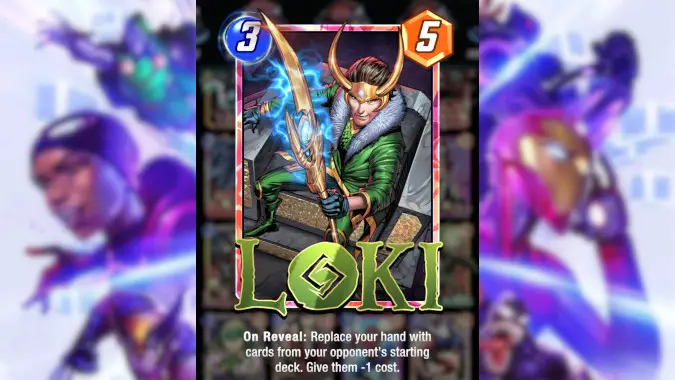 Loki Collector
Deck code:
eyJOYW1lIjoiTG9raSIsIkNhcmRzIjpbeyJDYXJkRGVmSWQiOiJLaXR0eVByeWRlIn0seyJDYXJkRGVmSWQiOiJTbm93Z3VhcmQifSx7IkNhcmREZWZJZCI6IkFuZ2VsYSJ9LHsiQ2FyZERlZklkIjoiVGhlQ29sbGVjdG9yIn0seyJDYXJkRGVmSWQiOiJFbHNhQmxvb2RzdG9uZSJ9LHsiQ2FyZERlZklkIjoiTHVrZUNhZ2UifSx7IkNhcmREZWZJZCI6Ik1pcmFnZSJ9LHsiQ2FyZERlZklkIjoiSmVmZlRoZUJhYnlMYW5kU2hhcmsifSx7IkNhcmREZWZJZCI6Ik1vYml1c01Nb2JpdXMifSx7IkNhcmREZWZJZCI6IkFnZW50Q291bHNvbiJ9LHsiQ2FyZERlZklkIjoiTG9raSJ9LHsiQ2FyZERlZklkIjoiQW1lcmljYUNoYXZleiJ9XX0=
Loki is a consistent flexible deck that allows you to play your opponent's deck better than they can. Build up resources in your hand with Agent Colson, Snowguard, and Mirage. At the same time, you are buffing your Collector, Angela and Kitty Pryde. Then play Loki and get your oppoent's cards with a nice discount.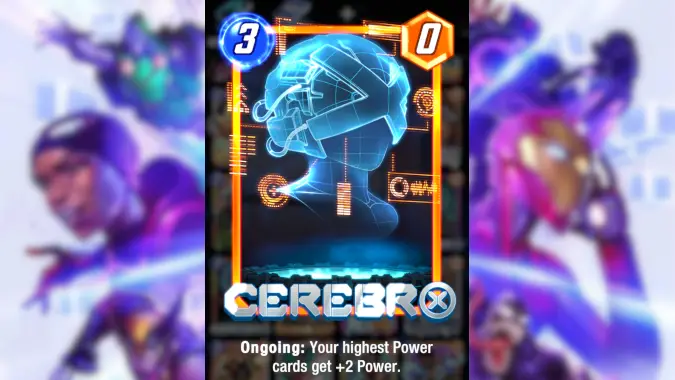 Cerebro 3
Deck code:
eyJOYW1lIjoiQ2VyZWJybyAzIiwiQ2FyZHMiOlt7IkNhcmREZWZJZCI6Ildhc3AifSx7IkNhcmREZWZJZCI6IkJhc3QifSx7IkNhcmREZWZJZCI6IkplZmZUaGVCYWJ5TGFuZFNoYXJrIn0seyJDYXJkRGVmSWQiOiJTZW50aW5lbCJ9LHsiQ2FyZERlZklkIjoiU2hhZG93S2luZyJ9LHsiQ2FyZERlZklkIjoiQ2VyZWJybyJ9LHsiQ2FyZERlZklkIjoiTXlzdGlxdWUifSx7IkNhcmREZWZJZCI6Ik1hZ2lrIn0seyJDYXJkRGVmSWQiOiJDb3NtbyJ9LHsiQ2FyZERlZklkIjoiU2hhbmdDaGkifSx7IkNhcmREZWZJZCI6IlZhbGt5cmllIn0seyJDYXJkRGVmSWQiOiJBbGlvdGgifV19
Cerebro 3 is a counter play deck. Shang-Chi can ruin a Shuri Sauron's players day. Cosmo disrupts Shuri Sauron and Loki. Shadow King is a great counter for all three major meta decks. Plus you've got Alioth, one of the best finishers in Marvel SNAP.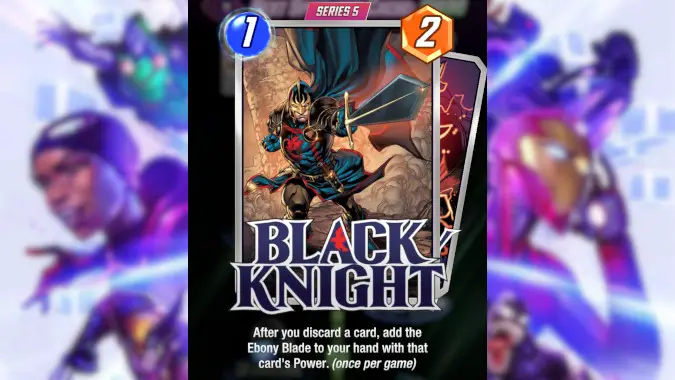 Black Knight Pure Discard
Deck code:
eyJOYW1lIjoiQm9ybiBSZWFkeSIsIkNhcmRzIjpbeyJDYXJkRGVmSWQiOiJCbGFja0tuaWdodCJ9LHsiQ2FyZERlZklkIjoiQmxhZGUifSx7IkNhcmREZWZJZCI6Ik1vcmJpdXMifSx7IkNhcmREZWZJZCI6IldvbHZlcmluZSJ9LHsiQ2FyZERlZklkIjoiQ29sbGVlbldpbmcifSx7IkNhcmREZWZJZCI6IkRha2VuIn0seyJDYXJkRGVmSWQiOiJMYWR5U2lmIn0seyJDYXJkRGVmSWQiOiJEcmFjdWxhIn0seyJDYXJkRGVmSWQiOiJTaWx2ZXJTYW11cmFpIn0seyJDYXJkRGVmSWQiOiJNb2RvayJ9LHsiQ2FyZERlZklkIjoiQXBvY2FseXBzZSJ9LHsiQ2FyZERlZklkIjoiQW1lcmljYUNoYXZleiJ9XX0=
The Black Knight card will be releasing around the same time as Fogwell's gym. Many in the community don't expect him to become a huge force in the meta, but we'll have to wait and see. This is a standard Discard package with Black Knight slotted in.
What are your ideas?
Shuri, Elsa, and Loki battle it out for the top spot in the meta while Cerebro looks to ruin the game plan of all three decks. With the pace of balance changes and constant new cards added to the game, the meta never truly settles. It will be interesting to see what new wrinkles the coming week will bring.
Normally, when I'm deck building for a Featured Locations, I want to make sure my deck is flexible enough so that even if I don't get the Featured Location in my Location pool, I can still be competitive. That isn't a concern with Fogwell's Gym. As I'm pointed out, this Location has no strategic impact whatsoever, so it doesn't matter if it is in your Location pool or not.