Warcraft Rumble will be getting a Molten Core Raid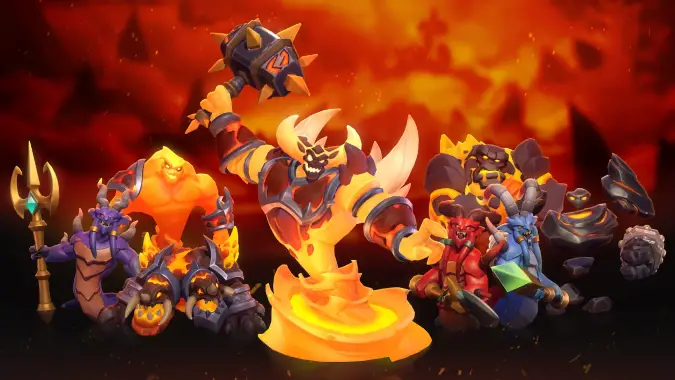 Blizzard's newest game, Warcraft Rumble, will be following in World of Warcraft's footsteps and adding raids. The first one is appropriately the granddaddy of the them all, Molten Core. At BlizzCon 2023, Vice President & Game Director Tom Chilton, Production Director Jackie Bacal Head, and Art Director Jeremy Collins provided the details on this exciting new way to play. So let's breakdown what we know so far.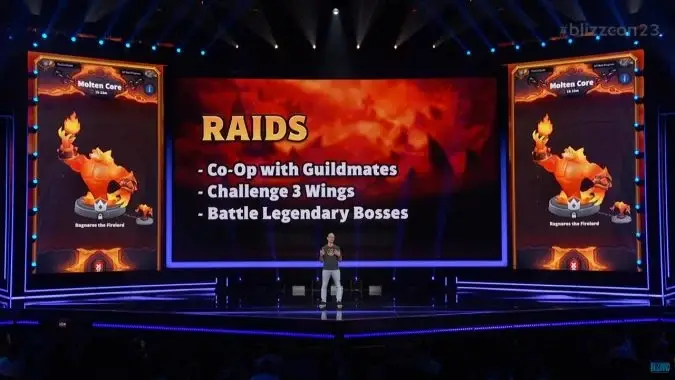 What are Raids in Warcraft Rumble?
Much like their World of Warcraft namesake, Raids are co-op content where players team up against legendary bosses with unique mechanics. Unlike WoW, they are only open for a limited amount of time each season. You won't need 40 players for Rumble Raids. Not 25, or even 10. Nope, you just need two players, but the other player must be one of your guildmates. No PUGs.
Each player will bring their own custom army made up of the troops, spells, and leaders they've collected. Together, you will battle through three wings of challenging opponents, and then face a final Boss. Each wing will house two raid bosses, and clearing the wing will earn you awesome rewards. Like WoW raids, the bosses will even have different phases where they use different abilities, call adds, or any of the other raid mechanics we've seen over the years.
In some maps, both players will use the same lanes to attack the Boss and its minions, but in others, each player will have their own lane to conquer. In those maps, players will likely start on opposite sides of the map and have to battle their way to each other. Gold income is shared. Using voice communication to coordinate with your teammate isn't required, but, just like in WoW's raids, it is highly recommended.
What level is required for the Molten Core Raid in Warcraft Rumble?
The current thinking is the first Wing of Molten Core will open at level 26. The other two wings will open at level 27 and 28 respectively.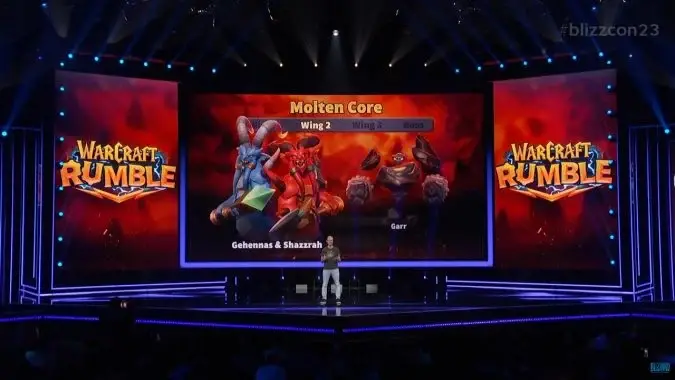 What are the bosses in the Molten Core Raid in Warcraft Rumble?
Wing 1
Wing 2
Wing 3
Clear all three wings and "you shall see it first hand", the power of Ragnaros himself.
What are the rewards for clearing the Molten Core Raid in Warcraft Rumble?
Players will earn Valor to taking down raid bosses. Valor can then be used to upgrade your Gold army Slots to a Platinum army Slot. Each wing will also have its own rewards.
Wing 1
Boost Slot for an army of your choice
Wing 2
Wing 3
Ragnaros
You get a Ragnaros Mini to add to your collection. Put him in your army and you can show everyone that Thaurissan had the right idea all along.
You also get additional Star Points.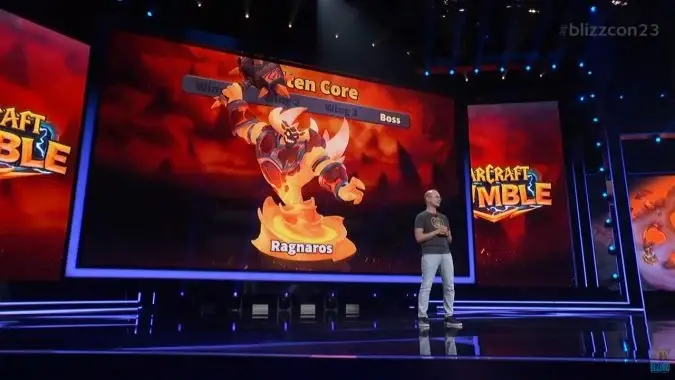 What is the Molten Core Raid in Warcraft Rumble release date?
No release date has been provided yet.
Like many players, I've just getting started with my Warcraft Rumble journey. I'm only level 9, and just have one leader so far, Jaina Proudmoore. Even at these early levels, Rumble has been a ton of fun. I can't wait to see what's in store, and I'm so excited to throw my minis into battle with the Firelord himself.