The Queue: Cory in California!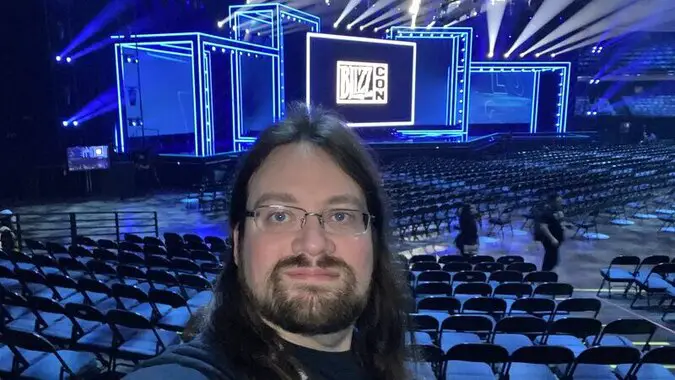 What a BlizzCon! I saw legends in action and got my socks blown off by all of the big World of Warcraft announcements! Which is probably for the best because after all of the walking I did that weekend my socks were getting a little holy…
While I see if Diablo 4 wants to use my socks to help keep Lilith at bay, it's time for — The Queue!
---
JALAMENOSIN YOUR EYES, THERE'S A HEAVY BLUE
What are your thoughts on this year's Blizzcon?
It was super cool! There was an electric feeling everywhere as people celebrated the games near and dear to our hearts. The opening ceremonies were electric and I had tears on my face watching the passion that all of the developers brought to the stage. It was an amazing room to be in and you couldn't help but be swept up in the feelings and emotions of the announcements.
The con itself looked fantastic, all of the halls were tricked out to the nines with decoration and screens galore. You couldn't take ten steps without seeing one of the amazing statues that Blizzard has created for their games.
I also got to do more on the media side of things for the first time this year and it was amazing having the extra peak behind the curtain and getting to do interviews with developers. I even managed to snag some time with Ion Hazzikostas for a question!!!!
That said the biggest missing thing that would've really made the convention top tier was not having enough content! The only panels were what we saw on the main stage, where were the voice actors! How come we didn't get to find out more about sound design and concept art and watch the Warcraft Rumble lead toyification artist take Kerrigan and design her like a Rumble character?! Those extra panels are things that can be really fun to learn about and see in action, and their presence was missed.
I also missed there being Friday evening content like the talent show! Friday just felt like it ended abruptly and there could've been something else fun to keep people hanging out inside the convention.
Overall though, I'm very glad that I was able to go and I got to meet so many amazing people on the show floor and outside in the hotel parties.
---
WATER OR WINE, DON'T MAKE LEFTY CHOOSE
Have you tried Warcraft Rumble? If so, thoughts?
I have! It's super fun and can be pretty hard to put down.
As a Canadian, we've been able to play it for a while now. Blizzard soft-launched it in a handful of countries around the world, and Canada was lucky enough to be on that list. I even wrote a list of five tips for players to keep in mind as they embark on their Rumble journey!
I hope that this game can continue to be supported for years to come just so we can see as much of the Warcraft universe get the mini-treatment!
---
KALCHEUS' HAS BEEN RUNNING THROUGH THE JUNGLE AND BEEN RUNNING WITH THE WOLVES
Have you decided on the four characters that will be displayed on the Warband screen?
Oh yeah, this is a no-brainer. I have my Druid, Paladin, Shaman, and Demon Hunter all already picked for that. Finally, all of my top-played characters will get to meet each other!
---
RED'S BEEN DOWN THE DARKEST ALLEYS SAW THE DARK SIDE OF THE MOON
Do you think that Xal'atath will be the final boss of The War Within?
I think that she'll be the boss of the second raid. Whether or not that makes her the final boss remains to be seen! We all hope for a three raid tier expansion, and I think with our best guess putting the length of these next three expansions at about 18 months each, six months per raid seems about the right amount of time.
I'm betting that the final boss will be Iridikon and that's why they haven't mentioned him at all this weekend. His defeat will be a pyrrhic victory and he opens the way for the Void to surge in Midnight with his last breath.
---
ARTHONOS BREAK DOWN THESE WALLS AND COME ON IN
What do you think of the names of the Hero Specs, are you happy with the ones for your main? Any that really stand out?
They all seem more or less fine to me! However, I would replace the Druid of the Claw with Druid of the Flame. I've talked before about how I really want a cool flame look for my Druid powers and shapeshifts, and this seems like the perfect way to do it! Let me be the giant flame scorpion of my dreams, Fandral got to be one!!
The rest of the specs all look like the expected kind of things, referencing paragons of the various organizations around Azeroth. I bet that the Warriors are really hoping that Gladiator Stance makes a comeback though.
---
ENO LOOKED FOR LOVE IN EVERY STRANGER
What does Bacardi think of all this BlizzCon business?
I think he's busy terrorizing my roommate back home and hasn't even put a thought towards the wider world beyond that. There's lots more time for him to be a pest now that I'm not providing a good lap for him to nap on.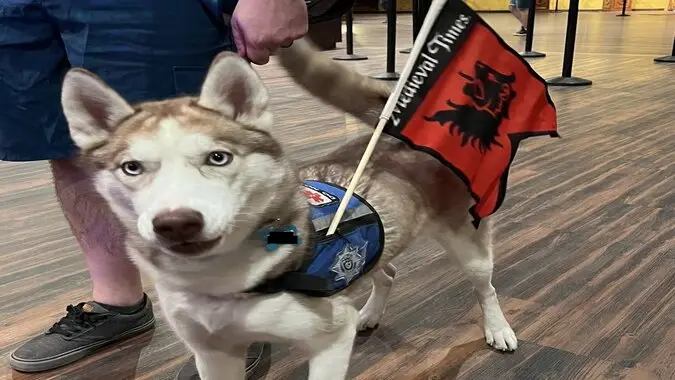 Hey waitasecond, that's not Bacardi! You can't even boop this dog because she has a job! Good thing that this patch is basically over and you don't need the good luck as much this week, since Tuesday will bring all sorts of new fun items to chase! I'm sure that we'll see Bacardi here again next week.
Today's Anna Earworm™: Wolves
Next week I'll be home again and I'm really looking forward to it! Until then make sure you do everything you can to make all of your other Queue writer's weeks easy by asking them lots of questions — they've had a busy weekend too!