WoW
Nov 13, 2023 2:00 pm CT
Where is the Amirdrassil raid entrance in patch 10.2?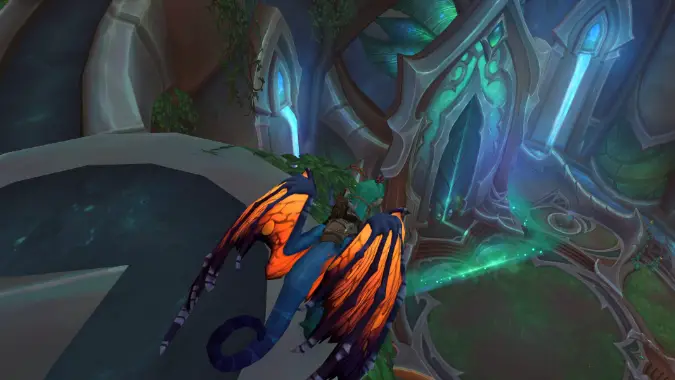 World of Warcraft patch 10.2 is now live, and the new raid instance, Amirdrassil, The Dream's Hope, will be opening very soon. Amirdrassil Normal, Heroic, Mythic, and Raid Finder Wing 1 (Gnarlroot, Igira the Cruel, and Smolderon) all open on November 14. Located in the Wellspring of Life, the instance entrance is a majestic temple sitting in a valley with a large forecourt with pools and terraces — and Fyrakk's forces have started ravaging the areas around it, bathing them in fire. It's time for us to face Fyrakk himself in Amirdrassil.
But if you're ready to jump into the raid, where exactly is the Amirdrassil raid entrance?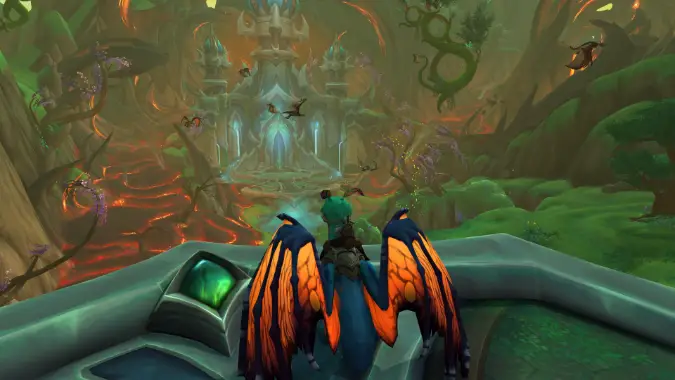 Amirdrassil is in the Emerald Dream. To get to the Amirdrassil raid entrance, you will need to enter the Emerald Dream questing zone, either flying to the Ancient Bough in the Ohn'ahran Plains or by using the portal in Valdrakkan.
The closest flight path is Wellspring Overlook. When you exit the portal, the Central Encampment flight point will be directly behind you: you can take the flight path to Wellspring Overlook which will put you close to the Amirdrassil raid entrance (and give you a quick AFK before raid while you fly).
Fly north. If you're flying to Amirdrassil under your own steam rather than taking the flight path, head north from the Central Encampment, around the base of Amirdrassil's mighty trunk, and then bear north-west until you reach the Wellspring of Life. The raid entrance is at the ground level, with the summoning stone a short way off to the right of the entrance.
You don't need to do any quests to get to Amirdrassil. But doing some of the 10.2 campaign will make it easier to get there. The flight point isn't locked behind quests, but the Campaign quests in Chapter 3: Ice and Firewall take you there organically. Finishing this chapter will cause all the hostile mobs in the forecourt of the instance entrance to leave.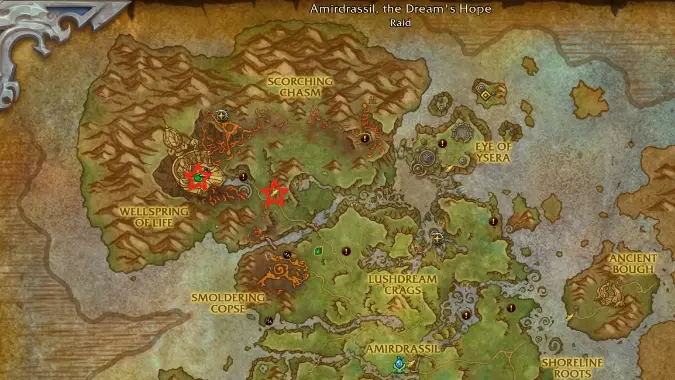 Key locations around Amirdrassil
Looking for something specific? These coordinates will help you find it:
/way #2200 35.70, 33.64 — Wellspring Overlook flight master
/way #2200 27.67, 30.04 — Amirdrassil Summoning Stone
/way #2200 27.30, 31.04 — Amirdrassil Raid Entrance
If you want a quick overview of the raid before heading in, you can check out our guide that discusses the different boss encounters and highlights some key loot opportunities.