WoW
No comments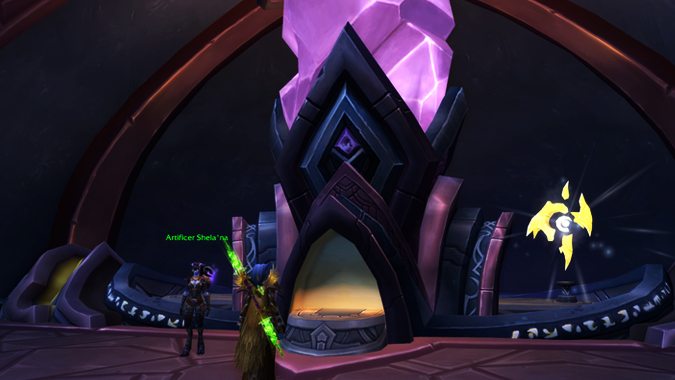 Patch 7.3's Netherlight Crucible receives clarifications about its progression system
The Netherlight Crucible has been a host of misunderstandings, to say the least. In an effort to keep us always progressing, Blizzard added a new Artifact upgrade system to patch 7.3 and a way to turn those pesky unwanted relics into something potentially better. Unfortunately, the system has been fraught with issues and remains so confusing that they had to issue a clarification.
Part of the problem are the many UI revisions over many PTR builds, including inadvertently showing behind-the-scenes changes that appeared as ranks. With the Netherlight Crucible, its intent was never and this wasn't helped by the occasional missing information in the UI. After the 7.3 Q&A last Thursday, Lore came in with some clarifications about the system overall and what Blizzard's intentions are for it.
The Netherlight Crucible, at its barest definition, is kind of like reforging for relics — but with more RNG and annoyances. It's intended to provide a way to make use of relics players may not necessarily want but have to use for lack of better options. Traits vary on relics, and players were getting frustrated at the lack of "good" traits.
In the Q&A, Ion explained that it wasn't simply a matter of changing a trait for a single class — the traits are all tied to a single ID, so changing one relic trait would change all the other classes' and specs' traits on that relic. The double-trait class hall upgrade was intended to fulfill the same problem, but they scrapped it after it proved to be at the mercy of too much RNG. So they came up with the Netherlight Crucible instead.
two weeks after patch 7.3 releases
. The only requirements to use it are being 110 and
completing the story campaign
, which is also account-wide, so your alts will also be able start the Crucible immediately. Unlocking the relic slots is done automatically when you hit certain level thresholds in your Artifact Weapon.
The first trait is unlocked the very second you unlock the Crucible. The second row unlocks the left, center, and right traits at Artifact level 60, 63, and 66, and the same goes for the third row at Artifact level 69, 72, and 75. You can see this below, or take a closer look thanks to an early preview on Wowhead.
The Crucible will never "double roll a trait," meaning, it will never offer you a trait you currently have equipped from a relic already in your weapon. If you've had bad luck with relics and only have those with undesirable traits, then the good news is that the Crucible won't offer any of the traits you don't want and will instead offer (supposedly) better traits.
There are also no "ranks." Early versions of the Crucible showed ranks for each trait, like your Artifact Weapons have, but this was intended to be a behind-the-scenes thing and was the result of how they built the system to allow unlockable effects to stack. It was never intended to be seen or used by players. The talents are just simple talents. Once you unlock a single row you can choose which one you like without having to cap it out.
This system is intended to give players another chance with relics they don't like, but it's undoubtedly going to cause headaches with min/maxing. Granted, this is a small subset of players, but given the consternation every time a relic drops in my raid and having to figure out who the trait will benefit the most, the addition of RNG and possible better traits will complicate the whole process even more.
I understand the need for offering players better options and something to do, but the Netherlight Crucible thread is filled with 11 pages and counting of complaints about the randomness of the system. Are you excited about the Crucible, or does it sound like more of a headache than it's worth?