Heroes of the Storm action figures coming to a store near you [Updated]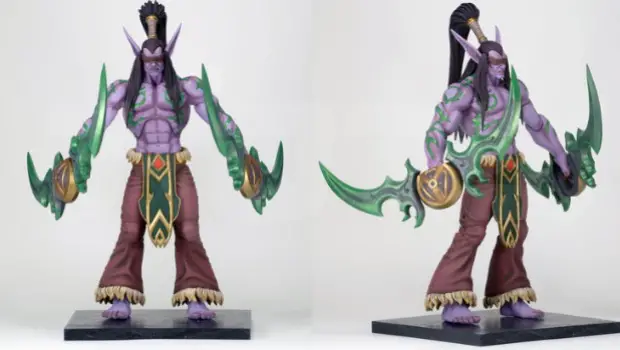 As with all things Blizzard, we don't have a release date, but we do know that NECA is going to be rolling out a line of Heroes of the Storm action figures, reports Kotaku from Toy Fair. Though Blizzard seems like a natural fit for toys, they've been lacking: sure, there are the amazingly-detailed (and amazingly expensive) Slideshow Collectables statues and fun-and-funny Funko Pop! figures, we've been missing a middle ground.
Though NECA intends to make action figures for all of the Heroes characters, there will only be 5 to start with — Arthas, Illidan, Stitches, Nova, and Tyrael — which offer a good range of options for fans of many Blizzard games. Illidan and Nova will be the first figures released, coming out this July, with Tyrael and Arthas to follow at a later date, and deluxe figure Stitch will be the last of this batch to be released. The figures are 7-inch scale and will be fully painted (any images you see of gray or brown figures are unpainted resin prototypes). Expect the figures to retail for around $15 to $20 and be available at Toys R Us, Hastings, local retailers, and potentially more.
Source: Kotaku
Update: We've updated this post to include additional info about pricing, availability, and size of the figures after speaking with NECA.