Hearthstone Patch Notes: The Approach to Blackrock Mountain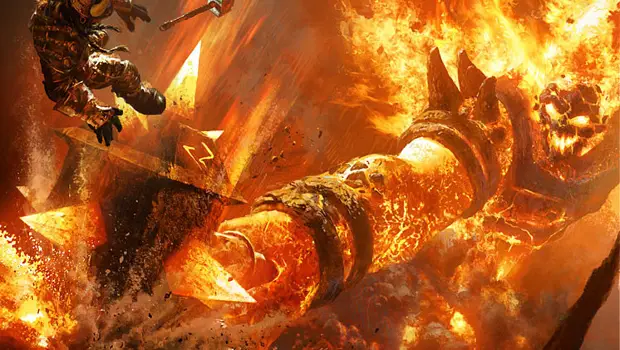 The new Hearthstone adventure Blackrock Mountain makes its debut this Thursday, and a new set of patch notes for the game have just been released. In addition to details on the new adventure, the patch also addresses a handful of bug fixes, including friends that are away on the Battle.net app no longer being displayed in your online friend count, and some important adjustments to cards. Take a look at the patch notes below, and don't forget to check out Matticus' Hearthstone stream on Twitch this Friday at 8pm CDT for a first look at the new adventure.
Blackrock Mountain: A Hearthstone Adventure
Blackrock Mountain has been added and will be accessible starting April 2.
Blackrock Mountain offers a new single-player campaign to play Hearthstone against challenging NPC adversaries. Blackrock Mountain can be unlocked with gold or real money and can be accessed by players who have unlocked all 9 heroes.
Defeat 17 fearsome foes to unlock a total of 31 new Hearthstone cards for your collection, including 5 Legendary cards! Blackrock Mountain cards can easily be searched for within My Collection using the search function.
An all-new interactive Blackrock-themed game board awaits you within the Adventure! Discover the surprises that stew in shimmering magma pools, hammer down the fine art of blacksmithing, and more!
Overcome 9 nefarious Class Challenges that test your skills with each of the unique classes of Hearthstone!
Defeating all of the bosses within a wing unlocks the extremely challenging Heroic Mode of that wing. Defeating all of the bosses of Blackrock Mountain on Heroic mode unlocks a new card back for your collection.
Five unique wings await those brave enough to delve into Blackrock Mountain. Each of the five wings are immediately available to purchase with real money or gold, with a new wing unlocking for players to enter each week over the course of April.

Blackrock Depths—This sprawling underground city is the stronghold of the Dark Iron Dwarves, thriving deep beneath the surface.
Molten Core—Face fiery elemental minions in searing magma tunnels at the heart of Blackrock Mountain.
Blackrock Spire—Climb to the heights of Blackrock Mountain to invade Nefarian's domain and square off against ogres, orcs, and dragonkin!
Blackwing Lair—Foil the lord of Blackrock by disrupting his attempts to create the perfect draconic minions.
The Hidden Laboratory—The final showdown, where you'll contend with fiendish technology, horrifying experimental monstrosities, and the mastermind behind them all.
Bug Fixes
Friends that are Away on the Battle.net App will no longer be displayed in your online friend count.
We've nailed the game board to the table: Spells that create screen shaking effects should no longer get your screen stuck in a bad position.
Warsong Commander will now give charge to minions summoned by other minions—charge forward!
Bane of Doom can now summon any collectible demons. Doom . . . DOOM!
Sylvanas will no longer steal a minion that is about to die, which is weird because that's generally her thing.
Vol'jin will no longer kill itself if the only other minion in play is stealthed.
Minions that are spawned from a Deathrattle are now targetable sooner. This will affect the Slime from Sludge Belcher, as well as the spawns from Harvest Golem and the Shredders.
General bug fixes and UI improvements.