Diablo 3 Season 3 preview includes many Legendary shinies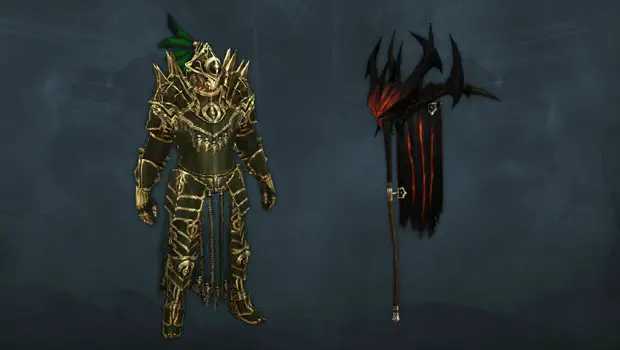 Season 2 is coming to a close this Sunday and after a short 5-day break to organize your hard-earned loot, Diablo 3's third season is kicking off on Friday, April 10th for an undetermined amount of time. Blizzard has posted a preview of the coming season highlighting new Legendary items, new Conquests & Achievements, and the new cosmetic rewards.
New Legendary gems are always a treat and this time we get Mutilation Guard which reduces melee damage and allows you to pass through enemies if you're under 30% health. Another Legendary highlight is the Bottomless Potion of Amplification which acts like a health potion (restores 60% life as of Patch 2.2.0) but also increases healing from all sources by 20-25% for 5 seconds which could make a huge difference in a tough boss fight. As usual, the new Legendary items will be exclusive to Seasonal play until the end of the Season.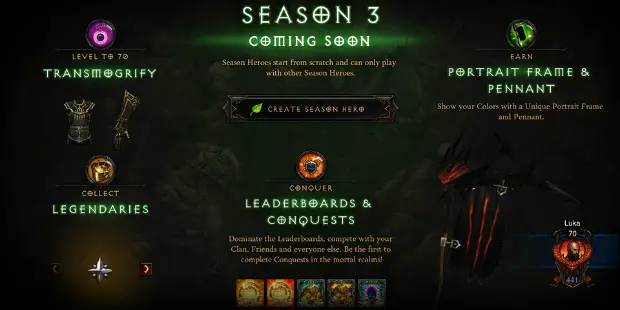 New Seasonal-only achievements are also coming as well as Conquests (extra difficult seasonal-only Achievements tied to a leaderboard). Finally, if you level a Seasonal Hero to 70 during Season 3, you will not only get a unique pennant and portrait, but the final piece of the Conquerer's transmog set (seen in the image at the top of the this post.) That should go nicely with the new Wardrobe UI feature being introduced in, you guessed it, Patch 2.2.0.
Patch 2.2.0 will likely go live on Tuesday's maintenance between the two seasons. Other highlights from the patch include upgrades to existing Legendary armor sets (plus three new ones!), new rift layouts as well as bounties and new kinds of Treasure Goblins for you to beat down like the loot piñatas that they are. And for your WoW fans, the patch will also introduced the legendary Ashbringer as a weapon in the game.
If you haven't hit level 70 on a Seasonal Hero during Season 2, you still have a chance, but time is running out!