WoW
Apr 22, 2015 9:00 am CT
Patch 6.2: Tiny Pepe hats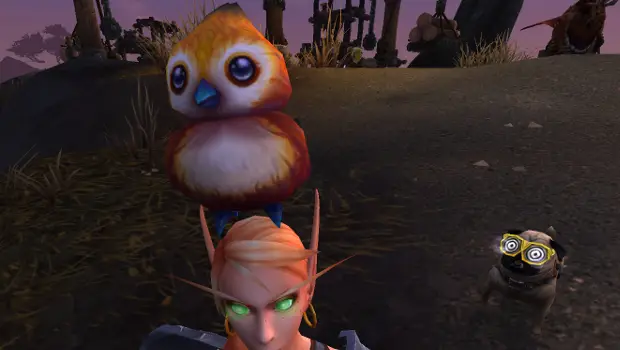 Move over, Perky Pug. You're not the only companion who can wear a small hat in this town anymore!
Everyone's favorite orange, chirpy travelling buddy is getting a bit of a makeover. Four new Pepe costumes were recently datamined from the patch 6.2 PTR. We're not sure at this time where all these new outfits come from just yet, and aren't sure what most of them look like, but there's a Tiny Viking Helmet, a Tiny Ninja Shroud, a Tiny Plated Helm and a Tiny Pirate Hat to choose from to give your Pepe a bit more personality. It's also unclear whether these items are consumed on use like the pug hats or not. They are not marked as toys at this time.
We can conjecture that the Pirate Hat will look similar to the pug's, but the rest of the details are for Pepe to know and us to find out as this patch cycle wears on. Either way, if you haven't completed the achievement to get your Trans-Dimensional Bird Whistle yet, this makes for some excellent incentive.
Which hat are you going make your Pepe wear on his head while you're wearing him on your head? Personally, my Pepe and Perky Pug are both going to wear Pirate hats, just for a bit of Pepeception.