WoW
May 5, 2015 1:00 pm CT
Patch 6.2 PTR: New Darkmoon Items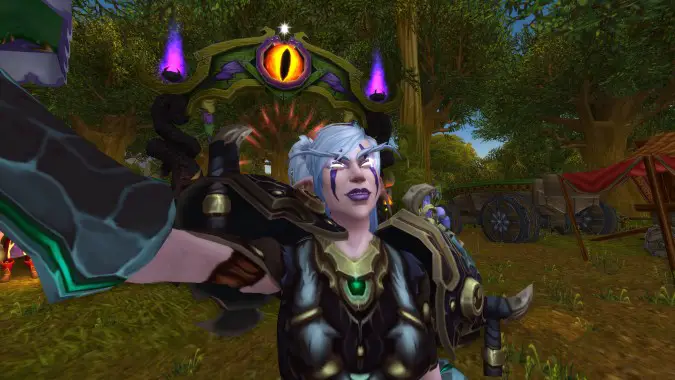 This week begins the Darkmoon Faire, which runs from from May 3 until May 10th. This includes the PTR, where new items were discovered! So what's coming to the Faire? On the PTR, ew flasks similar to Elixir of Giant Growth are being added, but with a variety of stat options: for 20 minutes, the Darkmoon Draughts will increase your size as well as certain stats. Additionally, Darkmoon Tinctures will decrease your size for 20 minutes, and also increase a particular stat.
Both Darkmoon Draughts and Tinctures can be purchased from Faldar Willowshade for 1 Darkmoon Prize Token each.  They can also be looted by fishing Sealed Darkmoon Crates around the island. This should be a fun effect for exploring the world, while still gaining a small boost to an interesting stat! Note that they do boost newer stats, such as Multistrike and Versatility. Dodge is also listed as a tincture and draught, and there appears to be one that will mimic a primary stats buff (that is, it boosts all of your character's stats).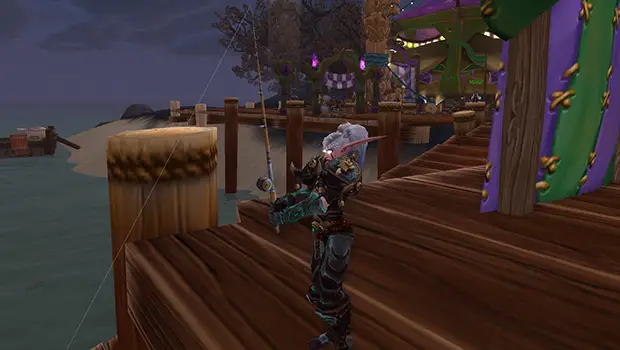 Speaking of fishing, a new fish can be gathered around the island for one of two new pets, a new toy, profession items, or to be used in three new cooking recipes.
For 100 Darkmoon Daggermaws, you can purchase either Blorp's Bubble or a Translucent Shell that will summon a ghost crawler. Otherwise, 25 Darkmoon Daggermaws can be exchanged for a Seafarer's Slide Whistle — a new toy that will play a whistling noise when used.
However, the profession items are much less expensive than the toys or the whistle. For people that have not yet reached a high level of fishing, they can exchange 1 Daggermaw for a Day-Old Darkmoon Donut, which increases fishing skill by 200 for 10 minutes. On the other hand, 25 Daggermaws can be exchanged for a Darkmoon Firewater to increase gathering speed for an hour. These will certainly make it easier to get lots of Daggermaws for the pets and the toy!
On the other hand, Daggermaws have yet another use as a reagent for three new cooking recipes:
Fancy Darkmoon Feast can be made with 10 Daggermaws at 225 Cooking, and — similar to other feasts — will allow all party members to gain Well Fed and 20 Versatility if they eat for 10 seconds. Plus, they get a cool hat! This is purchasable for 50 Daggermaws.
If you do not have the required cooking skill for the fancy feast, then you can share with your friends and make a Sugar-Coated Fish Feast with 5 Daggermaws and 150 Cooking. Similar to the previous feast, party members will receive 20 Versatility through a Well Fed buff after eating for 10 seconds. The recipe will cost 25 Daggermaw.
If sharing isn't your forte, then at 1 Cooking and for 2 Daggermaw, you can make Lemon Herb Filet. After eating for 10 seconds, you will gain 20 Versatility with this, but it is less fancy and you will not receive a hat. You can exchange 10 Daggermaw for the recipe.
However, fishing is not the only aspect of the Darkmoon Faire that received some new treatments. Another achievement has been added to the games as well. If a player earns 45 points with a Whack-A-Gnoll game, they can earn the achievement That's Whack!, which will reward them with Hogs' Studded Collar. As some will remember, early datamining had revealed this pet, but he did not appear in the game in 6.0 or 6.1 patches; it appears they were saving his live debut for 6.2!
All in all, these changes will add even more to do with the Darkmoon Faire once the patch has arrived.  It seems that this year's additions are themed more around making fishing more rewardable, along with finally adding a much-anticipated battle pet.