WoW
Jun 19, 2015 5:00 pm CT
Protest/Celebrate Midsummer with these themed transmog sets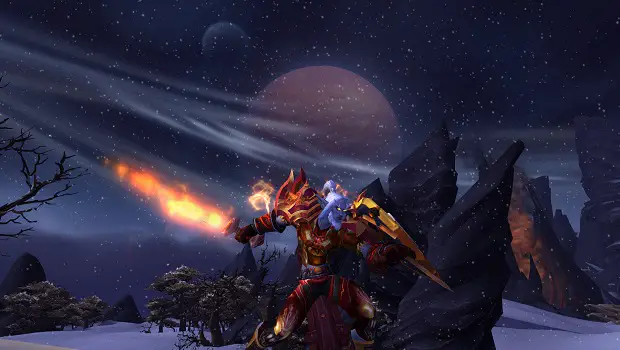 Sure, Patch 6.2 is just around the corner and that's exciting and everything, but you know what else is almost here?  The Midsummer Fire Festival!  And what better way to share your opinion of its return than with some fashionable ice and fire transmogrification sets?  Below you'll find some put-together sets for each of the armor types to fit whatever mood you're in during the Fire Festival.
Cloth sets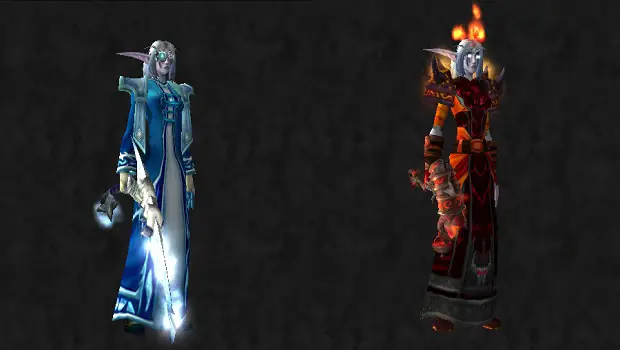 How better show your disapproval for the Fire Festival than to wield the scythe of the elemental lord who represents everything the festival doesn't?  Note that the picture above doesn't include a belt, but you're welcome to add your own icy-themed belt if you choose!  (As a side note, the cloth sets look best on a Shadow Priest.)
Leather sets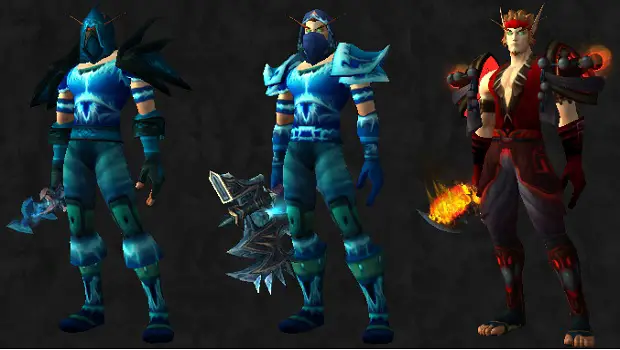 The leather sets were by far the hardest to put together.  You'd be surprised how little gear there is out there themed around ice or fire.  With that in mind, I put together two ice sets that more or less encompass all the icy leather pieces in the game.  The second picture uses Windscale Hood, Mantle of the White Tiger, Talonite's Belt, Polar Gloves, and Polar Boots in place of those in first picture.  It will, however, be much more difficult to collect mostly because the shoulders are from a Stranglethorn Vale quest and the gloves are a remnant of Vanilla crafted pieces, but if you can manage to get your hands on them they make for a great ice set.  Both leather sets would also work well with Elemental Crescent, the transmog-only reward from Warlords of Draenor Challenge Modes.
Mail sets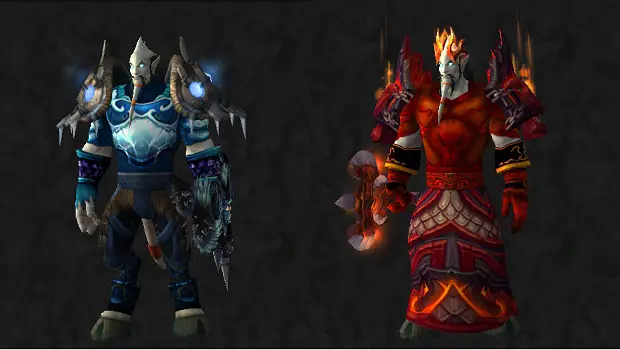 Here's a game for you: try to find elemental-themed mail pieces that aren't exclusive to shamans.  Fun game, right?  That being said, if you do play a shaman there are likely a few pieces that you could mix and match with the sets above, including some kilts if those are more your cup of tea.
Plate sets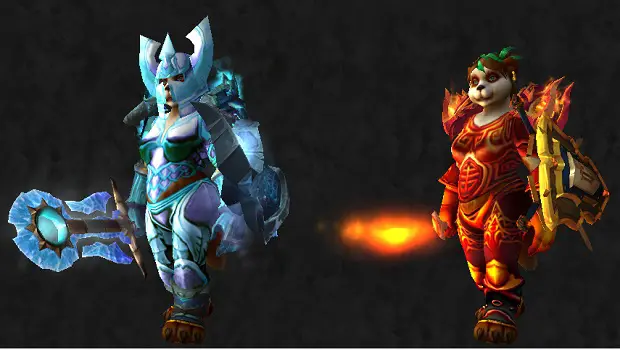 Lastly, my personal favorite sets belong to all you plate wearers out there.  Teebu's Blazing Longsword is a classic world drop that may be hard to find, but helps bring the whole fire theme together.  If you're looking to add a helm to the fire set, Conqueror's Helmet matches pretty well.  And if you can find a pair of Icebane Gauntlets, your ice set will look even icier (though, like the Polar Gloves above, they're very difficult to acquire nowadays).
And there you have it.  It may take some time to farm all of the pieces for a given set, but who's to say you can't stock up and put on a costume when Winter Veil rolls around?  And if you have any other pieces you think would work well in these sets, feel free to share in the comments!